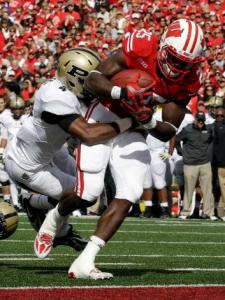 Bret Bielema led Wisconsin to a 12-1 record in his first season as head coach. He was the mastermind behind three consecutive Big Ten titles in his final three seasons at the helm of the Badgers. Still, the powers that be in Madison believe they've found a replacement who can do soar even higher.
Gary Andersen is a graduate of the Urban Meyer School of Assistant Coaches, having spent a season together at Utah. It was a memorable one. The Utes became the first BCS buster in 2004, capping off a 12-0 season with a win in the Fiesta Bowl. Andersen was the defensive line coach that season. Meyer refers to him as one of the top hires he's made in a career defined by success on the field and the ability to identify great assistants.
From the moment Andersen stepped foot on Wisconsin's picturesque campus, he's given off a positive vibe to his players. There was no meddling during Rose Bowl preparation. Instead, Andersen started to form relationships with the players, but stayed in the background and let the outgoing staff do the planning. 
"I respected that," senior defensive end Tyler Dippel said. "I thought it was cool. He wasn't some guy trying to come in and move everyone aside and say this is what we're doing now."
Andersen's first tasks were familiar to any coach who's taken over a program: stabilize recruiting efforts, hire a staff and become Mr. Popular with the state's high school coaches.
All of the above was accomplished. Andersen brought a handful of coaches from Utah State, kept some members of the previous Wisconsin staff and brought in some new blood. He felt retaining some of Bielema's assistants would ease the transition and allow the Badgers to start fast, even with a new head coach.
Most important, though, was identifying the importance of Wisconsin high school football and developing an immediate bond with coaches around the state. Andersen was able to build a winner at Utah State by attracting the state's best player to Logan. The Aggies had the best season in school history last year, finishing 11-2 and winning the WAC. Andersen has the same goals in mind at Wisconsin.
"What's my stamp going to be?" he said. "I sure hope my stamp at the end of the day is to be a football team that's physical, tough-minded, plays aggressive, plays the game the right way, is respected by their opponents, solid in all three phases and has one of the best graduation rates in the country.
"That's what I expect."
Opponent Breakdown
The first order for Wisconsin on Saturday night is to keep Ohio State from distancing itself early. The Buckeyes have scored at least three touchdowns in the first quarter every game this season and are outscoring the competition 102-14.
Andersen said he's not aware of a more impressive start ever occurring in college football and notes that Ohio State hasn't been tested in the second half all season. The Buckeyes have the fourth highest scoring offense in the country at over 52 points per game.
But Wisconsin's defense is far different than anything Ohio State has seen this season. The Badgers have shut out two opponents and allowed all of 42 points on the season. They rank sixth in total defense, allowing just 243 yards per game. The unquestioned leader of the unit is Kettering Alter grad Chris Borland.
An All-Big Ten player a year ago, Borland hasn't let up. He's Wisconsin's leading tackler with 30 stops, including 1.5 tackles for loss and a sack. All great linebackers find a way to roam the entire field, and Borland is no different. His instincts put him near the football on every play.
However, Borland hasn't been able to make an impact in the game he circles every year. In 2010 and 2012, he was sidelined with an injury. Now comes his final game against the Buckeyes, and it's in Ohio Stadium.
"It is a great environment," Borland said. "The Horseshoe is a really fun place to play. A win there would mean a lot."
The last time Borland played in the Horseshoe he tallied 13 tackles in what appeared to be a win. Then Braxton Miller had his first of many wow moments.
"That was probably the hardest to take," Borland said.
He and his teammates didn't get the win last year, but they did limit Miller well below his season averages. He was held under 100 yards passing and only gained 48 yards on 23 carries. 
"Obviously, they shut us down pretty good last year," Meyer said.
The Badgers could have an easier go of things this season, considering Miller is coming off a month-long absence due to a sprained MCL. He's nearing 100 percent but will be wearing a knee brace Saturday.  The help around Miller – backup Kenny Guiton, a stable of running backs and plethora of pass catchers – is far better than the assortment he had at his disposal a year ago.
Borland called Ohio State's offense one of the tops in the country.
"They've got a lot of speed at the skill positions and do a great job of getting them out on the edge. Number 1 is a player, a true freshman they like getting the ball in his hands and use him with Number 2. The line does a good job, and with the weapons they have, they can take the top off, too."
As important as defense is in football, it's the Badger offense that could hold the keys to victory. Six members of Ohio State's front seven are new starters. While they've performed well in the first four games, Wisconsin's ground-and-pound running back is not what they saw against four overmatched non-conference foes.
Melvin Gordon (first), James White (11th) and Corey Clement (36th) all rank in the top 40 nationally for rushing yards. Quarterback Joel Stave is the traditional Badger quarterback – a game manager who isn't asked to do much, only not to make turnovers and lose the game.
He's been unimpressive at best so far. The passing game is averaging less than 200 yards per game. Jared Abbrederis leads the team with 23 receptions for 365 yards and three touchdowns. White is the only other player with double digit catches, and he's a running back. Tight end Jacob Pedersen is a weapon in the power offense, but he's only caught eight passes. 
"Going into every game, you expect to throw the ball," Abbrederis said. "When we throw it, we have to come down with it and make some plays."
The offensive line has been the catalyst in the nation's third-best rushing attack. In the series' current stretch – five Ohio State wins in six games – Wisconsin has not run the ball particularly well. It has averaged 120 yards in those losses while gaining 184 yards in the lone victory.
"They'll lull you to sleep with the run," cornerback Bradley Roby said.
Said center Jack Mewhort: "It's obviously one of those classic smash-mouth games. Who wins the rushing game, that's usually what it is in football."
The words classic and rivalry have been thrown around frequently in Columbus and Madison this week. It's with merit, too. It's been one of the most competitive games in the Big Ten during the past three decades. There have been spoiled seasons, upsets and triumphant victories.
"It is the rivalry nobody really talks about," Wisconsin tight end Brian Wozniak said. "And that is fine. We just like going out there and throwing punches back and forth. It is a physical game inside the front seven. That is where is starts for both teams."
Buckeye Breakdown
Ohio State's quarterback, the one who entered the season as a Heisman contender, is back. The team is loaded with skill players. The unit is averaging a boatload of points. All that is known.
The unknown is the defensive front seven. How will they perform against a similarly impressive group across the line? So far, they've been outstanding in practice, the spring game and four non-conference outings. Now comes the midterm.
"They have not received the challenge yet like this one," Meyer said. "This will be the biggest challenge to this point, maybe the rest of the year, for our defensive front seven.
"I know we've had conversations about this outfit before, because the run game is real. You can get embarrassed real fast if you're not gap-sound and handling your business."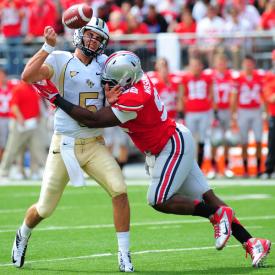 The line is replacing all four starters for the first time in nearly three decades, while the entire front seven only returns one starter – Ryan Shazier. Even in the first four games, though, they weren't able to get a real gauge on how the unit would perform together, and developing cohesion was moot due to injuries.
Adolphus Washington, Michael Bennett and Tommy Schutt have each missed games this season. In Schutt's case, he hasn't played a single snap, instead the victim of a broken foot during the first game week.
But Noah Spence continued his wrecking ball style of play, Joel Hale became a player to go along with his leadership qualities and backups Joey Bosa, Chase Farris and Chris Carter solidified depth on the line.
"If we do a great job up front, we'll be in good shape," defensive coordinator Luke Fickell said. "If we don't do a great job up front, we'll have a tough time."
If the Buckeyes win, they'll be unseating the king of the Big Ten, at least that's Meyer's opinion. Roby has a completely different outlook than his head coach.
"We know we're the king, so we're not worried about anybody else," Roby said. "Simple as that."
The Ohio State-Wisconsin game has been elevated in recent years for its competitiveness and Bielema's poking and prodding. The Buckeyes have won five of the past six meetings, but the average margin of victory is slim. Last year's game went overtime, while the previous season produced an all-time thriller.
Wisconsin went to the Rose Bowl both seasons, even with losses to Ohio State. The Badgers made their way west after the 2012 season because the Buckeyes were in the NCAA's timeout chamber. After an undefeated season, many Ohio State players had a sour taste in their mouth watching Wisconsin trounce Nebraska in the Big Ten Championship Game and advance to the Rose Bowl.

"They took our opportunity in the Big Ten championship," Roby said. "It was kind of hard watching that, knowing we should've been playing.
"It definitely adds something, because when somebody takes what's yours, you're obviously not going to be happy about it. Next time you see them, it's going to be a fight."
How it Plays Out
Wisconsin has a vulnerable secondary. If anyone watched the Arizona State game, that became clear very early on. If Miller wants to gain some early confidence and dispel the notion that rust could result in a loss, he might want to throw the ball down field.
Ohio State's supporting offensive cast is night and day from the group the Badgers saw just six games ago. Running backs, wide receivers, tight ends – the Buckeyes have them all. They'll put plenty of stress on the Badgers' defense and stretch the field.
The primetime TV slot, night game atmosphere and motivation facing the three-time defending Big Ten champions should give Ohio State that extra oomph to continue its first-quarter tour de force. 
But Wisconsin should not be shoved aside. The Badgers' running backs should rack up yards, just not 350 of them. It could be a day where the Silver Bullets are exposed a little bit more. Improvements will again be in order with Northwestern next on the schedule.
The combination of offensive playmakers is too much for Wisconsin to overcome. Miller has thrived in night games. Being bottled up for three games will only add to his desire to perform at a high level.
---
ELEVEN WARRIORS STAFF PREDICTION: Ohio State 38, Wisconsin 24