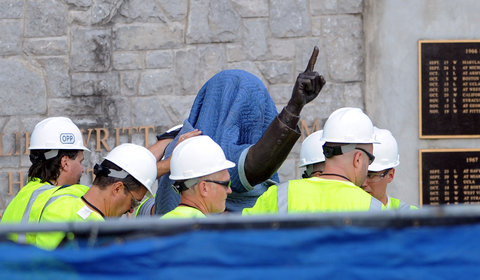 From CBSSPORTS.COM:
Beginning in 2014-15, five additional initial scholarships will be restored to the football team. That number, according to the NCAA, will continue to increase.

The action is based on the recommendation of former U.S. Senator George Mitchell and endorsed by the Division I Board of Directors.

"Providing relief from the scholarship restrictions will give more student-athletes an opportunity to attend Penn State on athletics scholarship while also creating an incentive for the university to continue its progress under new leadership after President Erickson's impending departure," Mitchell said in the official release.
And here's part of Penn State's response (H/T: @Ben_Jones88):
Penn State officials are gratified by the decision of the NCAA Executive Committee to modify the scholarship limitations previously imposed on the University under the consent decree between the University and the NCAA. This action, announced today, taken in recognition of Penn State's significant progress under and continued compliance with the Athletics Integrity Agreement, grants immediate relief from both the initial scholarship restrictions and overall team limit restrictions previously imposed on the University's football program.  This modification will restore a total of 65 scholarship opportunities for football student athletes wanting to attend Penn State.
The good news keeps on coming for Bill O'Brien, who also received a pay raise this summer. This is also good news for the Big Ten, because a competitive Penn State is good for the conference as a whole. It makes sense too, because Joe Paterno is dead, Jerry Sandusky is rotting away in protective custody of a maximum security prison, and Graham Spanier is awaiting trial. No reason to punish those who didn't engage in cover-up of systematic, institutionalized child abuse.