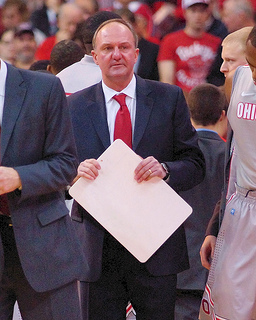 September 9 kicked off a flurry of activity near the hard court, as members of college coaching staffs traveled across the United States to evaluate and recruit players.
The same holds true for Thad Matta and his staff, who are still working on filling out the 2014 class and assessing what prospects to offer in 2015 and later classes.
Historically, Ohio State has dominated in-state recruiting. This month, Buckeye coaches are continuing to make inroads with members of a stacked 2015 Ohio class.
Plus, Matta and his staff remain in pursuit of a budding star from "Down Under."
Chasing a Big Man for 2014
The highest rated big man the Buckeyes are after is still, technically, Jahlil Okafor. Fans are probably tired of being teased with the notion that Okafor is considering Ohio State, with all signs pointing towards Duke.
Still, Evan Daniels ignited a firestorm on Twitter by reporting that some of his sources think Okafor is leaning towards Kansas. Maybe there was some magic between him and Bill Self in their meeting last Tuesday.
Perhaps it's all just conjecture. Still, this might suggest Okafor isn't completely sold on Duke and won't be headed there with Tyus Jones, after all. If that's the case, Ohio State still has a shot to impress him on an unofficial visit to Columbus.
A more realistic option is Myles Turner. Kansas has long been considered the favorite to land the five-star Texas big man, but that tide might be changing.
He'll no longer attend Late Night in the Phog – a premier Jayhawk basketball event – due to a schedule conflict. He'll have to reschedule his visit, opening the door for another school to jump his alleged favorite.
He's considering visiting Ohio State, Oct. 19, during the Iowa game weekend, but that's not necessarily cemented. Kentucky, who offered him last week, will want him to attend their star-studded Big Blue Madness event the same weekend.
Outside of Okafor and Turner, the Buckeyes are still in on two other big men – Goodluck Okonoboh and Elbert Robinson.
Okonoboh recently visited Indiana, meeting up with former teammate and Hoosiers freshman Noah Vonleh. Meanwhile, Matta and Florida coach Billy Donovan were on hand to watch Okonoboh practice at his high school gym, last week. Currently, he hasn't disclosed plans to visit Columbus.
Robinson will visit LSU this weekend, where a former Tigers big man will be conveniently on campus, as well:
LSU will have Shaquille O'Neal on campus during Elbert Robinson's visit to Baton Rouge: http://t.co/73350ghbls

— Casual Hoya (@CasualHoya) September 19, 2013
Ohio Prospects in 2015
Matta and his staff have been racking up the frequent flyer miles, but they're not straying too far from Ohio.
The Lexington Herald-Leader reported Matta, Mike Krzyzewski, Roy Williams and John Beilein were in Franklin, visiting with Luke Kennard. Duke sent an all out blitz to Southwest Ohio to watch the five-star wing.
Kentucky is also tugging at Kennard, who has reportedly visited Lexington three times in the last seven weeks. His most recent visit came during another recruit-filled event, the UK charity alumni game.
Up in Cleveland, Matta visited Carlton Bragg, a five-star VASJ product:
VASJ RT @Viking_AD: Thanks Ohio St., Northwestern, Iowa and West Virginia for coming to the Viking Village tonight! pic.twitter.com/bbMhf3p26p

— Mike Young (@MYoung11W) September 12, 2013
He wasn't the only one to check out Bragg since the recruiting period opened. According to Michael Graves – his mentor – members of the Kentucky, Michigan, Michigan State, Indiana, Kent State and Illinois coachings staffs were all in the VASJ gym, Wednesday.
Bragg will be on Ohio State's campus, this weekend. He's scheduled to visit Kentucky next weekend.
Buckeyes After 2015 Australian Recruit
One of the most exciting 2015 prospects the Buckeyes are after is Ben Simmons. The five-star recruit is a Melbourne, Australia native and is only in his first year of high school in the United States.
Despite the inexperience stateside, one look at Simmons' mixtape and he offers up limitless potential.
Now, as Simmons writes in his USA Today blog, he has risen to 6-feet-10 inches tall and his weight is up to 230 pounds. He spent the summer playing for the Australian national team, and competing against fellow countryman Dante Exum in an abbreviated dunk competition.
Additionally, he joined a semi-pro team in Australia and played against guys almost twice his age.
"The physicality alone helped me so much," Simmons wrote. "The main focus this summer was lifting and getting stronger so I'd be prepared to play at Montverde [Academy] again."
Montverde is the same school 2014 Ohio State commit D'Angelo Russell attends. Russell isn't the only one telling Simmons about how great Columbus is.
Buckeye coaches have been in constant contact, according to Simmons. He said he's seen members of Matta's staff at scrimmages and exchanged messages with them while he was in Australia.
"Over the summer I kept in touch with coaches from LSU, Duke, Kentucky, UNC, Florida, Ohio State, " Simmons wrote, "and a few other schools through email, for the most part."