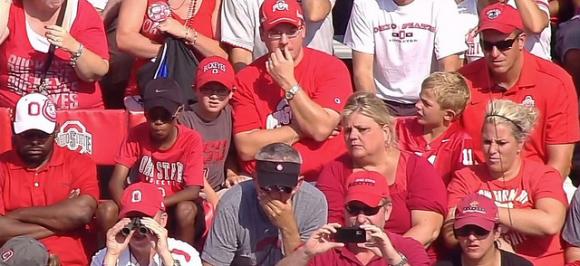 COACHES POLL
RK
Team
Record
1
Alabama (61)
2-0
2
Oregon (1)
3-0
3
Ohio State 
3-0
4
Stanford
2-0
5
Clemson
2-0
6
Louisville
3-0
7
LSU
3-0
8
Florida State
2-0
9
Texas A&M
1-1
10
Georgia
1-1
11
Oklahoma State
3-0
12
Oklahoma
3-0
13
South Carolina
2-1
14
Michigan
3-0
15
UCLA
2-0
16
Northwestern
3-0
17
Miami
2-0
18
Florida
1-1
19
Baylor
2-0
20
Washington
2-0
21
Notre Dame
2-1
22
Ole Miss
3-0
23
Arizona State
2-0
24
Michigan State
3-0
25
Fresno State
2-0
AP POLL
Rk
Team
Record
1
Alabama (59)
2-0
2
Oregon (1)
3-0
3
Clemson 
2-0
4
Ohio State 
3-0
5
Stanford
2-0
6
LSU
3-0
7
Louisville
3-0
8
Florida State
2-0
9
Georgia
1-1
10
Texas A&M
1-1
11
Oklahoma State
3-0
12
South Carolina
2-1
13
UCLA
2-0
14
Oklahoma
3-0
15
Michigan
3-0
16
Miami (FL)
2-0
17
Washington
2-0
18
Northwestern
3-0
19
Florida
1-1
20
Baylor
2-0
21
Ole Miss
3-0
22
Notre Dame
2-1
23
Arizona State
2-0
24
Wisconsin
2-1
25
Texas Tech
3-0
Ohio State held steady this week in the AP Poll at No. 4 after an easy win at California. On the Coaches Poll, which is part of the BCS' mystical algorithm, the Buckeyes clocked in at No 3. The Buckeyes didn't receive first place votes in either poll.
Ohio State was ranked second in both polls when they were released in August, and have dropped in both polls after opening the season 3-0. However, getting upset over polls in early September is useless. Ten games still remain for the Buckeyes (if they advance to the Big Ten title game), so the season will play itself out.
On the AP side, the Michigan Wolverines fell to 15 after escaping a last-second attempt by Akron to win their first game against a Big Opponent since the 1800's. Northwestern checks in at No. 18, Wisconsin fell to No. 24 after their stunning loss to Arizona State. Nebraska got wiped off the map after getting dismantled by UCLA at home. The Coaches poll dropped Michigan to No 14. Wisconsin got pushed off the map, and Michigan State, with their wizard offensive coordinator in tow, appears at No 24.