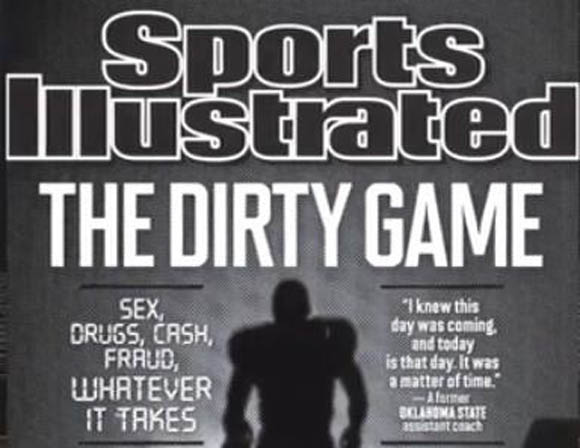 Old friend George Dohrmann has put on his Dick Tracey cap and has spent the last 10 months investigating Oklahoma State football. The allegations, which will be dropped in different segments (Money, Academics, Drugs, Sex and the Fallout) will be released every day until Friday, with the final piece coming in next week's copy of Sports Illustrated. At first glance, these allegations appear pretty explosive and span over a decade and cover multiple coaching staffs. (We've come a long way from fixed raffles.) 
Multiple players from multiple years allege they received payment for jobs they didn't do, work they didn't do, and for on-field performances. Sometimes cash was paid in an envelope immediately after a game, or sometimes it was stuffed in a new pair of socks the players found the next day in their locker. It was a rampant program and quite obvious to anyone with their eyes opened and their brain connected to their spine.
It appears problems started when Les Miles sauntered onto campus:
Miles took a more hospitable approach after he arrived in 2001 from the Dallas Cowboys. According to several players, boosters were permitted in the locker room; they were often on team flights and bus trips; they turned up at the training table. The boosters were at their most visible after a big victory, and no win was bigger during Miles's tenure than a 16-13 upset at No. 4 Oklahoma in the teams' regular-season finale of 2001. The Cowboys' victory kept the archrival Sooners from a shot at the BCS title game and sparked OSU's surge under Miles. In the locker room after the game, boosters approached key players and slipped cash into their hands. "We are talking about $500 handshakes," says safety Fath' Carter (2000 to '03), who observed others accepting such payments. (Miles denies that players were paid and says he gave boosters less access to the program, not more.)
Also, Mike "Come After Me! I'm 40!" Gundy's famous rant hasn't aged well either:
One of the signature moments of Gundy's nine seasons as coach came in September 2007, when he staunchly defended quarterback Bobby Reid at a postgame press conference. A columnist for The Oklahoman had questioned Reid's maturity, and Gundy responded by shouting at the writer, "He's not a professional athlete, and he doesn't deserve to be kicked when he's down."

[Linebacker-defensive end Rodrick] Johnson (Reid's onetime roommate), Mickens, Shaw and wide receiver Artrell Woods say Reid was a professional athlete, though. They say that Reid had received money earlier in his career, when he was the starting quarterback. (Now an offensive administrative assistant at Oklahoma State, Reid denies receiving money while a player.) By the time of Gundy's rant in 2007, Reid was no longer a starter, and Woods says Reid's bonus money had dried up. Says Woods, "They cut his ass off."
The whole article is basically a confirmation of any cynic's view of a (probably) rampant problem in college football. (Coaches: if you don't put a firewall between boosters and players, YOU'RE GOING TO HAVE A BAD TIME if the media gets wind of it.) 
The elephant in the room, obviously, is Les Miles rode this willful ignorance all the way to a monstrous promotion and payday at LSU. Did he suddenly have an awakening about the risk of his shady tactics? Or did he just get more professionally subtle with them? I know which way I'm betting. Regardless, this story is toxic for pretty much everyone involved.
Part II, the Academics, drops tomorrow, and Sports Illustrated has athletes from 2000 to '11 that say they participated in various forms of academic misconduct.