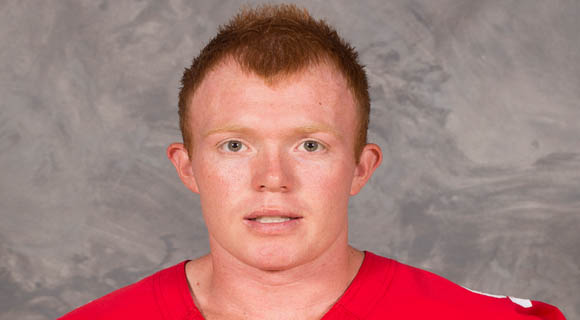 Cameron Johnston may struggle with driving on the right side of the road – literally – but kicking is kicking, regardless of the country. The YouTube phenom that Ohio State signed based solely on those highlight videos has quickly made an impact on the Buckeyes.
In two games, Johnston has punted seven times with an average of 42 yards per boot. He's pinned opponents inside the 20 twice and is yet to yield a single return yard. Ohio State's special teams have been lauded the first two weeks, but most of the attention has gone to the piranhas on the kick coverage unit. Lost in the shuffle is Johnston.
"That's pretty good. That would be our goal," special teams coordinator Kerry Coombs said matter-of-factly when the topic of zero return yards was brought up. "That's what we would like our punter to do – 43 yards, 4.3 second hang time. We feel like with the speed of our punt team, we can cover that. We're excited about Cameron. He's not great yet, but he's serviceable."
Teaching Johnston how to improve as a punter is much more manageable than the process of recruiting him. The Buckeyes thought they were gaining a four-year starter at punter when Johnny Townsend committed. However, that plan went kaput on National Signing Day when Townsend opted to stay in state and attend Florida.
Suddenly, Ohio State had no scholarship punter and was forced to press place-kicker Drew Basil into double duty. Following spring practice, head coach Urban Meyer and Coombs pledged their support and confidence in Basil to handle the job. But when a scholarship came free, Meyer knew exactly how it would be used.
"Kerry Coombs was almost on a plane to Australia in May," Meyer said. "I mean, like, checking flights and everything. He was going to leave on a Tuesday, but we said we can't have you go there because he can't work out for you. We had [Johnston] come [to Columbus], and we took him."
It wasn't the first time Meyer forged a long-distance relationship. No, this story doesn't involve his wife, Shelley. Instead, it's another longhaired blonde – Cole Magner. The wide receiver from Alaska was a prospect during Meyer's time at Bowling Green. Due to a limited athletic budget, a trip to the Last Frontier wasn't on the agenda. Still, Meyer was able to snag Magner, who was a fan favorite and enjoyed a standout career with the Falcons.
Johnston, a short redhead with pointed ears, may not look the part. One swing of his leg, though, removes all doubt. He's a former Aussie Rules football player and also had successful amateur careers in track and field and cricket. All that took a detour to American football.
"It would be fun if I could make a hit." -Cameron johnston
He spent a year at ProKick Australia, the same training ground for other Australian-born college punters and kickers. When you boom the ball 60 yards, college recruiters are bound to find you. The Buckeyes did, and took the leap of faith.
"Isn't that an amazing story?" Coombs said. "Through an awful lot of connections and conversations, we found a kid who I believe is truly special in a lot of ways. He's gifted. He can kick the ball a long way. He can kick it high. He can kick it where you want him to kick it."
Johnston can also use multiple styles. He's used the traditional style and rugby style. It's only been in recent seasons that ruby style punting has become popular in college football. Most fans have great disdain for it, but when an Australian does it, and does so effectively, the jeering seems to subside.
"He's a fast athlete, so we might be able to do some things with him, moving the pocket and so forth," Meyer said.
The list of Ohio State players with an international or rugby background has grown exponentially in recent seasons. South African Ryan Pretorious, a former pro rugby player, and Devin Barclay, a former MLS player, each served the Buckeyes as kickers, while special teams ace and defensive back Nate Ebner, a member of the U.S. national rugby development program, became a star at Ohio State and parlayed it into an NFL career with the New England Patriots.
A major factor in the coaches taking a liking to Johnston is his age. He's 21, which makes him more mature than your average college freshman.
"He's a tremendous kid," Meyer said. "Twenty-one years old, so he's not that 17-year-old wide-eyed freshman that looks at you like, 'What planet am I on?'"
Perhaps the most unique thing about Johnston, though, is his drive for physicality. Most punters usually shy away from contact. If a returner or blocker darts toward them, they'll make a half-hearted attempt at becoming involved in the play.
Not Johnston. His Aussie Rules background means he spent game days kicking and getting tackled with little padding under his uniform.
"He's a tough guy," Coombs said. "He's an athlete. He is absolutely gifted with his feet and can do great things punting the football. It was a long journey and it took a lot of convincing, to be honest with you, but we have got a guy who has a chance to be very, very special and a great weapon for our team."
Said Johnston: "It would be fun if I could make a hit. But hopefully the punts are good enough, and we've got some great people out there that are going to make some massive tackles."
Basil and walk-on wide receiver Devlin McDaniel have been Johnston's guides to American culture. They've made sure he drives on the correct side of the road and joked to him about eating dinner at Outback Steakhouse.
For Coombs, the biggest transition is learning to speak Australian, "which is remarkably different than English," he said, laughing.