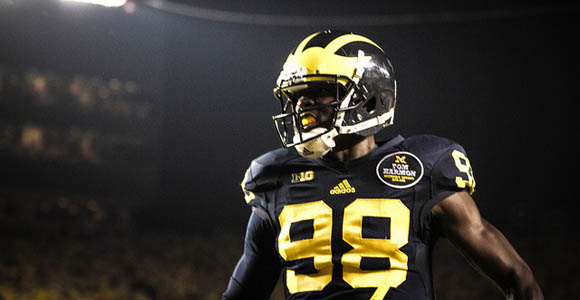 The Notre Dame/Michigan rivalry has given us a litany of exciting, dramatic, and straight up hilarious moments throughout the 2000s, and personally I'm sad to see it go. Its death is a result of Notre Dame grumpily kind of choosing a conference, which means I guess we can all look forward to Catholic convicts versus secular convicts on a regular basis from now on.
I will admit that I was unabashedly rooting for Michigan in this one, and frankly expected them to pull it out against an Irish team that I feel is headed for an 8-5 season.
Two things went into my support for the Wolverines in this one: first, I'm not one of those people who want to see an 0-11 UM team every year. Aside from making the rivalry horrifically boring, it'd become devoid of all meaning. I mean, we've dealt with some super lame ass OSU/UM games before, but at least it meant something.
Second, this is one instance where Michigan is easily the lesser of two evils. Without even getting into the incredibly disgusting and sad details of the Lizzy Seeberg case, Brian Kelly also got a kid killed because he was too cool to make the decision that Tressel did in a heartbeat.
So, you know. Screw those guys. I'm glad Michigan stomped all over 'em. Let's talk to Ace from MGoBlog about it.
Quarter 1
Michigan looked dominant initially, exploiting some really bad zone defense and racing to a 10-0 lead. Gardner was crafty and I assume had some decent numbers which I would relay to you but ESPN's Gamecast decided to just completely crap all over itself. Notre Dame wasn't getting anything done on the ground against the Michigan d-line, as Frank Clark invaded the Irish backfield (their "home," if you will).
Then Brian Kelly realized that imitation is the greatest form of flattery, and started attacking the Michigan corners en route to Rees completing a pass that was apparently ordained by God to be a touchdown. 10-7 Wolverines at the end of the quarter.
Johnny: That zone defense, man. She giveth, and she taketh away.
Ace: Notre Dame's zone defense certainly gaveth, that's for sure. The middle of their defense is a disaster without Manti Te'o and Michigan took advantage. On the other side of the ball, I'm not sure why Notre Dame didn't go to the run a lot more often, actually;  the Irish pretty much had their way with runs up the middle, but they only gave the ball to their backs 18 times all game. I feel confident in saying that Al Borges put together a better offensive gameplan than Brian Kelly, and that's not something I ever expected to see; this was probably Borges's best game as Michigan's OC.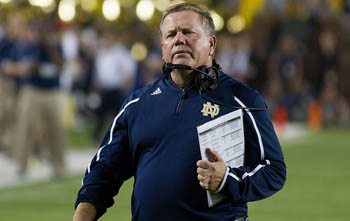 Quarter 2
Notre Dame quickly came back with a field goal, but Michigan again marched downfield for a touchdown. Neither team seemed interested in defending the edges of the field, until Tommy Rees evolved into his final form, that of a QB who throws untimely INTs that lead directly to opponent touchdowns. 27-13 bad guys over also bad guys.
Johnny: Welp, how does it feel to know exactly how Rees was gonna turn out on Saturday?
Ace: Rees has developed into a pretty impressive passer, especially when he sees a blitz coming, so Michigan's gameplan was to rush four, play zones that wouldn't let Notre Dame's big play guys get over the top, and wait for Rees to Rees it. I pointed this out early on in the game and my mentions were blowing up with frustrated Michigan fans wondering why Mattison wouldn't turn up the heat—and then Rees finally did what he does, failing to see Blake Countess in an underneath zone and throwing it right to him. Bless you, Tommy Rees.
Johnny: What's funny is this was more or less the Jim Heacock philosophy for years and years as far as passing defense goes, and Ohio State fans are still PO'ed about it (despite, you know, producing some of the best defenses of the 2000s). DAMN YOU NICKEELLLLL!!
Quarter 3
I blacked out after this happened. Notre Dame scored. Then Michigan did. 34-20.
Johnny: Is Devin Gardner actually a future Jeremy Gallon that traveled back in time to play football with his past self?
Ace: As far as I can tell, they share a brain, so that seems as viable a theory as any—I guess future Gallon hits a very late growth spurt. It was remarkable to watch the connection between those two. Gardner sometimes gets himself in trouble by locking onto Gallon; it's pretty hard to blame him for doing so when Gallon catches everything thrown his way, especially since no other outside receiver has proven to be a threat at anything besides downfield blocking.
Johnny: The B1G has a decent amount of marquee corners, isn't it just a matter of time before Gallon hits a wall against a team set up to defend against him?
Ace: It's certainly possible if he doesn't start getting more help; I'm sure you noticed that he came up a little gimpy in the fourth, though he fought through that to draw a critical pass interference call. Devin Funchess hasn't produced as expected and the other outside receivers haven't emerged at all; the other starter, Jehu Chesson, hasn't been targeted through two games. That has to change or opponents are going to roll their coverage over Gallon and dare Gardner to throw elsewhere.
Quarter 4
Everything seemed to be cruising toward a relatively easy Michigan win, when Gardner became the agent of chaos that we all know and love. Instead of taking a sack that would've resulted in a safety, Gardner hucked a ball up for grabs and it gently settled into the arms of a Notre Dame defender for an Irish TD.
The Irish added a field goal, and with roughly five minutes left, Gardner threw another INT but was bailed out by a questionable interference call. This led to a backbreaker touchdown to Drew Dileo (after another questionable interference call), and Tommy Rees Tommy Rees'd at the end of the game. Final: 41-30 Michigan.
Johnny: This will probably get lost in all the Gardner talk, but the offensive line play was definitely key in this win.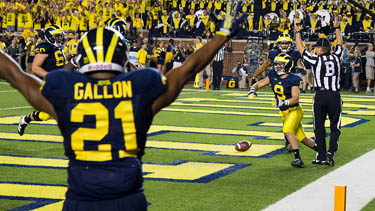 Ace: I'm not sure I'd say that. Gardner spent plenty of time trying to escape pressure and the line couldn't open up much in the running game. I actually thought Fitz Toussaint had a very good game, the problem was he rarely had a hole to run through; there's a reason Michigan only gave two carries to other backs. Luckily, Michigan won't face a defensive line that good again unless they somehow find a way into the national title game. This game exposed the line as just okay; the tackles are great in pass protection but they're a little small and inexperienced on the interior—I think Michigan won't be able to rely as much as they'd like on the interior line in either the run or pass game.
Johnny: Okay, you're gonna hate this, but I keep getting flashbacks to how Penn State fans defended Evan Royster when you talk about Fitz. I just feel like the dude had an amazing half season in 2011 and it's been diminishing returns ever since then. His leg exploding into confetti probably didn't help matters either.
Ace: Man, I do hate that; I also understand the sentiment. Last year was such a lost year even before Ftiz's leg exploded—it's tough to overstate how awful the run-blocking was—that it's really tough to tell how much of 2011 was real and how much was Denard opening things up for him. He's had a run in each game that's been NFL-quality, set up blocks and then explode stuff—he doesn't look like he's lost a step; he's also missed some openings and the stats aren't pretty. I believe he's been better than the numbers indicate. I'm also unsure if Michigan has viable other options with Derrick Green looking like he ate himself out of a very real chance to start, so I may just be trying to talk myself into that belief due to lack of palatable alternatives.
Overview
Johnny: This is undeniably a great win for Michigan, but some amazing individual performances will mask some underlying problems with what they put on the field. Gardner, for instance, looked brilliant at times, passing for nearly 300 yards and four touchdowns and leading all rushers for the game. On the other hand he also made some really terrible decisions that could've cost his team dearly.
Jeremy Gallon was also terrific, with three touchdown catches and 184 receiving yards overall but no other Michigan WR had more than 20 yards receiving or a catch of longer than 10 yards. Toussaint did have a 31 yard reception but his 3.2 yards per carry average won't impress many. Aside from Gardner, Michigan had almost no real threat in the rushing game.
With that said, despite giving up 23 points the defense continued to look solid, especially the defensive line. Tommy Rees was able to exploit a soft zone by throwing to the sidelines (and the middle of the field), but his 314 yards came on 51 attempts. Overall Michigan looked good on Saturday and though they have some holes in their offense, right now Gardner, warts and all, is more than enough to make up for them.
Ace: I'll take Devin Gardner gifting a very good opponent one touchdown (as horribly painful as that was to experience live) if he's going to average nearly nine yards per attempt—and that figure is deflated because two jet sweeps in which he pitched the ball forward were counted as passes, and those didn't get very far—and rush for 90 yards and a touchdown on 12 carries when Notre Dame's lone sack is removed. Like you said, he masks a lot of the offense's warts, especially in the run game—the zone read from the pistol was Michigan's most effective run play on Saturday, and his ability to escape the pocket and improvise usually results in good gains. His habit of completely losing his mind for a play or two each game may cost this team a win at some point; the positives still far outweigh the negatives. If he can eliminate those mistakes—a big if, obviously—he's the best possible quarterback for what Borges wants to do with this offense with his ability to throw accurate deep passes and improvise when necessary.
As for the defense, I'm concerned that the line didn't look good against the run and couldn't generate a sack until Notre Dame's last drive, when they were able to pin their ears back knowing the Irish wouldn't run. Michigan still has an uncanny ability to keep opponents from getting big plays, another Mattison staple, and that's allowed them to field very good statistical defenses the last two years despite lacking any semblance of a pass rush. I'm hoping Jake Ryan changes that when he returns in October, and luckily Michigan has a pretty easy upcoming stretch to work out a lot of the kinks.