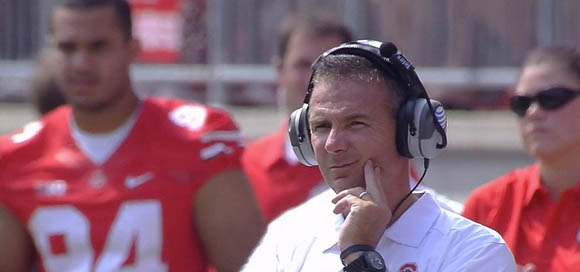 This is not a post about Missouri. And nothing against Missouri! It's a fine state that continues to give Yakov Smirnoff gainful employment, and for that I'm eternally grateful.
But instead, this post is more about expectations, and what I've learned over the past several years both as an Ohio State fan and as a writer for Eleven Warriors.
One of the things that I've notced is that every fall camp, we seem to gravitate toward calling one or two units as being particularly good. Last season it was the defensive line, the year before that it was... okay, nobody, but the year before that in 2010 it was the offensive line, and the year before that it was the defensive line again.
Sometimes these predictions work out. The 2009 version of the Ohio State defensive line was an absolute monster, allowing less than three yards per carry and only eight rushing touchdowns the entire season (half of which came in the first two games). Their dominance culminated in a Rose Bowl victory over a hyped Oregon squad that looked totally befuddled at times against a highly flexible OSU d-line.
Other times it doesn't work out. Last season that same unit was supposed to be one of the best in recent memory, and call to mind the efforts of the 2009 group. Instead, they gave up nearly 2/3rds of a yard more per rushing attempt, allowed three teams to reach the 200 rushing yard mark, and though they managed a respectable 30 sacks, their 64 tackles for loss paled in comparison to that of teams from the previous five seasons.
The caveat is that there are always extenuating circumstances. Injuries, bad coaching, how the opponents decide to play against certain units, or just plain bad luck can effect stats and our perception of how well a group played.
But the overall point is that it's impossible to accurately determine just how well a group will perform, no matter what the hype surrounding them was going into the season.
The hype itself is natural. Even though they're dumb as hell, people still love preseason polls because it gives them something to talk about. Last season, for instance, USC got 25 first pace votes in the preseason AP poll, and was ranked number one. They were followed by Alabama, LSU, Oklahoma, and Oregon, in that order. By the time the final AP poll of the season rolled around, USC wasn't even ranked, and Oklahoma and LSU were 15th and 14th respectively.
Conversely, Texas A&M, which garnered all of five total points in the initial AP poll, ended the season 5th.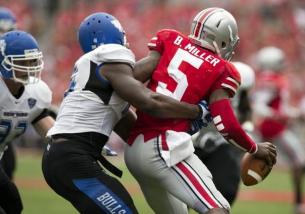 If you're saying to yourself, "well yeah, but who could've accounted for Johnny Manziel? Or a loaded USC team being completely mismanaged by an incompetent coach?"
But that's exactly the point. People are both fallible and unpredictable. No one could've predicted that Manziel would've come from absolutely nowhere as a redshirt freshman and rack up over 5000 yards of offense, and the people who should've known that Lane Kiffin would royally botch his easiest run at some kind of respectability didn't see it coming at all.
The reason for both of these things that sports fans and the media that caters to them want opposing things, at least as far as accuracy and the truth are concerned. On one hand, fans want to know which team or player or group of players are going to be awesome in an upcoming season, and they want to know these things quickly.
And since immediacy drives the narrative, the media is obliged to give people things like "breakout performers" and "top units" and "teams to look out for" that are really based on nothing but conjecture and, for the most part, hearsay. Aside from maybe Phil Steele, sports writers don't really care about accuracy at that point because readers almost never hold them accountable for being wrong.
So let's circle back around to Ohio State. This season, the offensive line should be very good despite a mediocre at best game from them last week. We, the fans and media, were buoyed in our line of thinking about the o-line because of quotes like this from Meyer from August 27th:
So as the Buckeyes prepare for the opener Saturday against Buffalo, they are much deeper on the line, Meyer said.

"Pat Elflein is a great story," Meyer said. "What a worker, what a tremendous kid, tremendous family. Just tough. … Kyle Dodson has come on." ...

"Those are all players that, a year ago, to think you would ever let them on the field in a situation where it counts, that's not going to happen," Meyer said. Now, in terms of Baldwin, "I have no problem putting him, Pat Elflein, Jacoby Boren in the game, and Kyle Dodson is getting close."
We jumped on that quote like a cat on a laser pointer. Real depth! A rotation of guys! We're gonna be Alabama from last year yeeeaaaaaaahhhh!
Then, yesterday, Meyer had this to say about the line play:
The four sacks did not sit well with the coach. Buffalo also totaled nine tackles for loss.

"That's unacceptable," Meyer said. "Completely unacceptable."

Meyer noted that a couple of the sacks resulted from "pure misses by the offensive line."
Oh no, we're terrible now! Better get ready for 7-6 and the eventual heat death of the universe! Etcetera.
It's all relative. Like football polls, we shouldn't try to assess individual groups of 18-22 year olds until we've seen them on the field for at least 3-4 weeks. The offensive line may still prove to be one of the nation's best. A linebacker corps that is perceived to be very thin might surprise by coming together quickly. A vaunted RB stable might turn out to be mediocre overall.
But until we get more evidence either way, it's probably best to wait. Don't give me promises of greatness or knee jerk reactions to one sloppy game. Show me on the field, and in a month we can start to talk about these things.