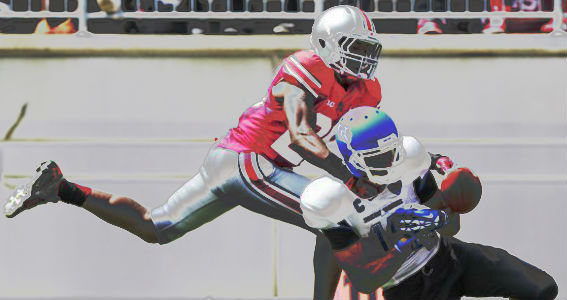 When Bradley Roby started his first Ohio State game in 2011, the Buckeyes allowed just 55 passing yards.
Akron attempted only 19 passes that day and completed only seven, but it's hard to say just how much Roby had to do with any of that. He made no tackles and finished with no pass breakups or interceptions. Five Ohio State sacks that day convinced the Zips that dropping back was an exercise in futility.
Roby's coverage probably had some kind of effect on the game, but if his name weren't on the starting lineup in the box score, you'd never even know he played in that 42-0 curb stomping. Dominic Clarke, his partner that day, finished with four tackles and broke up two passes.
Two years later, Armani Reeves stepped into the breach created by Roby when he put himself in a bad spot — a Bloomington, Ind. bar. Roby's one-game suspension led to Reeves' first career start in the 2013 home opener against Buffalo, a comfortable 40-20 win.
The sophomore from West Roxbury, Mass., coming off a 2012 knee injury, appeared in six games as a true freshman a year ago. He even saw a few plays at corner against Miami. The coaching staff deemed his play in camp worthy of a start in Roby's absence.
Some would call his first career start a bust. His position coach, Kerry Coombs, called his performance "average."
Head Coach Urban Meyer was a little more harsh.
"He got exposed there for a minute, but I expect him to continue to get better. He's a tough kid."
Rest assured, no one has been tougher on Reeves this week than himself — not a single Buckeye fan, coach or teammate.
Aside from some missed tackles and, at times, improper technique while defending a larger opponent, Reeves did basically what was asked of him, minus a personal foul penalty he drew for finishing a play a bit too aggressively on the sideline.
"I just have to not get nervous and not put my head down. I've done this since I was in fifth Grade." - Armani ReevesThe soft coverage he played was by design. With so many youngsters starting on a rebuilt defense, and without the luxury of starters Roby and C.J. Barnett, Ohio State opted to play it safe. The Buckeyes weren't aggressive, choosing instead to sit back and prevent the big play. You wanted tighter coverage, but if Meyer and his staff had agreed, they'd have certainly changed things up.
For the most part, Ohio State's strategy worked. The Silver Bullets held the Buffalo offense to just 258 total yards and two touchdowns, despite being put in bad positions by the offense several times. The Bulls threw for a total of 185 yards. And yes, many of those yards came at the expense of first-time starter Reeves.
"It was a lot of throwing at me, a lot of everything," Reeves said. "I would throw at me too."
Reeves finished with three tackles on Saturday — all solos — and three pass breakups, one of which he nearly intercepted. His overall game was hurt by a few bad angles and some poor technique in the open field, which led to extra yards after the catch. It was reminiscent of Ohio State's defense early last season.
Like last season's mid-stream corrections, Reeves feels like his mistakes are not beyond fixing.
"I just have to work on my fundamentals," he said. "I feel like I'm a great tackler. I just have to not get nervous and not put my head down. I've done this since I was in fifth grade."
A gifted athlete, the 5-foot-10, 198-pound Reeves made his mark on special teams his freshman season. He was a fixture on the "Piranhas" kickoff cover team and saw 52 plays in the six games in which he appeared, recording two solo tackles and earning his varsity letter.
While criticism of his first start at cornerback is not unwarranted, it's doubtful that many of us were spectacular our first day on the job, and we were probably asked to do a lot less.
As Reeves gains experience and confidence, he'll be able to play closer to the line of scrimmage and press receivers when needed. It's perhaps unfair to compare him to a player like Roby, but then again Reeves recorded three more tackles and broke up three more passes in his first game than Ohio State's All-B1G cornerback did.
The pieces are all there for Ohio State's No. 26. Saturday's game against Buffalo was just step one in putting them all together. You've got to start somewhere.