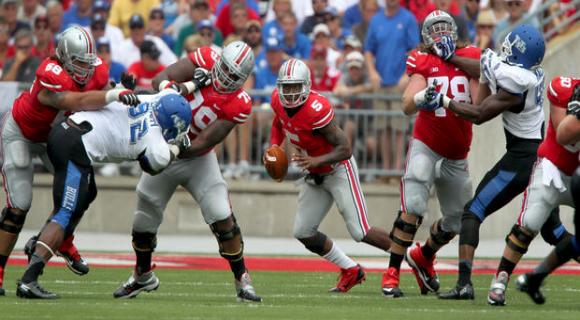 A four-day workweek applies for most people in the country the first week of September. That is, unless your office is Ohio State's football facility. The employees clocked in early Monday morning to game plan for San Diego State.
Part of that plan means welcoming back Bradley Roby, C.J. Barnett and Rod Smith. The Buckeyes also get full use of Corey Linsley. Don't expect them to rest on their laurels, though. A 40-20 win over Buffalo that included being outscored 20-17 the final three quarters doesn't register as no room to improve.
"I think complacency is certainly not a problem this week," head coach Urban Meyer said. "I'm anxious to see a lot of improvement."
Roby and Barnett's presence alone will make the secondary better. One of them is due to start, and it's not the All-American. Come Saturday, Roby may get the nod ahead of Armani Reeves, who started against Buffalo, but the decision won't be made until the duo has practiced.
"He's competing for a spot. He will not be named starter," Meyer said of Roby. "It depends on how they practice."
It's been nine months since Roby last played. Since the season ended, he's shunned the NFL and served a one-game suspension. Meyer believes there was a brief period of buyer's remorse, where Roby may have regretted his decision to return to school.
Now, that is all well in the past. Roby chose to return for his redshirt junior season because he wanted to go out with the same recruiting class he entered Ohio State with. They have a chance to put the Buckeyes back on the top shelf of college football.
Roby's coming off a season that included 63 tackles, two interceptions and a nation's best 1.73 passes defended per game – 17 were broken up. Perhaps the lasting impressions from the last year, though, were his antics off the field.
"I think he learned a really strong lesson, and he's done everything we've asked him to do," Meyer said. "I'm anxious to get him back on the field."
In the week leading up to the opener, Roby was already keying on San Diego State. The hurt from not being able to play last Saturday was masked by his constant preparation, a hallmark of Roby's Ohio State career. It's why young players come in and immediately gravitate to the Thorpe Award candidate. 
"The great ones love to play the game," cornerbacks coach Kerry Coombs said. "The great players don't try to get out of practice, they don't try to get out of working out, they try to find ways to get in. Last week, [Roby] was in the office watching San Diego State film to prepare himself for this week. He has treated this like a professional, and he has worked hard to stay in shape. He's excited about Saturday. It's time to go, and it's been a long time since he's been on the field. So I guarantee he's excited about that and I know I am."
Meyer's also eager to see more points on the scoreboard. Forty didn't quite leave him satisfied after 23 in the first 15 minutes. He admitted he has high standards, but that doesn't change his opinion that it was an average offensive performance.
"We're going to try to score as many points as we can against any team. We weren't happy with 40. We want to try to get about a hundred," he said, with a smile.
Running backs coach Stan Drayton said it was a matter of consistency, something Ohio State was lacking. And while Meyer is still searching for the ever-elusive perfect game, he's not broken up about being able to teach the players a thing or two in the coming week.
"There's been times where you smoke a team and then all of a sudden you're going on Tuesday and you start trying to get after them and they are looking at you, because they have just been told how great they are," Meyer said.
"So this is a great opportunity for us to coach them hard and get better Tuesday and Wednesday."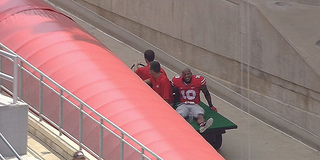 Cramping Their Style
An obvious take away from Ohio State's season opener was the disappearing players. Braxton Miller, Ryan Shazier, Evan Spencer and Josh Perry all left the field because of cramps. The humidity chased those Buckeyes away. But in the coming weeks, pass-happy, hurry-up offenses could again hamper the on-field ability.
San Diego State called 67 pass plays, Cal employs Sonny Dykes' fast-paced, throw often spread and Ohio State's own offense could at times be a detriment to its own defense, because of how fast they go up and down the field. They had three scoring drives of five plays or less on Saturday.
"The issue of cramping, we can't have guys leave the game," Meyer said. "Perry didn't play that many plays, and all of a sudden he's out of the game. I'm still trying to figure that one out."
It was evident Meyer wasn't pleased with Perry on Saturday. The coach tore into the linebacker on the sideline.
"Our guys and I have to do a good job," Meyer added. "We can't have those issues, because that will be a major league problem this week.  I'm not worried about next week, we'll discuss that next week. If you look out there and some guys are cramping or they are not playing, then we've got a problem. No one has that much depth."
Game day isn't the most important factor in the equation. It starts at the beginning of the week and progresses every day. Players have to hydrate days ahead of Saturday to compensate for what they experience during a game. That hydration on Tuesday and Wednesday looks better on Saturday when a player doesn't experience any cramps, like cornerback Doran Grant.
"I'm pretty sure the guys learned their lesson," he said.
No Controversy 
The stats may indicate the need for a quarterback controversy at San Diego State, but that is not the case. Aztec starter Adam Dingwell was sacked four times and threw zero touchdown passes compared to four interceptions in a 40-19 loss to Eastern Illinois.
But head coach Rocky Long and quarterbacks coach Brian Sipe put an end to any lingering questions.
"Adam had a tough day, but he's still our starting quarterback," Long said.
Dingwell is one of the top returning quarterbacks in the Mountain West. He started fives games in 2012, throwing for nearly 1,000 yards with eight touchdowns, seven interceptions and a 57.6 completion percentage.
In his past two games, Dingwell is 39-of-92 for 462 yards with zero touchdown and seven interceptions.
"If you were to look at the interceptions [against Eastern Illinois], the majority of them came at a time in the game when we were forced to throw and the secondary and the package on defense was to stop the passing game," Sipe said.
Sipe expects a big week from his quarterback and doesn't fear a possible mental lapse with all the criticism swirling around him.
"He has intangibles that are very important to this team," Sipe said "There's no considering benching him or getting another guy ready at this point."