The 11W Community Interview is truly of the people, by the people, and for the people. You submit the questions, vote on them, and then we pass the top ones on to the biggest names in the world of Ohio State athletics.
The subject of tonight's 11W Community Interview – our last until the 2013 Buckeye football season is over  – is Fort Worth (Texas) prep star and Ohio-native, Demetrius Knox. Demetrius is well known around these parts and he's been without question one of the most personable and enjoyable recruits we've had the pleasure of covering. When he decided in late July to end his recruitment, Knox turned to Eleven Warriors to help him deliver the news and today he returns to the site for the first time since to answer your questions.
The 6-foot-4, 300-pound Knox talks music, recruiting, and of course, his love for Eleven Warriors. Get to know Demetrius Knox, just a bit better than you did before.
How upsetting is it that you've been asked to lay low in the Eleven Warriors community out of concern for NCAA secondary violations? – Killer Nuts
DK: It's actually very upsetting, but if that's the rule that's the rule. I really don't know the difference between me going on a site and talking football, and me going on Twitter talking football, but it is what it is.
What is your favorite part of Eleven Warriors? - Mirror Lake Jump
DK: It's a tie, between the material and the writers. I'm on a lot of sites reading football material but 11W has the best in my opinion. Plus, it seems like all the writers are cool, that's why 11W was the first to know when I committed. I figured it was the least I could do because of how good everyone the site has been to me.
You've said that you've been an OSU fan for a long time, what are some of your favorite Buckeye moments? – TheBadOwl
DK: I'm a big Eddie George and Terrelle Pryor fan. Once Pryor became a Raider, I became a Raider fan. Basically their careers at Ohio State are just real cool to me. They both were really great players.
We know you want to be a leader in your class, so who are you recruiting to come play with you? – TDizzle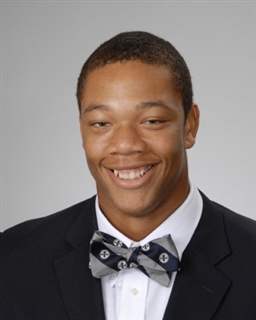 DK: Everyone in our class is a leader, and we've all been working hard to bring in other great players, but honestly now that individual seasons have started, and school has started, it becomes harder for us to really reach out to people, at least for me. My schedule is so packed and I'm just focused right now on winning state championship again this year.
It seems all the best offensive lines are able to form this perfect pocket and seem to move together on a string. Could you describe the process of an offensive line gels, and what your role is in that as a guard? – GameTime
DK: It takes a while for an offensive line to really get a feel for each other and to know how the people next you play, to trust their game. Once you get reps with the rest of the guys on the line, things can get really special in a hurry though. For example, I play tackle for my high school and me and my guard can communicate and call out blitzes and if we're going to kick or push left or right without even saying a word. Some times all that can be said with a point. That's the type of relationship the offensive line at my school has. We're all seniors so we've been together a while that's a major part of that. As far as my role will be playing guard, I just have to know the plays inside and out and build a great trust, develop a relationship with the other guys.
Meechy, you commented being torn between your head and your heart before you committed to tOSU, what was it that helped you follow your heart and become a buckeye in the end? – 2002OSUBuck
DK: It was really hard for me. I can't even describe how tough it was. But as everyone knows, Ohio State has been my dream team to play for since second grade. I have a lot of family there and that's where I felt like I would have the best support base. Like I said when I committed, I can always vacation to the beach.
How important we're academics in your decision process, and what field do you plan on studying at Ohio State? – Alpo
DK: They were very important. I mean just looking at my top schools of Ohio State, UCLA, and Miami. All top academic schools that also have excellent football programs. I go to one of the toughest private schools in Texas; academics is a must.
What is the most embarrassing song that you secretly like? – Biggy84
DK: (Laughs) I can't really think of one off top of my head right now. The things I listen to and the shows I watch, really aren't what you think a typical offensive lineman might watch; I mean my favorite show is Vampire Diaries if that helps (laughs).
Are you interested in enrolling early or would you rather have your last semester of high school to enjoy and soak it all in before work starts in the summer? – Buckeye06
KB: My school doesn't allow for players to enroll in college early, but even if I could, I don't think I would. I know there's a lot of value to people who decide to do that, but it's not for me. This is my senior year in high school, it's suppose to be my best year of my life, why cut it short? There's a lot of friends you lose when you go to college and I want to make sure I spend as much time as possible with the people important to me.
Compare life in the summer, running from camp to camp, to the season. How much did you enjoy the process of your college decision? – GoBucks96
I mean, my favorite show is vampire diaries...
DK: I love to travel so at the beginning of the summer the camps were really fun. After a while I just got tired of all the traveling even though it was free. Summer months means I have so much free time compared to now that school has started up. My schedule is packed, but I love it, I like being busy. I get to have one last year with all my friends and suit up on Friday nights to go and win another ring this year, so that's the focus. I'm glad I don't need to worry about recruiting or any of that stuff that's about me, it's about my team and my friends and family now.
What do you feel you need to improve on as a lineman and what did the staff at The Opening teach you that was something new that you can implement into your game this season? – Sin City Buckeye
DK: The thing people don't know is that when you go to all these camps, most of the players aren't using their own techniques. We use the ones we learn that day and we have to apply it on the fly, which can be difficult. I'd say I need to work on my run blocking the most because I feel like its going to be a big jump trying to block 320-pound defensive tackles in college. But I'm hyped up and I'm excited about suiting up in that uniform next year because it's the challenge that makes it worthwhile.
I just want to let everyone know that the reason I'm a little quite now is because during the season, it's a team rule that we can't tweet. I might favorite a tweet if you tweet me but that's about it. Once our seasons over in November and we have another state title, I'll be able to have a lot more free time. I hope Buckeye Nation knows that I'm going to give it all I got when I get there. I'm really thankful and blessed that I'm going to be apart of the program. Go Bucks!
Follow the "Dream 14" on Twitter and check out their webpage. 2014Bucks.com.