Believe it or not, one week from tomorrow there will be actual college football being played on the banks of the Olentangy. Say that with me again, "one week from tomorrow there will be actual college football being played on the banks of the Olentangy."
Like we do every year, we'll close out our season preview series the best way we know how: with an 11W roundtable. It truly is the finest nightcap to a long and winding offseason. I've asked the questions...you get the answers from none other than the finest minds in Buckeye football blog-dom. Specifically, that is our own cast of thousands: Joe Beale, Jeremy Birmingham, Michael Citro, Johnny Ginter, Nicholas Jervey, Chris Lauderback, Ramzy Nasrallah, Chad Peltier, Kyle Rowland, Jordan Wagner and Mike Young.
Let's do this.
We're heading into the 2013 college football season. How do you feel? What are your expectations? 
Nicholas: Would "cautiously optimistic" be too cliché? This team obviously has enough talent to make a national championship run, but there will doubtlessly be some close calls along the way that they'll have to survive. Last year's Michigan State game is a great example of the type of game that could trip up the Buckeyes: a road game against a team with a great defense where the fumbles are going to the other team. There's no way of telling how any team will respond in the heat of the moment, so all our preseason hype needs a caveat. At bare minimum, expectations should be no worse than 6-2 in conference and a plum January bowl game.
Chad: I couldn't feel better, and I mean that in two ways. First, the team is well rounded, with studs in almost every position and solid young backups. Second, I think this has to be the year. Even though Braxton will be a senior next season, he'll be behind a line that will replace four starters, while the secondary will replace both safeties and an All-American corner. At least in the immediate future, this is Urban's best shot at a national title. 
Johnny: I'm nervous. I'm always nervous when there's an expectation of success. Last year I was riding easy on the train to "meh"-ville because I knew that even an undefeated season didn't really mean a whole lot, given the postseason ban. This year, the expectation should be and is that Ohio State steamroll through the Big Ten on their way to a national championship.
Jordan: We all survived another offseason. I'm excited for the Buckeyes to finally take the field again. Can't wait to spend my Saturdays in The Shoe with 105,000+ fans. After a 12-0 season, I am expecting 14-0 this season and I honestly believe this team has all the tools to do so. I don't think this season will be a cakewalk by any means. Nothing would be better than an undefeated season capped off with a win over an SEC team in the National Championship. I'd love to see Clay Travis' column after an Ohio State win over the SEC in the championship game.
Which offensive player not named Braxton Miller or Dontre Wilson are you most excited to watch and why?
Ramzy: Jack Mewhort. When the Buckeyes run between the hashes you'll see him violently opening the door for them. [Gruden voice] He's a football player.
Michael: I'm mostly looking forward to seeing Carlos Hyde get his suspension behind him and start trucking people. I'm also eager to see Jordan Hall in that hybrid spot we've been hearing about. I think this offense will be fun to watch when all the parts are in place.
Chris: Devin Smith. With Braxton's improvement in both his passing mechanics and understanding of the offense combined with the plethora of weapons Miller can go underneath and sideline to sideline, I expect Herman and Meyer will look to expose teams over the top with increasingly regularity and Smith should be the prime benefactor. I fully expect Smith to build on his 20.6 yards per catch and six touchdowns of a year ago.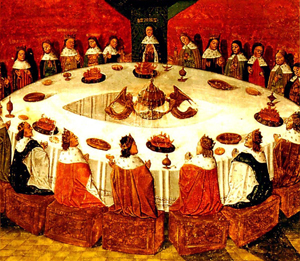 Kyle:  Jeff Heuerman is a big wild card. I could see him having tremendous production this season. Braxton, Dontre, Carlos Hyde, Rod Smith, Philly Brown, Devin Smith, Evan Spencer, etc. are going to be weapons all season. It's remarkable when you go down the list and realize there are more than 10 players that can deemed dangerous. So, obviously, there will be someone that benefits from the attention paid to other players. I think Heuerman is the guy, with Spencer as another candidate. Heuerman just has the skill set to be a star. Tall, speed, good hands, solid blocker. He seems like the total package in what Urban Meyer wants in a tight end. 
What game do the Buckeyes have the greatest chance of losing?
Jeremy: The game I have had mentally circled all along is October 5th at Northwestern. It's a night game in Chicago against a hungry group of Wildcats that will be hoping to show they belong in the upper-crust of the B1G, at least conversationally. Throw in that it's the week after an emotional game for the Buckeyes (at home, at night against Wisconsin) and the chance for a letdown is real.
Johnny: Michigan. People might be sleeping on them because of their losses on both sides of the ball (they're only returning 12 starters), but Gardner is a legit QB and they get Ohio State at home. The Wolverines will be hard pressed to get to 10 wins this season, but could be really dangerous towards the end of the year if their younger guys can start to gel and they can find someone to run the ball.
Mike: Is this a trick question? Honestly, I'll go with TTUN because of the road, rivalry game factor. Even in Rich Rod's only game against OSU in AA, they were competitive for about a quarter! Between that and the time they played Eastern Michigan, he had about 5 competitive quarters of football in his 3 years.  
Jordan: Cal. It will be the Buckeyes first away game. It seems like everyone is sleeping on Cal, but Sonny Dykes will have their spread offense scoring points. Last year, the secondary struggled at times. If that isn't corrected, the Buckeyes could be heading into week four with a 2-1 record. 
Chris: The sexy pick is at Northwestern but I'm not overly concerned about that one. It could be a shootout but I like Ohio State's chances in a game like that. The most concerning game for me is the B1G championship game because it'll be the first time Ohio State has played in Indy, they might be forced to beat the same team in back-to-back games, and they'll likely be playing for a spot in the national title game.
The passing game didn't exactly light it up last season (coming in at 105th in the country). Will this improve in 2013? Why or why not?
Ramzy: Braxton Miller's barista previous position coach taught him nothing his freshman year. When you're that raw and athletic, you take the easiest bailout. Passing statistics are going to improve significantly in 2013 in part because Ohio State's passing game contains a lot of what are basically long hand-offs. And Miller has a real position coach again instead of a fake one.
Chris: Braxton's evolution as a quarterback and his improved understanding of the offense combined with the noted increase in weapons could add in the neighborhood of an additional 60-70 passing yards per game. Doing that would vault the Buckeyes from 101st in Passing Offense last season (181.5 ypg) to somewhere around 245 passing yards per game this season (probably good for about 50th). The fact Braxton is still the best running back on the team despite all the other legit options keeps the passing yards from showing an even larger increase. Oh, and the fact Braxton won't get to finish many games due to blowouts doesn't help pad the stats either.  
Joe: With more experience, all of the principals involved (Braxton + receivers) should improve, and all indications so far say that they have. Whether or not that translates into more yards this season remains to be seen, but they should be more efficient in any event.
Which RB pulls away from the pack and solidifies himself as a second option behind Carlos Hyde and/or Jordan Hall?
Jeremy: This question is just impossible to answer because there's so much talent and depth in the backfield for the Buckeyes. Rod Smith, Bri'onte Dunn and Warren Ball each do different things well, but I think Dunn is most complete of the group and the experience he gained last year as a freshman will help him sneak ahead of the pack.
Nicholas: Rod Smith. Without Carlos Hyde in the mix for the first three games, he has the opportunity to rack up some carries. On paper, the only things on holding him back from 150 yard games are opportunity and fumbling issues.
Kyle: We'll look back at season's end and say, 'Wow, Rod Smith might be a stud in 2014.' He's the total package at running back. Size, speed, elusiveness. I think he is on track for a breakout year. Few people will even remember his fumble woes. 
Which unit scares you the most heading into 2013?
Michael: The linebackers. The team is just so thin there due to high attrition. Shazier is very good but he has to stay healthy. I want to see Curtis Grant and Josh Perry walk the walk before I feel comfortable. Also, the D-line is a concern to me. Can they withstand a direct frontal assault from a ground-and-pound team? I'm not sure yet.
Mike: I think it's the cornerback cornerback group. We know Roby will miss one game. Even with him, corner spots are relatively inexperienced. Christian Bryant, like much of the defense, progressed as last season went along. I suppose going from disastrous to competent is a gigantic leap. Based on what we've heard from him in practice, I expect another leap. So, he can erase CB mistakes. I'm not as concerned about the linebackers because we'll never three on the field at once. Corners are an underrated issue. 
Chad: Is there any way this isn't the linebackers? I guess it's only one guy in the standard 4-2-5 and we keep hearing good things about Tyvis Powell in the Star position, but I think the coaches would prefer the option of a third linebacker stepping up to rotate with Powell. 
The defense gave up over 3 TDs a game in 2012 (22.8 ppg). What does this group need to do to get better in 2013?
Michael: Being faster will help, and this year's defense should be faster. One thing that hurt last year was the team took such bad angles the first half of the year and at times they didn't wrap well. That needs to be cleaned up. If Jim Heacock is indeed going to help in the film room, that should also pay dividends defensively on Saturdays.
Jeremy: Hit. The. Quarterback. Noah Spence and Adolphus Washington are no longer green and their impact will shape the entire defense this fall. Get to the quarterback and force quick decisions, that's how the Buckeyes improve defensively.
Johnny: Eliminate the big play. Ohio State gave up far, far too many touchdowns of 25 yards or more last year, and it led to several teams staying in games that they really had no business being in (see: Hoosiers, Indiana). If they can keep the action in front of them, they should be able to improve on that number significantly.
It seems like expectations this year are undefeated or bust. Can you ever remember a season with more pre-season hype? If so, what year?
Chris: I have to go back to 1998. That team entered the season ranked #1 in the polls thanks to a roster littered with studs like Germaine, Wiley, Boston, Miller, Winfield, Plummer, Katzenmoyer, Moore, and Diggs, among others. Plus, Germaine was no longer forced to split time with a lesser quarterback and virtually the entire offensive line returned. Damn, that team was loaded.
Mike: There are quite a few similarities to 2010. Pre-season Heisman favorite, trendy national title pick, start the season behind Alabama in the polls. But, more hype? The 2006 season is obvious. That was pre- "Big Ten 'speed' =  fat midwestern farmers aahhhaa so slowwww (hurr durr)" and the Buckeyes were overwhelmingly predicted to go to the national title game. Put it this way: pretty much any time they're coming off a relatively strong season, there will be the "undefeated or bust" kind of hype surrounding them. Which is good, of course. 
Joe: 1980, 1995, 1998, and 2006 are all comparable in terms of hype of how good the team is, but I don't think there's ever been as much fear/dread of the team as I'm feeling from opposing fanbases now. It seems like they're all waiting for the shoe to drop, so to speak. It's almost as if they're taking pre-emptive shots at Meyer and the team because they're expecting the inevitable.
Over/under 50 points per game this season for the offense?
Chad: Under- I'll put it at the mid-to-low 40s.
Jordan: Under. Louisiana Tech was the only team to do this last season.  I realize the schedule is pretty easy, but 50 points per game is a lot! I'm thinking 41 is a good number, which would put the Buckeyes 6th on last year's list. 
Nicholas: Under. Even if OSU puts up 80 against Florida A&M, they'd have to average 47.3 points per game against the other 11 opponents to hit 50 points per game, which isn't a reasonable expectation for even the pass-heaviest Big 12 offenses. 40 points per game is more reasonable.
Michael: If this offense clicks, it's quite capable putting up over 50 per game on average and a couple teams will see Ohio State rack up 60 or even 70.
What is your best-case worse-case scenario for the 2013 Buckeyes?
Chris: Best case: NATIONAL TITLE, WOOT WOOT! Worst case: Anything less than a national title.
Mike: Ideally, Braxton Miller will bathe in the blood of the persecuted, poor and defenseless Big Ten conference. He'd throw for – precisely – 11,952  yards (doubling the previous season record), eclipse Case Keenum's career touchdown mark in one season by throwing for 156 touchdowns. Hopefully that's good enough to put them in the national title game, where they go on to defeat their only suitable competition, the Canton Greats, to win the national championship. 
But I can't even imagine how crushing it would be to lose... one game. Just like 2010, there's so much hype going into the season. After they lost to Wisconsin in 2010 (my junior year at OSU), I couldn't physically bring myself to go to the Purdue game the following week. As it turns out, that game didn't happen. Any loss is worst-case scenario. That prevents a national title game appearance. 
Nicholas: Best case scenario: 14-0, national champions, drinking the tears of Alabama fans in Pasadena while Mike Bianchi and Mark May and all the other media trolls turn into gibbering messes. Worst case scenario: 8-5 with an Outback Bowl loss to Vanderbilt, and the SEC ribbing continues unabated.
Kyle: The best case is pretty simple: national championship. The worst outcome would be Braxton Miller suffering an injury that impacts the season. Losing to Michigan while undefeated would also be a significant blow. The scenario I've played in my head is losing to Michigan in November and then winning the Big Ten Championship Game. Would fans even be happy with the Rose Bowl berth? It would be interesting. If Miller (and others) stay healthy, I just don't see Ohio State losing more than one game. The team is too good and the schedule is so weak.
Ramzy: Best case: 14-0. Worst case: 0-12. You can't fool me with these trick questions.