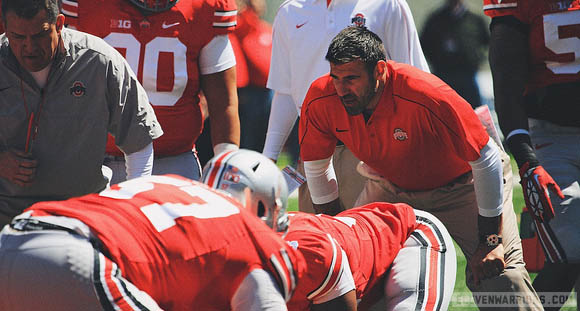 Urban Meyer said the biggest hire he made at Ohio State was that of strength coach Mickey Marotti. Once Marotti was onboard, he quickly pushed to make another momentous hire: a dietician.
Sarah Wick began working with other varsity sports at Ohio State in 2003, but never in a full-time capacity with the football program. It didn't take long for Wick to jump at the opportunity to work alongside Marotti.
"The amount of energy that Mickey wanted to put into the nutrition program, as a dietician you're like, 'Yeaaaa," Wick told Eleven Warriors. 
The first traces of the culture change came when a handful of offensive linemen missed Meyer's first team meeting. Weeks later multiple linemen were absent from another meeting. By then, Marotti – and every other staff member – had seen enough.
There were going to be changes regardless of what the players wanted. It was adapt or move on. The linemen stayed. Center Corey Linlsey called it a "warning sign."
The agenda included several bullet points, the first being body types. The top concern was the size of offensive linemen. To keep pace in Meyer's high-octane offense, linemen must be fit and swift, not the typical "big uglies" seen in the Midwest. It's not often you want linemen to get smaller.  
So Marotti and Wick went to work. When the sun rose, players were already taking part in Marotti's boot camp. When they weren't working out, Wick was busy offering a steady diet of salad instead of French fries. The months-long regimen built up endurance during adverse situations.
"From a nutritional standpoint, we worked as a team," Wick said. "Everyone promoted nutrition and strength and conditioning. (The players) were getting it from all angles. It made it a lot easier, and I think that is huge when it's in an environment like football.
"Everyone is encouraging becoming the best athlete possible. Nothing is easy. They're responsible for putting whatever they put in their mouth. But they were very motivated and had a lot of support. You still have to put in the work."
Given the results, labeling the process as work is an understatement. When their personal torture concluded, more than 500 pounds of fat were shed with 500 pounds of muscle being added. The offensive line alone was responsible for nearly 150 pounds of lost fat.
The bodies of 1980s and 90s era linemen had disappeared. And the newfound slimness motivated players and zapped the laziness gene. Second halves became winning time instead of catch-your-breath time. There was an abundance of energy. Ohio State outscored its opponents 222-147 in the second half and overtime last season, en route to a 12-0 record.
It was a revolutionary step for the Buckeyes. Few teams in college football have dieticians and nutritionists on staff. At Ohio State, the program is individualized to tailor to a player's needs. They receive a detailed plan that includes losing weight, adding muscle or sometimes both. It all depends on the player.
"From Day 1, nutrition became extremely important," Wick said. "If they want to play, they know there's a place they have to be. More than anything else, the strongest part of this program is they're so supportive of all the different services. Everyone works as a team."
"I had to yell at him to get a belt on." – Ed Warriner
The biggest transformation has been Marcus Hall. The senior right guard has shed nearly 20 pounds since the end of last season. It's been so dramatic that offensive line coach Ed Warinner was worried Hall's new physique would cause his pants to fall down.
"I had to yell at him to get a belt on," Warinner said.
Hall is down to 308 pounds after playing 2012 at 325. That's on top of the 15 pounds he lost during the 2011-12 offseason. Not only does Hall feel better – as good as his playing days at Glenville – his on-field production has soared. Added speed and muscle means a more complete blocker.
During the Tressel era, Hall was a lineman with big expectations that performed at an underwhelming level. Off-field trouble didn't help matters. But Wick came in with no preconceived notions. She developed a friendship with Hall and his girlfriend, Martina Ellerbe, while working with the women's basketball team. Ellerbe contributed added motivation for Hall.
"It was really hard for him," Wick said. "I won't say it was easy. He had to do some changes. But he was more than willing to do that. I find him to be very, very intelligent. Once you give him the logic behind it, he's fine. He may not like it all the time, but he'll say, 'Yes, Miss Sarah, I'll get my salad.' He knows.
"Maybe it's because I'm the mother of the team, but they seem willing to work at it. I also think they've been giving an opportunity to showcase themselves, so they all feel like, OK, this is what I have to do. And they've all bought in."
Wick's teachings and philosophies leave the Woody Hayes Athletic Center and venture to dorm rooms and apartments. She preaches a peace plate diet: one-third protein, one-third colorful vegetable or fruit and one-third starch.
"She does cooking classes and plans grocery shopping. There are so many little things that are so important to the fine detailing and foundation of this program," said Linsley, who lost 15 pounds. "It's day-in and day-out."
Hydration is another component to the line's reinvention. The Buckeyes are instructed to drink 75 percent of their body weight in fluid ounces each day. It's not an unattainable goal when you have a state-of-the-art Gatorade Fuel Bar a few paces away. The setup features stainless steel cabinets and appliances, an eight-stool seating area, five leather recliners, two HD TVs and an endless supply of Gatorade nutrition bars, sports drinks and even gummies.
Marotti and Wick are big on hydration and recovery, so the new establishment is located in an area where players will pass by frequently.
The year before the unlikely duo – and Warinner – took hold of the linemen, Ohio State ranked 118th nationally in sacks allowed. The Buckeyes went from 46 sacks in 2011 to 30 in 2012. And they produced nearly 500 more rushing yards. All told, Ohio State owned the 10th-best rushing attack and 21st-ranked scoring offense.
That was with a leaner offensive line.