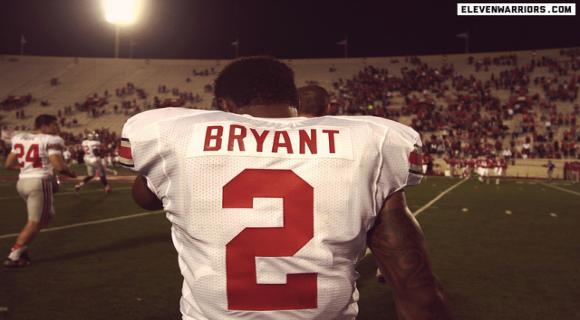 A sigh of relief swept through Buckeye Nation in January when Bradley Roby announced he'd return to Ohio State for his redshirt junior season. The shutdown cornerback emerged as one of the top defensive backs in the country in 2012, accounting for an NCAA-best 19 passes defended on his way to an All-American season.
Roby is the total package of athleticism, speed and coverage skills. His 12 pass break-ups last year tied an Ohio State single-season record. Entering Year 3 of his college career – undoubtedly his last – Roby is the favorite to win the Jim Thorpe Award and be a first-round NFL draft pick.
His presence on the Buckeyes – on and off the field – also is expected to be an asset for the team. Roby has been an emotional and vocal leader since he started as a redshirt freshman. His message is one of confidence and a present-day swagger that a locker room feeds off of.
But this isn't about Bradley Roby. A recent arrest hasn't diminished his role on the team or profile among his teammates. What it has done, though, is dampen his chances at becoming a captain. There to provide stability is senior safety Christian Bryant.
A three-year starter, Bryant has started 22 games, more than anyone on the defense except C.J. Barnett. Bryant's 149 career tackles and 21 pass break-ups are second among current Buckeyes. He has his faults – unsportsmanlike conduct penalties and missed tackles to name a couple – but Bryant is a player teammates embrace as a leader.
"I definitely feel like we have more of an impact role on the leadership position right now, as far as losing seven guys," Bryant said, prior to Roby's mishap. "The secondary is pretty experienced right now, but the only starter we have coming back in the front seven is [Shazier], so we have a lot of voids to fill."
Bryant offered a strong, reassuring voice in Chicago amid all the recent turmoil. He carries himself with a fiery demeanor that's more prizefighter than football player. Ohio State head coach Urban Meyer calls him a "rock-star type of player."
Bryant's brashness is evident in his unfiltered answers. When he was asked which Buckeye is the biggest trash talker, Bryant quickly volunteered himself. Inquired about Michigan quarterback Devin Gardner's comments, Bryant didn't hold back. 
"They've got another thing coming," he said. "Trust me."
It's Bryant's refreshing candor mixed with charisma that draws people to him.
"I'm a guy who plays with a lot of emotion," he said. "I feel like to be a good player you have to play with some emotion. People may show it different ways. It could be talking or doing something on the sideline. It's not like I'm out there fighting every play. But I do like to talk. That's what I've been doing since I've been playing football. I will try and cut down on some of it. But I'm not going to change the way that I play."
On the field, he's dealt with missed tackles but continues to buckle his chinstrap and give maximum effort. After securing his first-career interception against Cal last season, Bryant allowed a touchdown on a crucial missed tackle. There was no head hanging, though. Instead, Bryant admitted that it was a learning experience. Blown play or not, his confidence level never dips.
"Christian is one of those guys who is a natural football player."
Bryant appears on the Thorpe Award watch list with Roby and Barnett, but that doesn't mean he declines to solicit advice. The past two seasons, Bryant has been the recipient of assistance from two Buckeye legends: Mike Doss and Troy Smith.
The dual No. 2s spoke a year ago about improvement. Doss and Bryant watched film together to get an idea how Bryant could avoid allowing big plays for the opposing offense. Doss, a three-time All-American, understands the level of play it takes to win a national championship. He anchored a defense that performed as well as any in school history en route to the 2002 title.
The final assessment revealed Bryant was too out of control on the field. He needed to let the game slow down and come to him. The most common mistake Bryant would make was using bad form. Smith noticed similar traits with interception attempts.
"I've had to go back to scratch," Bryant said. "I've watched the film, and I see I've had my head down. I felt like I could really injure myself."
In the spring, Everett Withers, who coaches Ohio State's safeties, stressed the need for Bryant to advance his fundamental skills to limit his flaws. 
"Christian is one of those guys who is a natural football player," Withers said. "But he doesn't have some natural football position things, so he has to work at them. Really good football players work on their weaknesses. They don't just continue to work on strengths. It's every day that we try to push that with him."
A fellow Glenville grad, the 2006 Heisman Trophy winner felt Bryant's pick total should be higher. In three years, the only interception Bryant has snared is the one against Cal. So his offseason work has consisted of catching more than 100 footballs a day. It has improved Bryant's ability to stalk a would-be receiver and get the ball out of the air. And the end result doesn't involve a poor tackle.
When the NCAA instituted a new rule that allows officials to eject players who hit defenseless players above the shoulders, Bryant's name was immediately one that came to mind. He hits hard, and sometimes it involves the helmet.
"It's not going to make me tentative at all. But I am going to be cautious. I don't want to get ejected," said Bryant. 
Despite the severity of the consequences, Bryant won't allow his style of play to be altered. On the field, he enters a realm that he's comfortable with and puts him at ease. When you've played with a certain flair for so long, even the slightest change can result in a major differences.
"It's not going to slow me down," Bryant said. "I'm still going to be a physical football player and reckless. That's how you play football. You want the opposing team to feel you're going to be there at all times.
"If a receiver comes in the middle of the field, I'm not going to just give him a love tap because then they're just going to run that play over and over. You want to make somebody reluctant to come into the middle of the field."
What he doesn't want is for teammates to avoid him away from the field. Bryant has grown into a leadership role during the offseason, mentoring underclassmen while coaching up his fellow starters in the secondary. He may only stand 5-foot-10, but Bryant's presence looms large.
"I've been doing it this off-season, being one of those guys who talks to the younger guys," he said. "They haven't had that game experience. You want to keep everyone on that same level. Me being a leader is keeping everyone grounded so we can keep that bond and that family orientation."
A year ago, Bryant made a post-game locker room speech following the Buckeyes' peculiar 52-49 win at Indiana. The message was straightforward. Ohio State had just won but capitulated late in the proceedings when victory appeared imminent. There would be no more of that. Six weeks later, the Buckeyes capped a 12-0 season with defensive domination of Michigan.
Bryant has another speech in his back pocket. But he's hoping the lessons of 2012 have been learned.
"We're one of the hardest working teams in the country," Bryant said.