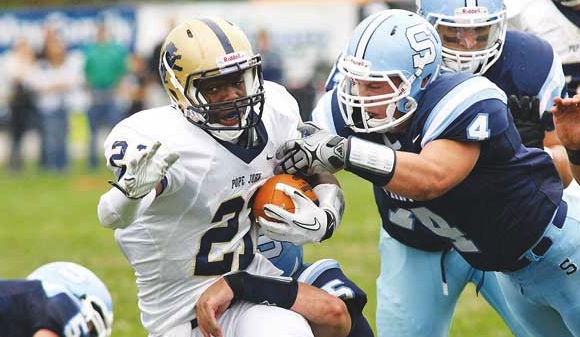 A day after returning from Ohio State on his official visit, Noah Brown has committed to Ohio State tonight. 
The Sparta, NJ (Pope John XXIII High School) star senior became the latest Buckeye commitment today and secured his spot in the now rapidly-filling 2014 recruiting class. Brown visited Ohio State in late July and immediately named Ohio State his favorite, but after a few months of consideration seemed to be trending towards his home-state Rutgers. After announcing early last week that he'd be visiting the Buckeyes officially this past weekend for the San Diego State game — prior to the September 12th decision date he'd set  —  Brown decided to end his recruitment and commit to the Buckeyes, despite Rutgers surge.
"I had wanted to make my choice before my season started, and the visit to Ohio State this time just reassured me that Ohio State was the place for me," Brown said of the choice. "I feel very comfortable with the choice because I am comfortable with the staff as people. The football program is incredible, the 'Skull Session' just showed how much the fans there feel about Ohio State, and overall it's just such an incredible place."
"Sitting down with Coach (Urban) Meyer and really getting to know him on this trip," the wide receiver said of what made the choice clear after his visit. "I got to see that he's really genuine as a person and I know that he will know do what he says about me and their plan for me in the offense. The Buckeyes said (in July) I would be an 'X' receiver in their offense, someone who can occasionally line up in the slot to create mismatches against linebackers. I feel comfortable at that spot."
It was not just Meyer that had Brown feeling so at ease with his choice.
"It was great to sit down and get to see how (Buckeye wide receiver coach) Zach Smith handled the wide receivers in their meeting room," he said. "He was a great teacher and brings a lot of energy to the room. He's young and can talk about something and also show you what he's talking about."
While he will be a wide receiver at Ohio State, Brown is another athlete that could play a number of positions for the Buckeyes if the situation warranted. He could line up at running back or safety if required, according to his high school coach at Pope John, Brian Carlson.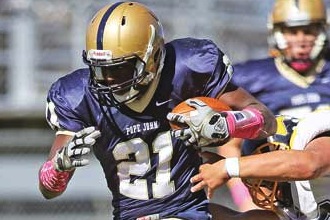 "He can play wide receiver, he can play strong safety, he can play running back," Carlson told the New Jersey Herald last summer. "There are a lot of spots for him."
Brown's value to a football team is greater than just his physical talents. He's a leader on and off the field who handles his academics with the same fervor he handles defensive backs. There's nothing he doesn't do that's not done with one goal: be the best and do it with class. Brown doesn't disappoint often in that regard.
"A lot had to do — especially in this day and age — with character," Carlson added in his talks with the Herald. "There are a lot of great athletes, but character is really important."
It was not just a football decision for Brown, who takes his work in the classroom as seriously as he does his work on the field.
"They have the best balance of high-level academics and elite football that I have seen," Brown said following his July visit. "They have a beautiful campus and great facilities. I really got a good look at all aspects of the program."
The Noah Brown File
Size: 6-2/212
Pos: ATH/WR
School: Pope John XXIII (Sparta, N.J.)
Composite Rating: ★★★★
Composite Rank: 26 (ATH
Now that he's a Buckeye, Brown's recruitment is finished. He won't take any other visits and intends to help Ohio State finish out his 2014 recruiting class in style. He knows that this moment means he can finally take a deep breath and focus on his goal of winning a state title as a senior.
"It feels great to finally have this over with," Brown said tonight. "I've had the idea of deciding before my senior year and I wanted to make sure that was the case. I am truly blessed to be in the situation I am in and I think I've worked hard to accomplish these things, but it's good to have it finished."
Brown become the second player from the New York/New Jersey area to commit to Ohio State, following Curtis Samuel's decision a month ago. While Rutgers enters the Big Ten next year and continues to make a push for the area's top talent, Ohio State continues to pursue tight end Mike Gesicki from Manahawkin, New Jersey and Brooklyn defensive tackle Thomas Holley from the area as well. Brown says there has not been much in the way of discussion about the group all heading to Ohio State together, but he's happy to think about the possibilities. 
"I know that Rutgers is having a great class and I am really happy to see them doing well, but this choice is about my future," Brown added. "I know I could have been comfortable there but for me Ohio State is the right choice. I've only talked to Mike (Gesicki) a few times and haven't really talked to Curtis or Thomas before, but I am sure it will be discussed in the future about us maybe all going to Ohio State."
Brown is Ohio State's 18th commitment for 2014.