Moments ago Urban Meyer received a phone call from Fort Worth All Saints Episcopal High School standout Demetrius Knox, and the highly-coveted offensive lineman informed Ohio State's head coach that he wanted to come home.
And with that phone call, Knox ended his recruitment and committed to Ohio State's 2014 recruiting class.
Of course, if you're familiar with how Knox does things you already know there were definitely some shenanigans involved. Nothing is just cut and dry with "Meechy," as he likes to have his fun. So Knox dialed up Meyer, got the Buckeye leader on the phone and started giving him the news. 
"I told (Meyer) 'I know I said I was going to wait a little longer to decide what school I'm going to but I feel like it's best if I go ahead and pull the trigger'," Knox told Eleven Warriors. "I said, 'I am really am thankful that y'all recruited me and everything. I really just wanted to call you up and tell you I appreciate everything coach."
"I think he was worried I was committing somewhere else, because he started talking about how he thought Ohio State was in good shape with me, etc. I was like 'Wait, what do you mean coach? I am committing to the Buckeyes.'"
Knox originally committed to his adopted home-state Texas Longhorns last Nov 26, two days after his original home-state Ohio State Buckeyes beat Michigan 26-21. Knox rescinded his commitment to the Longhorns and their head coach Mack Brown in April, citing differences between the staff and himself, and re-opened his commitment.
Today, Knox becomes the Buckeyes fourth OL pledge the 15th commitment overall for 2014.
"I just didn't feel like it was the right place for me anymore," Knox said of his decision to re-open his commitment. "I also think I just blindly jumped into that and that's my fault, but I will always have love for the Texas program. All the Texas commits and players are all still my boys, we're all still friends."
After a visit to Ohio State in March, speculation was rampant that Knox would ultimately end up at Ohio State, but as the months have passed, Knox's recruitment began to get murkier. While he continued to strongly consider the Buckeyes, Knox couldn't help but consider the overtures of other schools. 
UCLA and the Miami (FL) each offered Knox a chance to play high-level football in beautiful beach-side locales, but after months of considering the pros and cons of each possibility — UCLA primarily — Knox got clarity from a friend.
"One of the biggest lures of UCLA was the environment in Los Angeles is just so cool and there was so much to do," Knox said of the draw of a commitment to UCLA. "But I was talking to a friend of mine and he was like, 'Meech, you're too laid back for that,' and he was right."
"All I need is five friends max at my house playing a game and just chilling is a good night for me. I can always vacation in L.A."
The Demetrius Knox File

That doesn't mean the decision was an easy one for Knox; in fact it was anything but. While there is an assumption that Knox was "all Buckeye," he hopes people can appreciate the challenge in the decision he has made. It was the nonstop, 24-hour stress of the recruiting process that made him realize it was time to end his recruitment. 
"I just got tired of the recruiting process. I had to go with my gut and commit to Ohio State," Knox said. "This was 100-percent the hardest thing I've ever had to do. I really love the UCLA coaching staff and the environment there is so special, so it was extremely hard for me to tell their coaches that I wouldn't be going to school there."
"Through the recruiting process you build these bonds with coaches and then when it's time to tell them that your not going to their school, it's a killer, especially (UCLA offensive line coach) Adrian Klemm, he is just an amazing person and coach," Knox said.  "In general, the recruiting process was taking a toll on me. It was so stressful. It's all my mom and I would talk about around the house. I stayed up late every night thinking about it. I actually made up my mind to commit at like 3:30 a.m. this morning.
I've wanted to play for Ohio State since second grade...I have tons of family in Ohio that will be really excited to hear the news.
"I'm so thankful to have people like my mom and my head coach at All Saints, Aaron Beck, in my life," Knox said. "They have helped keep me grounded and have helped me so much in life, and not just academically and athletically. They give me perspective in life and without them, there's a slim chance that I would be where I am now. My mom is amazing and Coach Beck has been has been a great teacher and a father figure for me."
But ultimately, the school he will play for has been recruiting him for a decade. It just hasn't been a formal recruitment.
"I've wanted to play for Ohio State since second grade," Knox said. "It's just once I got the offer I realized its more than just football that you have to weigh as an option, that's why it took me so long," he added about his choice. "But like I've said, regardless I was still going to be a Buckeye and I meant it! I have tons of family in Ohio that will be really excited to hear the news."
"My mom is actually going to move back to Ohio when I graduate so I'll have her in my corner. It's just a blessing. I'm comfortable at Ohio State; with the commits, being back home in Ohio, they have four starting lineman leaving after this year, Urban Meyer will not be going anywhere for a long time and he will challenge me to improve myself more than any other coach in the country."
"They are a legitimate national champion contender every single year and I will get to be a part of 'The Chase' to win a title for my home state," Knox said. "Playing at Ohio State is a lifelong dream. If all those things aren't a reason to make the call - then it's a pretty good sign that maybe I should go somewhere else, right? I have nothing but love for all these schools that were recruiting me and I'm sure they all have bright futures. They just don't have futures as bright as the Ohio State Buckeyes."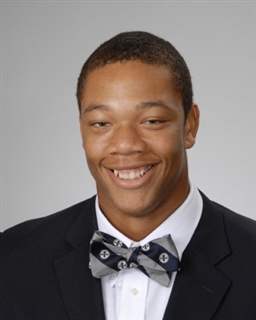 As with most recruits that commit to Ohio State, Knox pinpoints his relationship with — and the ability to play for — Urban Meyer as a key part of his decision. 
"He's just a real cool guy, and he's a very wise about football," Knox said of his future head coach. " I like his style and I'm happy to know he's going to be my coach for four years. Other coaches may come and go, but I know that Urban Meyer is going to be at Ohio State for a long time."
After his previous commitment to the Longhorns ended rather quickly, Knox is ready to shut down his recruiting. He has official visits scheduled to Ohio State, UCLA, Florida, and Florida State, but he says that there's only one he will be taking. 
"The only official visit I will take is to Ohio State on October 26th, for the Penn State game," he said of what happens next for him. "I think Urban Meyer would prefer I don't take any more visits (laughs), and I respect that. I want to focus now on winning a state championship for my senior year and get back to just being a kid. I won't get a chance to do that ever again. I'm just so happy to say I am committed to Ohio State. It's great to be a Buckeye."
Now that's he a Buckeye commitment, Knox has a message for those players still undecided about whether Ohio State is the place for them. 
"Everyone be on notice, Buckeye Nation and I are coming after everyone, all the best recruits left out there," Knox said. "I'm going to step up and be another leader in this class."