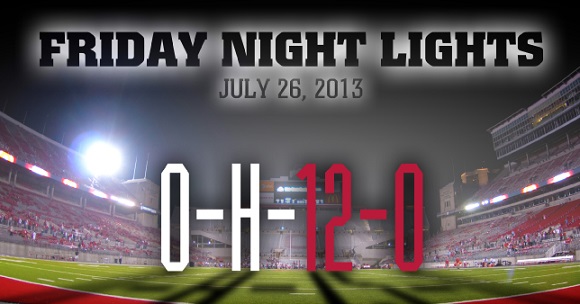 The Eleven Warriors recruiting team is emptying out their notebooks after a Friday night of non-stop – albeit scattered – action.
Erick smith Puts In Extra Work
A trio of Glenville recruits made an appearance at Friday Night Lights, along with their head coach, Ted Ginn Sr.
Although it was initially unclear if Marshon Lattimore, Erick Smith and Marcelys Jones would work out, both Smith and Jones suited up to perform in front of the Ohio State coaches.  After being spotted in the stands during initial warm-ups, Smith and Jones put their gear on and made their presence known in positional drills.
Smith, a four-star safety, was part of a small, handpicked group instructed to work out with Buckeyes co-defensive coordinator and safeties coach Everett Withers. Nearly every other camper and attendee – including the fans – sat in awed silence (naturally) while Eddie George spoke at midfield.
While that was going on, Smith participated in a drill that showcased his solid athleticism. Following that, he went one-on-one with a number of top wide receiver prospects.
He isn't a rangy safety or a classic cover guy, but he did prove his ability to be physical – especially after corners coach Kerry Coombs implored all of the defensive backs to body-up their opponents.
Jones needed no such encouragement. The 6-foot-5-inch, 325 pound OSU commit was dominant in his one-on-one drills. One defensive line prospect called him out and Jones promptly pancaked him.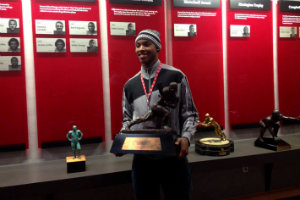 Smith and Lattimore – who didn't work out at Friday Night Lights – reportedly attended today's barbecue in Ann Arbor, hosted by Brady Hoke and his coaching staff.
Other Commits Worked Out
As our Jordan Wagner wrote in yesterday's notebook, future Buckeye Lonnie Johnson participated in drills at Friday Night Lights, along with fellow commits Jones, Kyle Trout and Damon Webb.
Johnson worked out with the receiver group and was clearly one of the most physically gifted recruits at the camp. The 6-foot-3-inch Gary, Ind. native will immediately become one of the tallest wideouts on the roster, once he steps on campus in 2014.
Despite his great frame, Johnson is still a raw talent. He caught most of the passes directed to him, however, he still needs to work on his hands and his overall instincts at the position.
Considering the play makers around him, though – Braxton Berrios and Eric Glover-Williams, to name two  – it's still a compliment to Johnson that he managed to stand out.
The Friday Night Lights Atmosphere
This was only the second year for Friday Night Lights in Columbus, carried over from Urban Meyer's days at Florida. Tough to be critical when the event is in its infancy. Plus, it's always nice when they open the gates and fans get to bask in the glory that is Ohio Stadium.
However, Friday Night Lights is not necessarily the best environment for fans.
The event, itself, is rather disjointed from a fan perspective. The crowd showed signs of life approximately three times: fawning over Eddie George (again, naturally), after video recap of last year's undefeated season, and when Eric Glover-Williams called out Damon Webb to make a one-handed grab over him. In general, his swagger got the crowd going. 
Obviously, the idea is to get recruits like Glover-Williams on campus, work out in front of Ohio State coaches and get a feel for what the stadium is like. Considering it's open to the public, though, they might want to do more than show last year's Miami highlights on the scoreboard – unless it's a loop of the Devin Smith catch, which it wasn't.
There would be more of a lasting impact on recruits if several thousand more people filled the stands. In order to do that, they need to find a way to make it more fan-friendly.