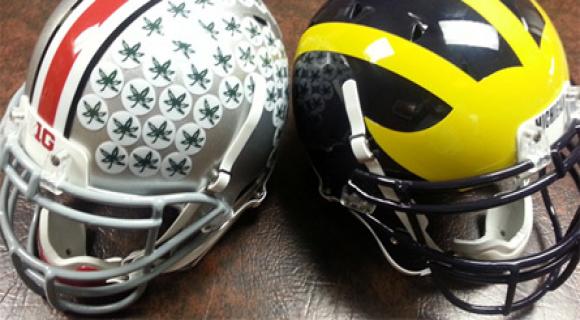 In June, Michigan quarterback Devin Gardner said the Wolverines would beat Ohio State in the Big House come November. He never mentioned Indianapolis the first week of December. 
The two foes have played in the regular-season finale since 1935, with the exception of the 1942, 1986 and 1998 seasons. The 2013 season could mark the first double dip. Never before have Ohio State and Michigan played twice in the same season. Not only that, it could happen in back-to-back weeks.
"Can you imagine that?" said Urban Meyer. "Think about that."
Ironically, it was Meyer who, in large part, played spoiler to the only Ohio State-Michigan rematch. The two teams were still first and second in the BCS standings following their classic 2006 game, until Meyer began lobbying for his Florida Gators.
Gardner's proclamation drew headlines and turned heads in the state of Ohio. At Big Ten media days in Chicago, he did not back down from his statement, clarifying he didn't make a guarantee and that every player should have confidence.
Brady Hoke concurred with his quarterback's comments. The Michigan head coach wants his players competing with self-assurance, he said, but not verging on overconfidence. The Ohio State-Michigan rivalry has a long history of guarantees and disparaging comments.
In 1986, Jim Harbaugh said flatly, "I guarantee we beat Ohio State and go to Pasadena." Five days later, Michigan won 26-24. Leading up to the 1995 game, Buckeye wide receiver Terry Glenn told reporters, "Michigan is nothing." The comments came during a 1-5-1 stretch against the Maize and Blue, and they added to the victory column that Saturday. Undefeated and No. 2 Ohio State lost 31-23.
Two years later, David Boston provided the trash-talk soundtrack. "I go against better defensive backs than him in practice every days," said Boston, with a message targeted for Charles Woodson. Boston went 40 minutes without a reception, though he did burn Woodson for a long touchdown catch. Still, Michigan won the game – and the national championship – largely on the back of Woodson, who remains the lone defensive player to win the Heisman Trophy.
Said Woodson, following the Wolverines' 20-14 triumph: "I was like a father out there chastising his son for talking to the wrong people."
There was no added bulletin material in Chicago. Instead, representatives from both schools concentrated on the unique possibility they're afforded.
Playing a hated rival the week before a passionate conference championship game is nothing new for Meyer. Florida played Florida State one week and the SEC Western Division champion the next. On two occasions that team was Alabama.
"That's really hard," Meyer said. "It's hard on the coaches, but the wear and tear on the players – you've got two sledgehammers going at it. Think about that. You play Florida State and then you wake up on Tuesday and you get ready to play Alabama. I think the playoffs will be just like that."
High school players already have a taste of intense competition at rapid-fire speeds. Teams that advance to the state championship game in Ohio play 15 games in 15 weeks. The final five games are contested against the best of the best.
Braxton Miller, a Huber Heights Wayne grad, recalled playing archrival Centerville three weeks apart during his high school career. But doing so in consecutive weeks? It would be an entirely new experience.
"It would be kind of weird playing the same team two weeks in a row," he said. "You've just got to prepare to know everything about the opposite team.
"It will be a little bit different. You've got to play your game, though. Ain't no change. Just a little bit of pressure."
If it happens this season, it will be the only time. In 2014, the Buckeyes and Wolverines become division foes when the Big Ten realigns. For Meyer, it doesn't matter. Rivalry games are played at the end of the season for most teams, but the Ohio State-Michigan game has something different.
The intensity, time invested and emotional and physical grind is experienced in few games across the country. Ohio State-Michigan is one of them. Playing in consecutive weeks this season might not be a disadvantage since both teams are going through the same trials and tribulations. Neither game would be played in Columbus, though, giving Michigan the upper hand.
"Can you imagine the fan bases?" Meyer said. "That would be an exhausting two weeks, I can promise you that.
"I think it would (be a positive for the Big Ten), but not very good for the health of the coaches. But it would be fine for the fans. It would be great."
Hoke concurred, saying it'd be a fun couple of weeks. But it came with a caveat.
"Do you game plan differently? Do you do things a little differently? Everyone has a different opinion," he said. "I think it'd be great – as long as we win both of them."
In the future, however, Meyer believes both Ohio State and Michigan are at a distinct disadvantage having to play in a brutal rivalry one week and compete for a conference title the next.
When Big Ten expansion took the Midwest for a wild ride in 2010, the conference's hope was that its two flagship programs would meet for the championship. It hasn't happened yet. Mixed in were concerns from traditionalists and fans. Could the Ohio State-Michigan game lose its place on the schedule or possibly not be played altogether? The answer was a resounding no. But what does Meyer think about a September Ohio State-Michigan clash?
Asked if the game could be turned into the first conference game, carving out a piece of the spotlight for the Big Ten early in the season, Meyer, with an ornery grin, said, "Absolutely, we're at a big disadvantage, but put your name on it." He knows a break in tradition would be blasphemous.
Living in an area known as the Toledo Strip, a piece of land Ohio and Michigan went to war over nearly two centuries ago, Ohio State offensive lineman Jack Mewhort is well-versed in the animosity between the bordering states.
He's since lived the rivalry from the frontlines, posting a 3-1 record against Michigan. He calls "The Game" the best rivalry in all of sports and admitted the physical toll would border on excessive. But the possibility of winning twice is almost too good to be true.
"Growing up, every time that game came around, there was a huge buzz," Mewhort said. "So I think to be able to play in that two weeks in a row would be unbelievable."
And getting two pair of Gold Pants? A giddy smile formed on Mewhort's face when that subject was discussed.
"If we got 12 pairs of Gold Pants (for beating Michigan 12 times in a season), I'd be in," Mewhort said.