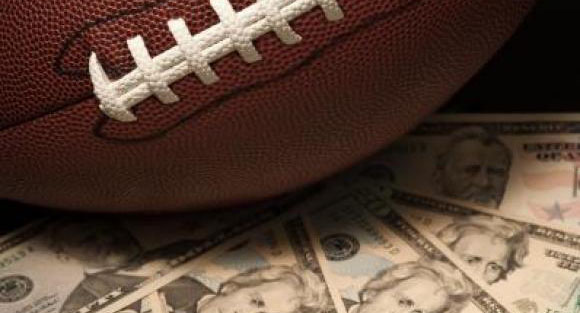 The Big Ten owns a bulk of college football's greatest traditions. Script Ohio, The Victors and "Jump Around" all reside in the Midwest. Those customs combined with countless others contribute to the league's rich history.
But when it comes to producing wins on the field, it's all about green, not Scarlet and Gray or Maize and Blue. In a recent study done by Graham Couch, of the Lansing State Journal – yes, the same columnist obsessed with the rosiness of Aaron Craft's cheeks – he discovered that the winningest Big Ten programs of the past 20 years are also the spendingest programs.
No one has won more than Ohio State, Michigan, Penn State and Wisconsin. Not coincidentally, those four are also the top four spenders. Each ponied up more than $100 million in recent seasons. And it's not just a trend in the Big Ten, it's true across the country.
Go to the SEC. Alabama, Florida and LSU infuse their football programs with cash and win at alarming rates. Oklahoma, check. Texas, check. Head West to Oregon, and the same rule applies. Those who spend will be champions.
It's why arms races exist in college football and coaches have multimillion-dollar salaries. One-fourth of athletic department budgets are the compensation of coaches. The desire to be good and profit from a football program's success has never been greater, leading schools to invest heavily with hopes of cashing in. Dozens of FCS schools have made the jump to FBS for this reason alone.
One school that realizes the importance of spending is Michigan State. The Spartans, sixth in win percentage and expenditures during the past 20 years, announced last week that another $4 million will be devoted to the program. This doesn't guarantee success, of course, with Boise State's miniscule football operating budget a prime example. But an influx of money makes losing seasons nearly impossible. 
"We did not lose five games last year because someone had another weight room or meeting room or locker room than we did," said Michigan State head coach Mark Dantonio. "We lost them at the end of the game because we didn't find the inches. And that was execution, play-calling, coaching, whatever you want to call it. It had nothing to do with facilities."
Barely 20 NCAA athletic departments function debt free. The list reads similar to the AP college football Top 25. It also mirrors who spends and who doesn't. In the past 20 years every football national champion has been one of the top 25 spenders.
No conference spends more money on its student-athletes than the vaunted SEC, owners of the past seven national championships in college athletics' marquee sport. A study done by the Delta Cost Project at American Institutes for Research titled, "Academic Spending Versus Athletic Spending: Who Wins?" found that the league devoted just over $13,000 to the average student and nearly $164,000 on student-athletes, more than 12 times as much. The difference in the Big Ten was $14,000 to $131,000.
The numbers in the SEC are staggering, and so too are its results on the football field. It offers a blurred vision and raises questions. Are these institutions about academics or athletics? Are you OK with the academic and athletic divide that appears?
In short, every institution across the country is still fully engaged in bettering its academic standing. That is the No. 1 priority across the board. The rise in money toward coaching contracts and athletic spending has given the perception of a change in philosophy, though. A majority of the fans would admit they just want to win. If it's at the risk of lessening the academics of an institution so be it.
On average, each Division I school spends nearly seven times more money on athletes than regular students. The SEC spends 40 percent more than the Big Ten and 60 percent more than the Pac-12, and the conference's median cost per athlete is twice as much as the FBS average.
Ohio State and Alabama supporters know their universities are not Harvard and Yale when it comes to academics, just as the Ivy League schools know they aren't athletic superpowers.
The SEC spends 40 percent more than the Big Ten and 60 percent more than the Pac-12.
At the opposite end of the spectrum, the sport's have-nots sign up for so-called guarantee games that result in lopsided scores but also huge paydays. The Louisiana-Monroes and Idahos often take home $1 million or more after beatings from the Texas A&Ms and USCs. Big-time programs want at least seven home games, which results in the neighborhood of a $4.5 million profit per game.
Prior to Barry Alvarez's arrival in Madison, Wisconsin was a Big Ten doormat. Even in his first season, the Badgers finished 1-10. Then something funny started to happen. Wins came along followed by money. Attendance rose, facilities were upgraded, assistant coaches salaries improved and Wisconsin had arrived. The entire movement was spurred by financial incentives hurled at the football program.
"If you don't have bright, clean impressive new facilities, I think sometimes you send a message, whether it's important or not to a kid," Alvarez said. "They're going to spend four or five years at your place and you're trying to recruit them. And I know a couple years ago we lost some kids because of facilities or lack of."
All that money and what comes back doesn't just go to the football programs. Every school in the country uses its football team to help support each of its varsity sports, from Ohio State to Buffalo. That's why it's so important to make as much money as possible.
Supporting an athletic department in the 21st century is big business. A bulk of schools must accept annual subsidies from the university to keep its programs afloat.
"A dollar spent in football some would argue would have a bigger impact, but that dollar means a lot more to other sports," said Michigan State athletic director Mark Hollis.
Ohio State is in the midst of an unprecedented run of success in non-revenue sports such as men's tennis, men's lacrosse and women's rowing. While they appear minor in stature, that is not the attitude in the 36-sport Buckeye athletic department.
Football is the cash cow, but it's also the vehicle to further triumph in other areas.
"All those sports are about having success. That's not a change," Smith told Eleven Warriors. "It's all about being successful in every way you operate and how you compete. That's not new."
Neither is the spending – which is going to continue to skyrocket as the allure of making it big in athletics becomes more clear.