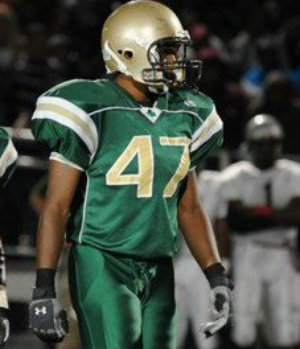 It was another slow week on the recruiting front for the majority of the Big Ten. Recruiting has temporarily slowed as the college football season nears. 
Illinois, Indiana, Iowa, Northwestern, Purdue, Wisconsin each landed a commitment in the 2014 class during the past seven days. 
As a result, we saw shifting in our rankings with Purdue jumping up to 12th after picking up a new three-star commitment. Minnesota and Indiana each fell a spot this week. Minnesota now checks in at 13th and Indiana is now bringing up the rear in the rankings.
With Ohio State not landing a new commitment, the Wolverines narrowly held on to the top spot in the B1G recruiting rankings. In other news, 247Sports released their newest rankings with Dante Booker Jr. earning five-star status. Booker Jr. is now rated as the 16th overall prospect in the nation. 
Now, on to the rankings!
14. Indiana
Despite the Hoosiers picking up their eighth commitment, they fall back to the bottom of this week's B1G recruiting rankings. Indiana's class consists of four three-star commits, two two-star commits, and two more prospects that are currently unranked according to 247Sport's ratings. Kevin Wilson and company will have an uphill battle if they plan to improve on last years seventh place finish in the Big Ten team rankings. 
J-Shun Harris was the Hoosiers commitment this week, and one of six prospects to commit to a Big Ten program over the past seven days. The two-star wide receivers only other offer was from Ball State. The five-foot-eight, 165-pound receiver from Indiana has drawn comparisons to current Hoosier (and former Glenville Tarblooder) Shane Wynn. 
13. Minnesota
Minnesota now checks in at number 13 after falling a spot in our rankings. The Gopher's have the smallest class recruiting class in the Big Ten at the moment with only five commitments. 
Coach Jerry Kill's class is headlined by four-star running back Jeff Jones, who is considered to be a soft-commit and plans to camp at Florida State this month. Keeping the highly rated running back in the fold for the Gopher's is an absolute must for Coach Kill.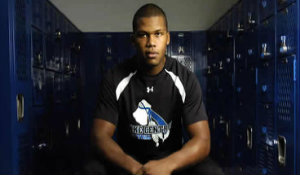 12. Purdue
The Boilermakers jump two spots in our rankings after picking up a commitment from defensive end Gelen Robinson. Gelen is the son of former Purdue basketball star Glenn Robinson. Before committing to Purdue, Gelen also had offers from Ball State, Bowling Green, Illinois, Indiana, Minnesota, Missouri, Ohio, and Vanderbilt. He is rated as a three-star prospects according to various services. 
Darrell Hazell appears to have landed a stud at quarterback when lowly rated David Blough of Texas committed last month. The then two-star prospect with offers from Memphis and New Mexico State is now rated as a four-star and checks in at 238th overall in 247Sport's new rankings. Blough continues to insist that he will stick with his commitment to Coach Hazell and Purdue. 
11. Maryland
The Terps hold steady in this weeks B1G recruiting rankings after such little movement amongst the Big Ten schools. Maryland has yet to land a commitment in the month of July after picking up five of their eight verbal commitments in June.
The Terrapins class is headlined by dual-threat QB Will Ulmer. Ulmer claims a 4.31 forty time, which could give him the ability to play many different positions at the next level. Quite a few teams offered Ulmer as an athlete, but Maryland was willing to give him a chance at quarterback. Ohio State was one of Ulmer's many offers. 
10. Illinois
Tim Beckman and the Illini are back to out-recruiting non-BCS schools. Quite a few of Illinois' latest commitments did not hold offers from BCS schools. The Illini's commitment this week continues this trend. In-state running back Julian Hylton chose Illinois over the likes of Army, Harvard, and Yale. 
Hylton's commitment gives Illinois nine commitments, five coming from in-state. Hylton is the second running back to commit in as many weeks. 
9. Iowa
Iowa remains ninth in this weeks rankings after picking up a commitment from Texas kicker Mick Ellis. Ellis is the Hawkeyes tenth commitment and second from Texas. The Hawkeyes new kicker commit also had an offer from Yale before committing to Iowa last Monday. Last season, he converted on 13 of 17 field goal attempts, including a long of 54 yards. Ellis is Iowa's seventh commitment since June 1st. 
Kirk Ferentz doesn't want to recruit Florida, but at least he is willing to recruit Texas! Meanwhile, Ferentz continues to enjoy his ridiculous twenty-plus million dollar contract. Life must be good when you get paid twenty million dollars to do an average job. 
8. Nebraska
After having a busy couple of weeks, Nebraska was fairly quiet during this past week. The Cornhuskers did receive some bad news this week, losing one of their top targets to Kentucky when wide receiver T.V. Williams committed to Kentucky over Nebraska on Tuesday. 
Coach Pelini and the Huskers are expected to receive some good news today when three-star defensive end Harrison Phillips announces his decision via twitter. The Huskers appear to be the favorite over Stanford to receive a commitment from Phillips. A commitment from Phillips would give Pelini his fourth commitment from the state of Nebraska and the 12th commitment for the class of 2014.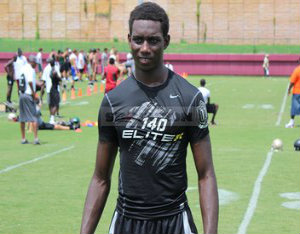 7. Wisconsin
Last Monday, Gary Andersen did something that Brett Bielema had struggled with while in Madison, Wisconsin -- sign a highly rated quarterback recruit. The Badgers were able to secure a commitment from four-star dual threat QB D.J. Gillins of Florida. Gillins' chose Bucky over Boston College. Many have wondered if Coach Andersen would be able to recruit at a high enough level to compete in the Big Ten. It appears that he has done a solid job, so far at least. 
The Badgers' 11-man class consists of five four-stars, two three-stars, and four two-stars. This is fits the mold of a typical Wisconsin recruiting class, which usually finish in the middle of the pack in the Big Ten recruiting rankings on a yearly basis.
6. MICHIGAN STATE
The Spartans did not pick up a commitment during the past week, but that could change today when three-star safety Matt Morrissey visits. Michigan State is considered the clear leader for Morrissey and a commitment could come as soon as today. The safety has offers from Michigan State, Illinois, Boston College, Syracuse, and a few MAC schools. 
Michigan State's current twelve man class is made up of six four-stars, four three-stars, and two prospects that are unranked. Michigan State is a school that I expect to finish strong on the recruiting front. 
5. Northwestern
Northwestern picked up their 13th commitment this past week, but that was not enough to pass the Nittany Lions in the rankings. 
Pat Fitzgerald and the Wildcats tapped into Texas for their latest commitment. Linebacker Noah Westerfield is rated by 247Sports as a three-star prospect with offers from Boise State, Colorado State, Duke, Fresno State, New Mexico, SMU, and Wake Forest. Westerfield is Northwestern's third commitment from Texas this year. 
4. Penn State
The biggest news to come out of Happy Valley this week was that Penn States plans to ask the NCAA to reduce their sanctions from the Jerry Sandusky tragedy. 
Numbers are getting tight for Penn State with 13 prospects already committed. The Nittany Lions are only allowed to take 15 commitments in this class. Who will Bill O'Brien land to finish this class off? According to 247Sport's crystal ball, Penn State is not the favorite to land any of the prospects with predictions. 247Sports currently lists Penn State with the 20th overall class in the nation.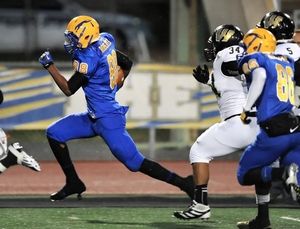 3. Rutgers
Like Penn State, Rutgers class is also quickly filling up with a Big Ten leading 20 commitments. There is no rule that stops Rutgers from oversigning this year, but historically Rutgers has been pretty good about oversigning.
The Scarlet Knight's class currently consists of two four-stars, thirteen three-stars, two two-stars, and three unranked prospects. 
2. OHIO STATE
Ohio State remains second in our B1G recruiting rankings after another week without a commitment. 247Sports released their updated rankings highlighted by Dante Booker Jr. earning his fifth star and checking in at 16th overall. 
Just a few days ago, people were thinking TE/H-Back Austin Roberts could commit to Ohio State at Friday Night Lights camp on July 26th. Now he appears to be trending towards UCLA. Could this be a sign that Urban Meyer is not willing to accept his commitment? The staff appears to favor Mike Gesicki over Roberts as our TE/H-Back for the 2014 class. 
This is the second time in recent weeks that it appeared a prospect was set to commit to Ohio State and then changed his plans. In addition to Roberts, Jermaine Eluemunor previously was going to announce a little while back, but decided to take another visit. 
Be sure to check out our FNL visitor list. 
1. MICHIGAN
The Wolverines hold the top spot in the B1G recruiting rankings for another week, a spot they have held since the beginning of this feature on June 3rd. 
Much like Ohio State, Michigan also looks poised to have a strong finish. The Wolverines are the favorites (according to the crystal ball) to land four top247 prospects in Da'Shawn Hand, Malik McDowell, Montae Nicholson, and Parker Westphal. 
247Sports favors Ohio State's recruiting class, while Rivals.com and ESPN favor Michigan. Scout.com is very close between the two schools.
---
Rankings Overview
| No. | School | Commits | Scout ★ AVG | Rivals ★ AVG | 247 ★ AVG | ESPN ★ AVG | Overall ★ Avg |
| --- | --- | --- | --- | --- | --- | --- | --- |
| 1 | Michigan | 15 | 3.57 | 3.54 | 3.47 | 4.00 | 3.65 |
| 2 | Ohio State | 14 | 3.57 | 3.36 | 3.86 | 3.62 | 3.60 |
| 3 | Rutgers | 20 | 3.00 | 2.80 | 3.00 | 3.11 | 2.98 |
| 4 | Penn State | 13 | 3.33 | 3.25 | 3.31 | 3.42 | 3.33 |
| 5 | Northwestern | 13 | 3.00 | 3.08 | 3.31 | 3.31 | 3.18 |
| 6 | Michigan State | 12 | 3.27 | 3.08 | 3.60 | 3.44 | 3.35 |
| 7 | Wisconsin | 11 | 3.18 | 3.09 | 3.09 | 3.27 | 3.16 |
| 8 | Nebraska | 11 | 2.67 | 2.82 | 2.91 | 3.33 | 2.93 |
| 9 | Iowa | 10 | 3.00 | 3.11 | 3.43 | 3.25 | 3.20 |
| 10 | Illinois | 9 | 2.75 | 2.67 | 2.83 | 3.00 | 2.81 |
| 11 | Maryland | 8 | 2.40 | 2.71 | 2.86 | 3.32 | 2.82 |
| 12 | Purdue | 7 | 2.86 | 2.29 | 2.86 | 3.00 | 2.75 |
| 13 | Minnesota | 5 | 3.40 | 3.00 | 3.20 | 2.80 | 3.10 |
| 14 | Indiana | 8 | 2.40 | 2.57 | 2.67 | 3.00 | 2.66 |