A reputation. In many cases they're easy to build and in most cases they're much harder to shake.
A reputation is an opinion others have formed about an individual based on past actions. When those actions are positive, favorable reputations are built. When they're negative, that individual becomes Johnny Manziel.
Manziel's reputation caught up with him this weekend as reports of his early departure from the Manning Passing Academy were quickly followed by speculation that he was asked to leave the camp. Apparently a wild Friday night rendered him tardy Saturday afternoon.
Since the release of the first reports the story has been massaged into something much different by both the Manziel and Manning camps. But that doesn't erase the flurry of stories that came out initially, ultimately fueled by the persona Manziel has built for himself over time.
Stuff like this, this and this make it a lot easier for news-starved offseason CFB writers to connect the dots. Fair or not, they're painting a picture with the watercolors Manziel provided.
For all intents and purposes, Braxton Miller should be Johnny Manziel. Both play for large schools (OSU and Texas A&M are in the top 5 in the US in terms of enrollment), both are the same age (Braxton is 6 days older than Johnny Football), both exhibit incredibly rare football talent and both are on-campus celebrities.
Yet the two couldn't be more different. Google Johnny Manziel and you're served a litany of party photos. Google Braxton Miller and the craziest photo you'll find is No. 5 with a blonde Mohawk (RIP 2013-2013).
That's because Braxton is a rarity in sports; a star player who prefers to stay out of the spotlight. The Manziel's of the world are a dime-a-dozen, but Miller is unique. It's not something he's trying to do, it's just who he is.
This from WR Philly Brown last season: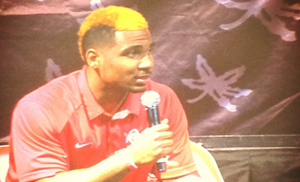 "He's a quiet person in general."
This from strength coach Mickey Marotti in an interview with Bruce Feldman:
"He was just so laid-back. I had to learn patience with him. I have ants in my pants. I'm used to quarterbacks -- Jarious Jackson, Brady Quinn, Chris Leak, Tim Tebow -- they're all workout guys. With him, he was just so laid-back, it was like 'whoa, whoa, whoa,' I wasn't used to that. That's his personality."
And this from offensive coordinator Tom Herman:
"He's the best player on the football field, and you wouldn't know if he was walking next to you in the hallway. It's a first for me, having his unique persona."
The personality trait that sets Miller apart is the same force that drove him to ditch the mohawk just days after unveiling it. When asked why he left the 'do in the dust he said, "I don't know if that was me."
That's because Miller simply doesn't like to draw attention to himself, a trait he nearly exhibited to a fault in his first season. This from Corey Linsly on Braxton in the huddle during his freshman season: 
"He had a hard time at first. He kept all his feelings inside. He didn't say much to get us going."
While some of that pensiveness undoubtedly originated from Miller's standing as a true-freshman on the squad. Ample evidence seems to suggest that's just Braxton doing Braxton.
With that said, the coaching staff believes they can cultivate a big-man-on-campus persona for Miller on the field while allowing him to maintain his low-key personality off of it.
One such tool for achieving that end are Meyer's leadership meetings. The weekly sessions are held for a select group of Buckeye players and feature leaders coach Meyer respects. The end goal is to teach said players how to lead by example and in-turn, demand the same effort from teammates.
Miller has been a member of these sessions and they seem to be paying off. Herman had this to say about Miller's progression as a vocal leader.
"If Braxton was a one on a scale of one to 10 when I got here, then maybe he finished the season around a four and maybe he finished spring ball around a six. The cool thing with him is he can be a 12."
Quotes like that coupled with reports from Spring ball of Miller grabbing teammates by the collar and telling them to step up their game while also getting into the face of Noah Spence, seem to suggest something is brewing within Braxton. The hope is that "something" is what will allow Miller to accept the spotlight and lead every Saturday, while still maintaining his humble demeanor.
The good news is Braxton has fostered an incredibly positive reputation on AND off the field. If Meyer and company can get him to accept and even embrace the role his abilities have garnered him, Braxton will be remembered as a Buckeye great. Nothing more, and certainly nothing less.
That's exactly how No. 5 wants it.