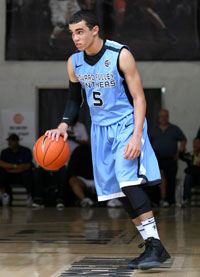 The season begins four months from now, but college basketball coaches are entering one of the most important parts of the year for them.
In a three week span to cap off July are six recruiting camps. It's part of the final chances to make an impression before the school year starts.
The first session began this week, with the Nike EYBL Finals in South Carolina – otherwise known as the "Peach Jam" – and the Adidas Invitational in Indianapolis.
With the top coaches in the country in attendance at both, scholarship offers and various recruiting-related news are bound to happen.
Thad Matta and members of his staff were among the many who traveled from Indianapolis to North Augusta, S.C., with Ohio AAU squads competing at both sites.
Also, 2014 point guard Tyus Jones dropped an interesting nugget in the media, regarding his collegiate future:
ohio prospects at the nike peach jam 
Nike sponsors numerous elite AAU squads, the best of which end up at the Peach Jam.
This year, two Ohio squads – both the 17U All-Ohio Red and the King James 16U – showcased their talent in front of the nation's top coaches.
Thad Matta and members of his staff arrived in South Carolina on Thursday, with a pair of Ohio teams in action:
Future Buckeye Jae'Sean Tate led the All-Ohio Red to the pinnacle of AAU competition, but needed a boost from his teammates while battling a shoulder injury:
Jae'Sean Tate has one arm dangling and in obvious pain yet he manages to ram home a tip dunk. Major competitor. #peachjam

— Dave Telep (@DaveTelep) July 11, 2013
They managed to squeak out one win on the weekend. The King James 16U fared considerably better, guided by OSU targets V.J. King and Luke Kennard. Mike Krzyzewski, John Calipari, Tom Izzo, and Roy Williams were also on hand to watch the two top Ohio prospects.
The 6-foot-5-inch guard has already been offered by Ohio State, Duke, Kentucky and Michigan, among others.   
He is an excellent jump shooter but is a capable ball handler, as well. Although, one scout says his dribble drive game could use a little refinement:
Once Luke Kennard is able to put the ball on the floor, he can be a very special player. VJ King is talented, but struggled today. #PeachJam

— Alex Kline (@TheRecruitScoop) July 11, 2013
Meanwhile, King has had a busy summer and the St. Vincent – St. Mary sophomore continued to impress those in attendance at his games:
2016 SG V.J. King of the King James Shooting Stars impressed us with his size and ball skills at #PeachJam. Legitimate 6'6"+ and muscular.

— Eric Hampford (@Future150EricH) July 10, 2013
Tyus Jones and jahlil okafor continue talk of teaming up
Minnesota's Tyus Jones and Chicago-born Jahil Okafor were the headliners of the Peach Jam.
Considered the top two recruits in 2014, Jones and Okafor continue to insist they'll play together in college.
Jones considers it a virtual certainty, at this point:
Tyus Jones said chance is in the 90s that he and Okafor will go to the same college

— Steve Jones (@SteveJones_CJ) July 11, 2013
With 2014 commit D'Angelo Russell – who was also at the Peach Jam – and Shannon Scott's senior year falling in 2014-15, it doesn't feel like Jones is destined for Columbus.
Okafor is a better fit for the Buckeyes, but he's adamant about being teammates with Jones, as he told USA Today's Jason Jordan:
"… I get why people wouldn't believe us, but we're not worried about that. We're not sure where, but we know we'll be teammates."

- Jahlil Okafor on committing to the same college as Tyus Jones 
Both plan to announce their intentions – with Duke appearing to be the likely destination – some time in the fall.
Buckeye targets at the adidas invitational 
The Adidas Invitational in Indianapolis was ripe with talent, in its own right.
Thad Matta was present at the event earlier in the week, and caught a few Buckeye targets in action.
Stephen Zimmerman, a 2015 recruit out of Las Vegas and 247Sports' top ranked center, arguably drew the most attention. Scarberry Media's Zach Fleer was at the event and gave us his scouting report on Zimmerman, who received an OSU offer in June:
"Playing on Dream Vision's 17u squad, Stephen had a solid performance in Thursday's second game, going for 10 points, 11 rebounds, four assists and two blocks. The only weakness to Zimmerman's game is that he doesn't use his right hand as much as he should, relying on his left hand for the majority of the shots and layups he takes. Nonetheless, Zimmerman is one of the best big men prospects that I've seen, and his basketball IQ, coupled with his court vision make him one of America's most coveted prospects."

- Zach Fleer's scouting report on Stephen Zimmerman 
If Okafor doesn't pick the Buckeyes, Matta might have to scramble to find another big man for his 2014 class. One option is New Orleans native Craig Victor, a 6-foot-8-inch forward with an excellent face-up game.
"On a talented New Orleans Elite team, Victor has played pretty well in Indianapolis. Sharing the paint with the high-flying Ladamion Keys, New Orleans has one of America's top front court duos in terms of athleticism. In a highly-touted matchup against Kevon Looney on Wednesday, Victor held his own, going for 11 points and five rebounds. The only flaw I see from Craig is that he doesn't demand the ball as much as he should, which at times, puts the New Orleans offense in a bit of a funk. There were multiple stretches in games on Wednesday and Thursday where New Orleans didn't get a good look, and this can be avoided by Victor being a bit more aggressive on the offensive end."

- Zach Fleer's scouting report on Craig Victor
Lost in the hype around the Buckeyes' chase for another big man is commit Dave Bell, from Garfield Heights. Bell reportedly shot up 2 inches, putting him around 6-feet 11-inches tall. He's still learning to play within his new frame, and might be a project at the next level. Kurt Stubbs of OhioHSHoops.com offered some analysis on Bell's game:
David Bell hasn't been coached very long. Shows flashes of potential. Good weight adding frame. Tries 2 make the right play.

— Kurt J. Stubbs II (@Ohiohshoops) July 12, 2013
David Bell needs to work on his hands, but a lot of his issues have to do with strength. Really like that he tries to make the right play.

— Kurt J. Stubbs II (@Ohiohshoops) July 12, 2013
While Bell works on his game throughout his senior year, N.D. Kendrick of RecruitRecon.com is skeptical of what Matta sees in Bell, however:
David Bell is HM good? Good look for Bell, bad look for Ohio St. I can see that a quality MM school would pounce. Hope he proves me wrong.

— N.D. Kendrick (@NDkendrick) July 11, 2013
Carlton Bragg's Busy Week
Ohio was well represented in Indianapolis, as well. Leading the way for the Ohio Basketball Club AAU program was five-star forward Carlton Bragg, from VASJ in Cleveland.
Bragg received an offer from UCLA on Wednesday, and continued to pick up interest from high-major programs throughout the weekend. His pure athleticism was certainly on display for those watching:
One Kentucky assistant took in one of Bragg's games earlier in the week, prompting this reaction from the top 2015 prospect in Ohio:
2015 5* PF Carlton Bragg on possibility of UK offer: "It's my motivation, I swear. It would push me that much harder" http://t.co/KaP5ekpksM

— Dan Bodner (@KYHoopsBuzz) July 11, 2013
Fleer gave us his impressions of Bragg:
"Since attending various camps in June, Bragg has been much more assertive, handling the ball on the break more often than usual, in addition to becoming a better rebounder. The only knock I have on Carlton is that he tries to block too many shots, and many times loses position, allowing the man he is guarding to get an easy offensive rebound and putback on the shots he whiffs at."

- Zach Fleer's scouting report on Carlton Bragg 
Bragg visited Columbus in June and plans to take an unofficial visit to Indiana in the fall.