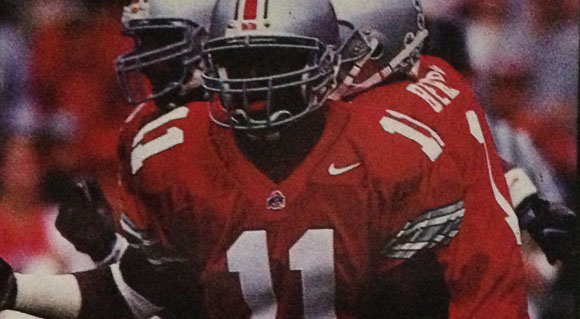 On June 23, 1977, American singer-songwriter Jason Mraz was born in Mechanicsville, Virginia. The next day, Antoine Winfield was born in Akron, Ohio.
The world of sports got a much better deal than the world of music.
Baby Antoine grew up to become a rare species of cornerback who excelled against the run as well as the pass. He was a scary good tackler in the open field. Once he got his hands on a back or receiver, they almost always went down. If he was outmatched size-wise, he'd either take them down anyway or simply stalemate the ball carrier until help arrived. It was usually the former.
He was fast enough to chase down plays from the back side and effective on the blitz. Despite being 5-9 and 180 pounds, he hit like a safety — a much bigger safety. Or maybe it's more accurate to say he hit like a truck. Oh, and he could cover pretty well, too.
Antoine started — and starred — for three seasons at Akron's Garfield High, which counts Beanie Wells, former Illinois defensive end Whitney Mercilus, and the devil among its famous alumni.
At Garfield, he earned first-team All-State honors his senior year and was named Ohio Division I Defensive Player of the Year. Antoine was a gifted athlete, excelling on both sides of the ball. During his senior season, Winfield made 48 tackles, intercepted three passes, broke up eight more, and blocked a punt. As a tailback on offense, he racked up 1,065 yards on 150 carries (7.1 YPC) and amassed nearly 2,000 all-purpose yards for the Rams.
He led the Rams to a 10-1 mark his senior season, winning the Akron City Series playoff championship for the third time in his four years of high school. His play easily caught the attention of John Cooper and the Ohio State staff, who scored big with his commitment.
Freshman Year
Antoine quickly worked his way into the two-deep roster at boundary cornerback, playing behind All-American Shawn Springs. Ty Howard started opposite Springs, but Winfield was too talented to keep off the field, even as a freshman. Antoine appeared in all 13 games as a frosh. In just his third collegiate game, Winfield forced three fumbles in a 54-14 win at Pitt (scoreboard always, Mark May). He started the Purdue game with Springs nursing a gimpy ankle and turned in a team-high 11 tackles (9 solos) in a 28-0 win.
The Buckeyes started 11-0 and looked like juggernauts until, well, John Cooper and Michigan. No. 2 Ohio State fell 31-23 in Ann Arbor to the hated No. 18 Wolverines. Instead of going to Pasadena, the Buckeyes headed to Orlando to face Peyton Manning and the long cleat-wearing Tennessee Volunteers in the 1996 Florida Citrus Bowl. Winfield relieved an injured Springs (shoulder) in the bowl game, as Ohio State fell 20-14. The Buckeyes finished 11-2 (7-1 in the B1G, just behind 8-0 Northwestern — who they didn't play). Ohio State finished at No. 6 in the final AP poll and No. 8 in the Coaches Poll that season, with Nebraska thumping Florida 62-24 in the Fiesta Bowl to win the title.
Sophomore Year
Winfield played in all 12 games his sophomore season, starting four opposite Springs in place of Howard. He finished ninth on the team with 47 tackles (36 solos), with four TFLs, one interception and two pass breakups. He spelled an injured Ty Howard against No. 4 Penn State and made six tackles in a 38-7 win. A week later he started and picked off his first career pass in a 17-14 win over Wisconsin.
Antoine and the Buckeyes rolled to a 10-0 start but again fell victim to Cooper's trouble with Michigan, losing at home, 13-9. For the second consecutive year, Ohio State came up one regular season win shy of playing for a national championship. The Buckeyes shared the Big Ten championship with Northwestern. Winfield's Buckeyes did, however, win an exciting 1997 Rose Bowl over Arizona State, 20-17, closing the year with a mark of 11-1. The Buckeyes finished second in both polls.
Junior Year
During the 1997 season, Winfield really blossomed. He stepped into a full-time starting role and led the Buckeyes in total tackles with 100. His 82 solo stops were the fifth-highest total in school history.  Finishing ahead of Andy Katzenmoyer in tackles is no easy task, but Antoine managed it. Eight of his tackles were for loss, with three sacks. He intercepted two passes (vs. Wyoming and Illinois) and broke up 12 more. In short, Winfield went beast mode. He set a career high with 13 tackles in a win at Missouri you might remember mainly for a big hit by the big Kat.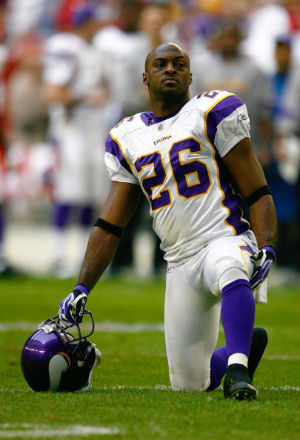 The Buckeyes stumbled in Happy Valley, falling 31-27 in a heartbreaker against the No. 4 Nittany Lions, then rolled into The Game with a 10-1 record (6-1 in league play). Ohio State had a legit shot at tying the Wolverines for the conference title. As per usual, the Buckeyes dropped an utterly winnable game under Cooper in Ann Arbor, 20-14. Winfield made 10 tackles in the game, reaching double figures for the fifth time in his junior year.
Nick Meyer from Yahoo called it the second-best Ohio State-Michigan game ever, but whatever. What I mostly remember is pretty much hating Stan Jackson and the fact that the Buckeyes had just handed Charles Woodson the Heisman Trophy.
The Buckeyes went to the Sugar Bowl and were waxed 31-14 by No. 4 Florida State. Ohio State finished 10-3, splitting second in the B1G (6-2) with Penn State and Purdue. Winfield earned All-Big Ten honors and was named team MVP. In addition, the football writers and coaches named him a first-team All-American.
Senior Year
Appointed a co-captain for 1998, he started all 12 games at left corner for the Buckeyes as a senior in a consensus All-American season. Winfield finished third on the team behind Damon Moore and Na'il Diggs in total tackles (75) and his 80 solo stops were just one off Moore's team lead. That's insane for a cornerback, even considering he had more the previous year. He recorded five tackles for loss, two sacks, one forced fumble and a fumble recovery. Interestingly, Winfield didn't intercept a pass his senior season, but he broke up 15 of them.
Much like with Bradley Roby today, quarterbacks tended to throw the other direction when Antoine was on the field. He was the proverbial shutdown corner. That may have kept him from picking off opposing quarterbacks, but he still won the Thorpe Award as the nation's best defensive back. (As an aside, Winfield was the second of four consecutive B1G players to win that award, joining Woodson, Minnesota's Tyrone Carter, and Wisconsin's Jamar Fletcher.) He cleaned up in the postseason team awards, winning both the Arnie Chonko Award as the team's best defensive back and the Bill Willis Award as best defensive player.
If not for an aberrant second half against a mediocre Sparty squad, Winfield and his teammates would have played for a national championship at the end of the 1998 season. However, the Buckeyes finished 11-1 and clobbered Michigan 31-16 to grab a share of the B1G title, and tie the Wolverines and Badgers for the league crown at 7-1. The Buckeyes took out Texas A&M in the Sugar Bowl on New Year's Day 1999, winning 24-14 to cap the season, and Winfield's career.
Legacy
Antoine was 43-7 in his four seasons at Ohio State, with a 27-5 mark in conference play. He started 29 of his 50 career games. His teams won two Big Ten titles and finished second the other two seasons. He played in the Florida Citrus, Rose, and Sugar (twice) bowls, splitting the four. In his OSU career, Winfield's team finished second nationally twice and ended the year no lower than 12th in any poll.
He finished his college career with 278 total tackles, 224 solo stops, 22 TFLs, 29 pass breakups, five sacks and three interceptions. He was all-conference twice, appeared on several All-America lists his junior year, and was a consensus All-American his senior season. And he became the first Buckeye to ever win the Thorpe. His team awards included MVP (1997), First-Year Defensive Player of the Year (1995), the Arnie Chonko Award (1998) and the Bill Willis Award (1998).
Winfield was the first non-linebacker to record 200 solo tackles in OSU history. He is still revered as one of the best in a long line of great defensive backs ever to play at Ohio State.
The League
In the 1999 NFL Draft, Winfield was one of three Buckeyes selected in the first round, going to Buffalo with the 23rd overall pick — 15 spots behind David Boston and five ahead of Katzenmoyer. Winfield, who is still an active NFL player, has had the best career of the three.
Winfield played five seasons in Buffalo, beginning his career by intercepting Peyton Manning in a loss to the Colts in his first NFL game. He appeared in 72 games with the Bills from 1999 to 2003, starting 58 of them. He racked up 291 tackles — including a career high 94 in 2003 — six interceptions, 30 passes defended, three forced fumbles, two fumble recoveries and a sack in his five seasons in Buffalo.
In 2004, Winfield signed as a free agent with Minnesota, where he put together a career that made him one of the 50 greatest Vikings of all time. A quiet superstar, Winfield played nine seasons in Minnesota, appearing in 119 games with 115 starts. He recorded 606 tackles and 21 interceptions — two for touchdowns. Antoine also notched 6.5 sacks, 11 forced fumbles and nine fumble recoveries (and two of those were for scores as well). He topped the 70-tackle mark six times with the Vikings, which is every season he played more than 10 games, including last year. He was a second-team Associated Press All Pro selection in 2008 and made three straight Pro Bowls from 2009-11.
Even at age 36, Winfield is a solid NFL player. It's almost criminal that he wasn't selected to more Pro Bowls. He signed as a free agent with the Seattle Seahawks on April 17, 2013. He has arguably had a Hall of Fame NFL career, considering how good he's been both against the run and the pass. But Antoine was never flashy and toiled many years in relative obscurity in Minneapolis.
Regardless of how he's remembered as a pro, there's no debating how Ohio State fans will look back on his career.