Everyone take a deep breath. Exhale. Inhale. Exhale. I know that this month has been a bit hectic, but that's the joy of year round recruiting, the rat race never stops. Fortunately it does slow down a bit, and we're in a bit of a lull right now until Friday Night Lights on July 26th really ramps things back up.
With a flurry of commitments from a handful of America's best football prospects in the month of June, the Ohio State recruiting class now sits at 14 members, more than 2/3 of the way through Urban Meyer's second full class as the head man of the Buckeyes.
Ohio State received commitments from kicker Sean Nuernberger out of Kentucky, Norfolk (Va.) star Jalyn Holmes, Leesville (Ga.) signal caller Stephen Collier, Indianapolis speedburner Terry McLaurin and ended the month with the addition of Chicago De La Salle Institute offensive tackle Jamarco Jones. A good month indeed.
As the summer winds down and the football season gets ready to kick off, we'll take a last mid-summer's glance at Ohio State's recruiting via the e-postal service and your mailbag questions. 
What one recruit do you think that Buckeye fans aren't talking much about but could end up being a surprise commit in this class? - RaiderRed
It's funny how certain players are kind of pinpointed by fans as "in" or "out," when it comes to recruiting. As every player expresses their interest in Ohio State, the scuttlebutt engines fire up and Player A instantly becomes the trendy pick to join the class. Sadly, that's not really how it works. The staff has their list, and that list rarely changes during the hunt for commitments, only adjusted when some players make decisions to head elsewhere. Of course, that means the staff explores other options, but their primary targets are still the same.
As far as a player that gets talked about less but has long been a priority for the Buckeyes? I think it will be a wide receiver, and it could be any number of them.
North Carolina star Trevion Thompson has been north and has talked about coming back for Friday Night Lights, a second trip to Columbus could be a very telling sign for the Durham native. Clemson has been the school most commonly associated with Thompson — who has listed the Buckeyes and Tigers as his favorites — but they have already gotten commitments at the position from Georgia's Demarre Kitt and Florida's Artavis Scott. Ohio State is still actively pursuing another outside threat and Thompson has been on their list a while. New Jersey native Noah Brown has not been talked about much but is very high on Ohio State and vice versa. Florida's Johnnie Dixon was very impressed by Ohio State and the Buckeyes have recently been named to his top two alongside presumed favorite Miami. Any of those three could end up in this 2014 class.
Miles Autry recently expressed renewed interest in OSU, saying on Twitter that it has always been his "dream school". Do you see a spot for him if he decides to join the Buckeyes? - BuckeyeBoyer85
Autry has long been on the board, talked about as a favorite and as a possible addition because of his talents first and foremost and because of the Georgia exodus that Buckeye fans had hoped for back in the early days of this class. He's constantly talked about Ohio State, he's scheduled numerous trips tentatively and has failed on each occasion to actually make the trek north to check out the Buckeyes. Until he does that, I won't give much credence to his assertion that Ohio State is a viable option for him.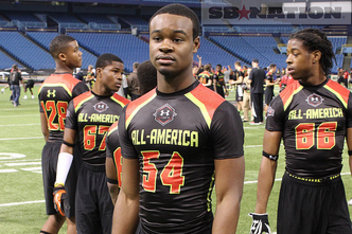 How do you personally, see our class finishing out with Jeremy? And what's your number we finish with? 20-22? - OSUBucks57
Numbers are hard to predict, but I still think the Buckeyes are going to end up closer to 22-23 guys by February.
As for a finish? There's a lot of balls up in the air right now, but I'll give it my best shot.
I see a finish of: WR Trevion Thomspon, WR Curtis Samuel, OL Jermaine Eluemunor or OL Chad Mavety, OL Damian Prince or OL Demetrius Knox, LB Raekwon McMillan, DB Quincy Wilson, DB Erick Smith and ATH Marshon Lattimore.
How's that suit you guys?
It seems like Quincy Wilson is trending away from fitting into this class. How do you see the Buckeye's chances right now? - Urban Nation Army
As you can see above, I don't agree with the thought that Quincy Wilson is trending away from Ohio State. I think — and have thought for some time that "Q" is a very good possibility — he's the type of cornerback that the Buckeyes are looking for, tall, rangy and can lay the wood. 
What are your thoughts on OSU taking a running back in this class? Is Hillman really going to commit to the good guys? - 1MechEng
I don't believe that Ohio State would take Hilliman at this point, despite his excellent offer list. Ohio State has a number of players currently at running back that are very similar players to Hilliman. If Ohio State were to take a tailback in this class it makes more sense that it be a player like Havelock (N.C.) standout Derrell Scott, the aforementioned Myles Autry or Texas' Corey Avery, who seems to really like the Buckeye offense.
Any chance we see one of our verbal commits decommit for another school before signing day gets here? I know there's been some concern about Jones - Killer Nuts
There's always a chance that someone could pull a shocker and flip from Ohio State to someone else, but I don't think it will happen this year, and especially not Marcelys Jones, who was the first Buckeye commitment in this 2014 class. Jones is outspoken and he's not shy to talk about the positives of other schools, but he went completely against the traditional Glenville grain when he committed on Christmas day last year, more than a year ahead of when Tarblooders usually pledge. 
2014 QB Shelby Spence is visiting for FNL.  What gives? Would we actually take a second QB not named Brandon Harris in the 2014 class? - ATXBucknut
What gives is that Spence, a high school teammate of Jamarco Jones, wants to spend his time and money to travel to Ohio State and get first-class coaching at an elite camp being held at one of the country's most historically powerful college football juggernauts. Tough to blame the kid on that account but I wouldn't expect it to turn into anything serious as far as his recruitment and Ohio State.
What commits do you see getting the biggest bump in ranking when the ranking services update their rankings? -Schwizzle1985
I think the popular (and easy) choice is Terry McLaurin, who has gone from a relative unknown to being the talk of The Opening last week where he showcased his incredible athleticism as well as his humble and easygoing personality. McLaurin is much better than the 83rd-ranked wide receiver in the country (247Sports.com composite ranking) and upcoming updates will reflect that. Beyond McLaurin, I think Dante Booker is another player who could see a slight bump based on his recent camp performances as well; he really put his versatility on display and that goes a long way.