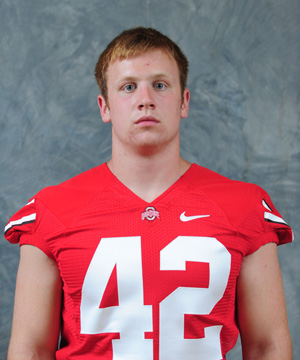 Backup Ohio State linebacker Luke Roberts is taking his talents to Cambridge to suit up for the Harvard Crimson.
Roberts, a sophomore, was buried on the depth chart and with talented linebackers Trey Johnson and Mike Mitchell arriving in the 2013 recruiting class, the writing, as far as playing time was concerned, may have been on the wall.
The Lancaster product has the grades to play for Harvard – he flirted with the school during his recruitment before pledging to interim coach Luke Fickell in July of 2011 – and because Harvard is an FCS program, he's able to play immediately, with three years of eligibility remaining.
A chance to play somewhere and earn a degree from one of the nation's best schools? That's a no-brainer.
Roberts told the Columbus Dispatch that there were no hard feelings on either side.
"I have nothing but positive feelings and respect towards the people at Ohio State, the football program and the university, and for the friendships I have made here," Roberts said. "But after being here for more than a year, because I did graduate (fromLancasterHigh School) early, I just didn't feel it was the perfect fit for me. Not that it was a bad place, it just wasn't exactly what I thought it was going to be coming out of high school."

An Ohio State spokesman said coach Urban Meyer and defensive coordinator/linebackers coach Luke Fickell were supportive of Roberts' decision and that there were no ill feelings one way or the other. Roberts confirmed that.

"They said there were going to support me in 'whatever decision you make,' " Roberts said.
Roberts becomes the second Ohio State linebacker in recent months to transfer. South Bend product David Perkins is now with Illinois State.
We wish Luke the best of luck, but it sounds like he's creating a bit of his own luck.