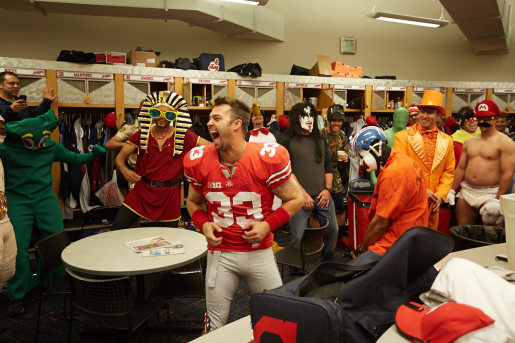 This story is somewhat common knowledge, though Bill Livingston provided a comprehensive recount of how instrumental the former Ohio State football coach was in, truly, "recruiting" Nick Swisher to the Cleveland Indians. The point here isn't to divide the Ohio State fan base among Indians/Reds lines, but to underscore how closely this process (for Cleveland Indians fans) mirrored a standard recruitment of a 5-star college football prospect for Ohio State.
Even current Ohio State football coach, Urban Meyer (of Ashtabula, but a well-known Cincinnati sports fan), threw himself into this effort to recruit Nick Swisher to the Buckeye State.
When the Indians were courting Swisher as a free agent, they took him and his wife, JoAnn Garcia, to lunch at the Terrace Club at Progressive Field. On the video board, a tape ran of a cast of Ohio State coaches, including Urban Meyer and Thad Matta, all telling Swisher it was time to come home. It doesn't take a village, it takes a state to raise a slugger and bring him home.

JoAnn turned to Nick and said, "Wouldn't it be something if Coach was here too?"

"It just so happened that I walked through door as she finished the sentence," said Jim Tressel.
The article does well to write the free agent signing of Nick Swisher into the narrative of the Ohio State Buckeyes.
Plus, you get to read how much Jim Tressel enjoyed trolling James Laurinaitis.