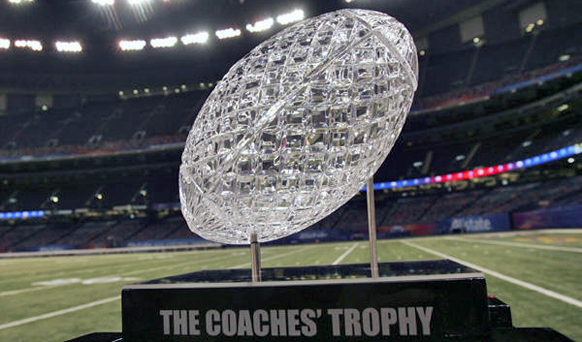 The topic of Phil Steele's daily blog turned toward a bowl projection for the 2013-14 season of college football. He joins a host of other college football pundits who, at the onset of the 2013 season, expect Urban Meyer's Ohio State Buckeyes to lock horns with Nick Saban's defending national champion Crimson Tide for the BCS national championship. Here are a few other projections that merit a sentence or two.
Phil Steele projects Southern California v. Texas in Fiesta Bowl. Given the trajectory of both teams over the past few years, and especially considering USC losing, again, ten more players from the roster because of NCAA sanctions, no part of that makes sense, prima facie.
An Oregon-Nebraska Rose Bowl game could be fun to watch, if, perhaps, not the best contest for the "The Granddaddy of Them All". Oregon may take a measurable step back with Chip Kelly gone and a new head coach in charge. Further, Bo Pelini's Huskers can be entertaining, if not very good.
Notre Dame and Georgia are projected for the Sugar Bowl because, heck, nostalgia. The 1981 Sugar Bowl was one of the more signature games in the bowl's illustrious history.
The three other B1G-SEC matchups in the yearly bowl series include Michigan v. Mississippi (Gator) (speaking of which), Wisconsin v. Louisiana State (Capital One), Michigan State v. Florida (Outback). Michigan v. Mississippi sounds like it could be interesting and the Wolverines should match up well with the Rebels. The Capital One and Outback bowls do not look like fair contests on paper, even if Louisiana State is undergoing quite the roster transition.
Steele doesn't seem very bullish on Northwestern. He projects them into the BWW Bowl (v. Baylor) as the Big Ten's #4 (really: #6) team. Northwestern could at least make the Outback Bowl this year. The Wildcats certainly look like a better squad entering this season than Michigan State.
Future B1G teams Maryland and Rutgers are projected into the Military Bowl (v. Southern Mississippi) and Pinstripe Bowl (v. Texas Tech), respectively.
Iowa is projected by Phil Steele to go bowling again, against Tulsa in the Heart of Dallas Bowl. Indiana also makes an appearance in Phil Steele's bowl projections, playing against Kansas State in the Texas Bowl.
Minnesota appears to be the "last Big Ten team in". It gets taken to Detroit, per Steele's projections, against Bowling Green in the Little Caesar's Bowl.