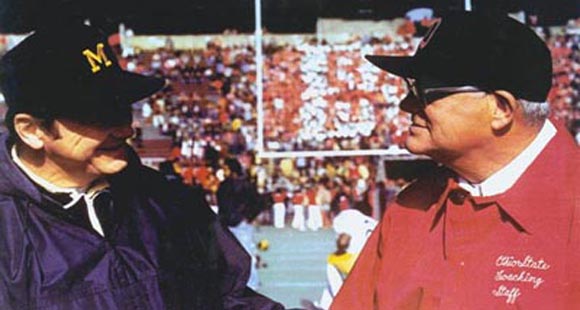 Miami (Ohio) has long been known as the "Cradle of Coaches," producing such titans of college football as Red Blaik, Paul Brown, Woody Hayes, Bo Schembechler, Sid Gillman, Ara Parseghian and Jim Tressel. Few will argue the resumes of those listed and their places in the annals of the sport.
History is currently repeating itself. Only this time it's with a twist. The entire state of Ohio is churning out highly successful coaches, not just one university. Urban Meyer, Les Miles, Bob Stoops, Mark Stoops, Brady Hoke, Mark Dantonio, Bo Pelini and Gary Pinkel are all Ohio born and bread, as is Tressel. Cross over to the NFL and you can include both coaches who appeared in the Super Bowl last season, John and Jim Harbaugh. Then there's Nick Saban and Pete Carroll, they're not from Ohio but both have connections to the state including being former Ohio State assistants.
All told, the Buckeye State's imprint on the game of football is plentiful. As the country was in the throes of a recession, Ohio's coaching tree was operating at a surplus. Dating to 1998 – the first year of the Bowl Championship Series – five times the BCS national champion has been headed by an Ohio-born coach. Another six have been won by former Buckeye assistants. That's 11 out of 15 champions.
"I don't think it's just coincidence that there's a strong Ohio tie," Meyer said prior to the 2008 national championship game, when he faced fellow Ohioan Bob Stoops. "With all due respect to the other states – I don't really know them as well as I know Ohio – I know Ohio football is very, very important. It's kind of insanity.
"Growing up in Ohio, Fridays were high school football, Saturdays were Ohio State and Sundays were the Browns and Bengals and really nothing else. In the offseason, you played basketball and baseball to stay in shape for football. Did that have an impact on my life? Absolutely."
Nearly one out of five head coaches in the major conferences was born in Ohio. The game of football is instilled in boys at a young age and becomes a lifelong pursuit for many. Ohio high school coaches are universally regarded as some of the best in the country. That knowledge is passed on to players who retain it and form their own philosophies years down the road.
The likes of Meyer, Miles, Stoops and Hoke also grew up admiring the brilliance of coaches named Hayes, Schembechler, Parseghian, Shula and Noll. During that era, the Midwest was a hotbed for college football's heavyweights. Now the dominance has shifted south, where the SEC has won seven consecutive national championships. The southeastern United States is home to an abundance of four- and five-star recruits, and more and more Midwestern – and Ohio – coaches are heading south.
Ten of the 14 head coaches in the SEC have roots in the Midwest and Big Ten states – Saban (born in West Virginia), Miles (Ohio), Pinkel (Ohio), Mark Stoops (Ohio), Bret Bielema (Illinois), James Franklin (Pennsylvania), Butch Jones (Michigan), Dan Mullen (Pennsylvania), Mark Richt (Nebraska) and Kevin Sumlin (Indiana). Compare that to the Big Ten, where only seven of its head coaches are homegrown talents. Suddenly, Ohio and the Midwest don't seem so slow and plodding after all. 
"Growing up in Ohio, Fridays were high school football, Saturdays were Ohio State and Sundays were the Browns and Bengals and really nothing else."
Since the state of Ohio was part of the Northwest Territory at the turn of the 18th century, a blue-collar workmanlike quality has become ingrained in its citizens. Located in the heart of the Rust Belt, factory jobs were the way of life. The cycle produced families with strong values, good morals and work ethics to be admired.
A roughly 230 square mile stretch in northeast Ohio is home to Meyer (Ashtabula), Miles (Elyria), Tressel (Berea), Pelini (Youngstown) and the Stoops Brothers (Youngstown). For a 50-year period, those cities, located near Lake Erie and the Pennsylvania border, were the epicenters of Ohio's manufacturing boom. But many of those hardworking, good paying jobs have gone by the wayside. Still, the importance of football has remained.
Home to eight FBS programs, Ohio produces an excess of college football players, and the state claims nearly 100 NFL players. High school football has been a Friday night staple for generations of Ohioans. But football's popularity began in the state thanks to the professional game. The precursor to the NFL, called the American Professional Football Association, was founded in Canton in 1920. Jim Thorpe was named the league president, and a nearly century-long love affair with the game of football began for the state of Ohio. 

At the same time, Ohio State football was quickly turning into a way of life, a new religion for sports fans. Chic Harley's exploits popularized college football in Columbus and led to the construction of Ohio Stadium. From that point on, Saturdays in the fall carried new meaning to Central Ohioans. From Brown to Hayes, Tressel to Meyer, the Buckeyes have been a constant in the lives of millions. Brown last coached at Ohio State prior to World War II, while Hayes has been dead for nearly 30 years. But the duo's football minds live on through the Ohio-born coaches they've inspired.
Only now the three-yards-and-a-cloud-of-dust attitude has given way to pass-happy offenses that are geared toward scoring early and often. Meyer and Stoops have both been advocates for up-tempo systems that use variations of the spread. Florida and Oklahoma – and now Ohio State – routinely feature some of the top offenses in the country.
Predicting the future is difficult. But 50 years down the road, college football is likely to have a decidedly Ohio flavor. How the offenses operate remains to be seen.