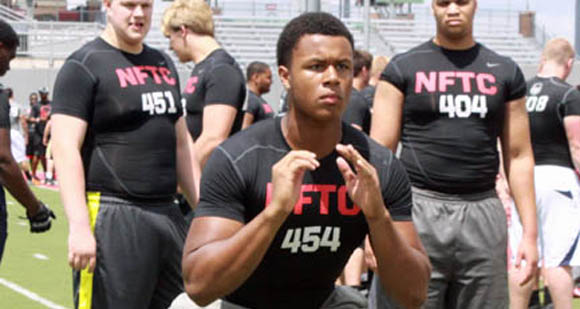 Earlier this month, Pittsburgh (Pa.) 2015 offensive lineman Sterling Jenkins made his first visit to Ohio State when he was on campus for the NFTC camp in Columbus. Jenkins impressed many there with his size and athletic ability and today the 6-foot-8, 305 pound Baldwin High School prospect returned to Ohio State to check out the Buckeyes a bit more closely.
"We got there around 11AM, and they showed me all the facilities and we took a tour of the campus," Jenkins said. "It was a beautiful day and it was really awesome to ride around on the cart and see everything that was going on. Then watched some videos with coach (Ed) Warriner."
Jenkins has been vocal about his relationship with Darrell Funk, Michigan's offensive line coach, and this trip to Ohio State gave him a chance to get to know the man who could be his position coach if he were to choose Ohio State.
"I could tell that he's a good leader," he said of the Buckeyes' offensive line coach. "He was commanding, he knows what he wants to get done and he knows exactly what he wants out of his offensive line, but it was nice because it wasn't all about football, either."
Warriner was not the only coach that Jenkins got to spend time with on the trip.
"I spent most of the day with coach (Luke) Fickell, he's the one who carted me around," he said. "I think if get there again I'd like to spend more time with Coach Warinner, because he's the guy who could be my position coach for four years."
It is relationships and comfort after all that generally decide a recruit's future, and Jenkins is not any different in that regard.
"It will come down to education and football the most of course," Jenkins, who aspires to be a professor at whatever college he attends post-football, said. "But the other part is the people and the environment. If I don't feel comfortable or I don't think I can grow under their coaching then that school won't fit with me."
With offers from Ohio State, Michigan, Penn State, Pittsburgh and Toledo, Jenkins is just now starting to get an idea of what he's looking for in a school. He has no intention of making an early decision, and the recent trips to Pittsburgh and Ohio State today have reinforced that thought process.
"I liked what I saw at Pitt, and I liked what I saw at Ohio State," he said. "So there's no point in committing or even thinking about it yet because I'll like stuff everywhere. I've not been around enough to separate the choices, I wasn't really a football fan growing up, I only played when I was younger because I was big."
Now that he's officially in the "liking football" camp, Jenkins admits that he's spending more time observing the game as it relates to his college choice. He's actually finding it quite compelling that two of his early offers, Ohio State and Michigan, have the intense rivalry that they do.
"I think it's ironic because I like Ohio State and I like Michigan but after doing research and realizing that they are huge rivals, it would be cool to be a part that," he said. "Which team I'd be playing though would be the question. They are a lot more similar than they are different, just a bit of a different vibe from the coaching staffs. They are both good schools and football programs."
"I got to see Ohio State today and learned so much about the tradition of excellence there. With quotes all over the walls, graphs, rules about how to live and play football, it was everywhere. I admire that because we're trying to establish that tradition at our school, I was awed by that."
Now that he's been to Pittsburgh and Ohio State, Jenkins will prepare for the next round of trips on his schedule. He'll visit Penn State next week and Michigan sometime in July. He's never been to either school but has already started hearing from Michigan commitments about the Wolverines. 
"I've already heard from Chase Winovich and Michael Ferns, they've been trying to talk to me about Michigan and letting me know how much they like it," he said. "I've not heard from any Buckeye commits yet, but that sort of stuff won't matter too much now anyway."