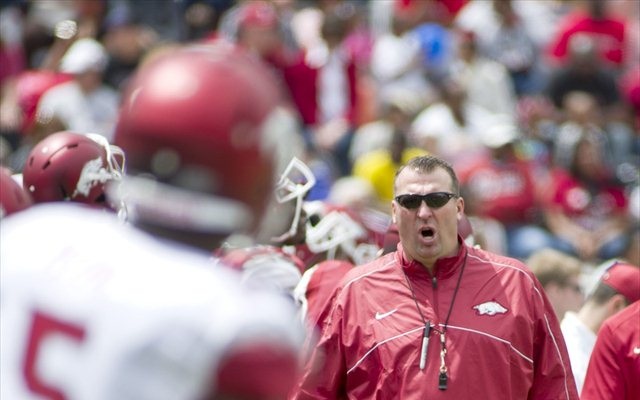 Arkansas' Bret Bielema has an idea...
al.com reported Monday that Bielema, a member of the NCAA's Playing Rules Oversight Panel, proposed a rules change that would create "a 15-second substitution period" after each first down to allow defenses to substitute. At the recent SEC spring meetings, Bielema framed it as a player safety issue -- just as Saban did when asking for similar rules changes last October.

"Not to get on the coattails of some of the other coaches, there is a lot of truth that the way offensive philosophies are driven now, there's times where you can't get a defensive substitution in for 8, 10, 12 play drives," Bielema said, per al.com. "That has an effect on safety of that student-athlete, especially the bigger defensive linemen, that is really real."
You know Bert is in good company when he's siding with Nick Saban on the issue of imposing rules to slow down no-huddle up-tempo spread offenses, which Nick Saban didn't figure out when he was coaching at Michigan State against Joe Tiller's Purdue teams and still hasn't figured out now.