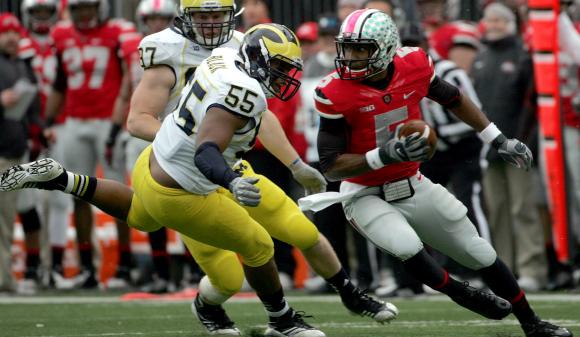 There might not be a less popular writer among Ohio State fans than Sporting News' Matt Hayes. He wrote an article last summer critical of Urban Meyer that garnered national attention, then he slammed Gordon Gee and the OSU fan base. Not a good way to make friends in Columbus. 
But he's never been shy about his feelings toward the Buckeyes' on-field product. Hayes is fully aware of Meyer's coaching prowess and the quality of Ohio State's talent. On Monday, he penned his top storylines for the upcoming season not involving the SEC. 
1. Michigan vs. Ohio State. Officially, this rivalry is back. The Buckeyes are coming off a perfect season—um, except for the bowl-ban bit—and have a real shot to go 13-0 and blow off the Rose Bowl for the even bigger biggie five days later in Pasadena. The Wolverines, though, have a dream schedule, with the Notre Dame, Nebraska and OSU games all in Ann Arbor.

What we're trying to tell you, folks, is that The Game is going to be followed by The Rematch in Indianapolis for the conference title, and that little turn of events is going to be the best thing to happen to the Big Ten in a long time.