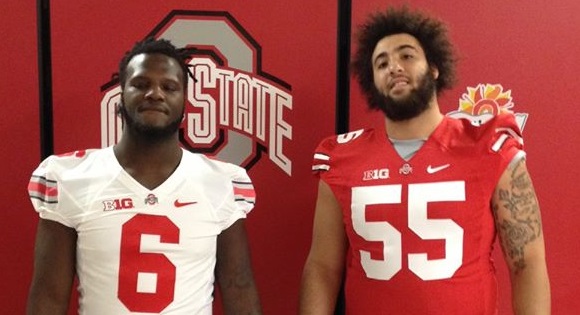 Ohio State's search for three more offensive lineman in their 2014 recruiting class hosted a big visitor this weekend when Sparta (N.J) native and Nassau Community College star Chad Mavety hit campus. Regarded as the best prospect in the Empire State, Mavety is a pure tackle, hovering at 6-foot-6 and nearly 320 pounds. He's an aggressive run-blocker and is equally adept in the passing game. As one of the Buckeyes' primary targets, Mavety headed to Columbus with a lot of lofty expectations and for now at least, it appears the Buckeyes met or surpassed every one.
"Overall it was an awesome visit," Mavety said. "It was more than what I expected, honestly. There were a lot of good parts to the trip, but I really liked just hanging around the facility and seeing how things work at Ohio State."
How things work at Ohio State is a relevant question for Mavety, because the Buckeyes have let him know that they have big plans for him were to ultimately sign with Ohio State.
"Coach Meyer and Coach Warriner were the two guys I spent most of my time with," he said. "They were really great to talk with.  They see me in a leadership role at Ohio State because they will be losing a handful of starters. They want me to come in and be a leader of that offensive line and the offense. Essentially they told me I could be the starter at left tackle from the moment I get on campus if I can handle the pressure that comes with that."
Obviously Mavety sees Ohio State's depth along the offensive line as a positive for the Buckeyes. He thrives on competition but isn't ignorant to the facts: there's playing time to be had in Columbus for offensive lineman.
"Of course that's a very appealing aspect of Ohio State," he said. "I think anyone would see it that way."
Coming from a junior college in New York, one of the bigger adjustments Mavety would need to make at Ohio State would be acclimating himself to the size of Ohio State. It's a big place, even to a guy of his size. He says however that from what he saw, Ohio State is laid out in a way he's familiar with.
"It's a large campus," he said. "But it's small in its own way, if that makes sense. I'll have no problem adjusting to Ohio State or any other school, my current school is laid out similarly. It seems like classes that are related are pretty close together."
Nothing is more important in recruiting than relationships, and Mavety has said a number of times that he speaks with someone from Ohio State nearly every day. This weekend was the first chance at getting to know the players he could call his future teammates, and it was an opportunity that he relished.
"I hung out with Jack Mewhort and Jeff Heuerman for a good part of the first day we were there," he said. "Last night I spent some time with Ryan Shazier, they are real cool guys. They told me it's like a family there, but that it's a family on 'The Chase.' They talked a lot about what they want to do, and they want to win a national championship. This year."
With an unofficial to Ohio State out the way, Mavety will keep searching out the best fit for him, but he contends Ohio State has set the bar high for other schools. He won't be making a decision any time soon, but the Buckeyes continue to be in a good position to land him. He will make an official visit to Ohio State in November when Ohio State hosts Indiana.