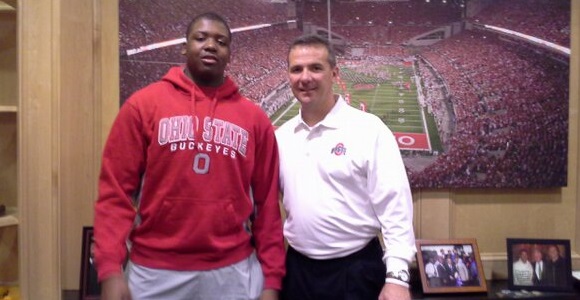 It's been a long strange ride, but Ohio State got a call they've been waiting for today when they landed Jamarco Jones, a 6-foot-5, 290 pound offensive tackle from Chicago as the 14th member of their 2014 recruiting class.
Jones announced his decision date about a month back, but since then there's been a flurry of anticipation around his choice as Michigan, Michigan State and Notre Dame all took their final swings, but in the end it was the long-term relationship that Buckeye assistant Mike Vrabel had cultivated with Jones and his mother that set the Buckeyes apart. In the last year and some odd months, Jones and his family had made a handful of trips to Ohio State and the familiarity with the Buckeye staff and campus proved to be the right fit for the big time prospect, who ranks as one of the top five offensive tackles in the country and is a national top 50 player across the board. Today, from his Chicago high school, Jones became a Buckeye.
The Jamarco Jones File
Size: 6-5/290
Pos: OL
School: De La Salle Institute (Chicago, IL)
Composite Rating: ★★★★
Composite Rank: 4 (OT)
"He's going to be a real good one," Jones' Core 6 training coach, Paul Szczesny told Eleven Warriors. "He was split between Ohio State, Michigan and Michigan State. If he was going to commit early I thought it would be Ohio State."
What are the Buckeyes getting with the addition of Jamarco Jones? 
"Hes a great pass blocker with a wide wingspan that he can use as a tackle to get his hands on defenders," Szczesny added. "He's really a well built offensive lineman with a great physical frame and an ability to knock back defenders in run blocking."
Now Ohio State's third offensive line commit for 2014, Jamarco joins fellow a Jones — Marcelys, a three-star guard from Cleveland Glenville — and Lancaster star Kyle Trout, as the Buckeyes continue to add depth along an offensive front that will lose four starters following the 2013 season.