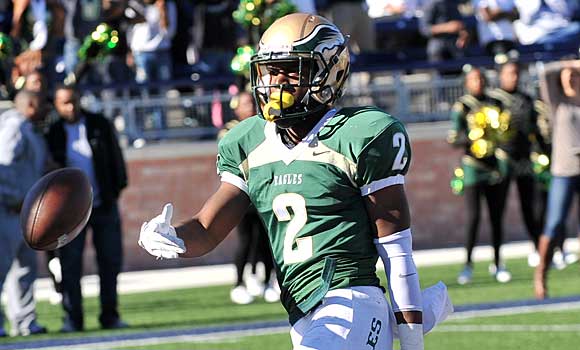 For many, it's a time of rest and relaxation. Mid-June signals trips to the pool and ice cream sundaes. Not so for the Ohio State Buckeyes. On June 10, a bulk of the freshmen enrolled for the summer semester. But schooling isn't the only item on their agenda. They were quickly introduced to strength coach Mickey Marotti and became accustomed to his no-nonsense, demanding workouts.
When Maurice Clarett enrolled in 2002, allowing him to partake in spring drills, it created a new phenomenon of high school seniors graduating early so they could get a jumpstart on college football. Now it is becoming normal for a handful of recruits each year to enroll for spring practice. Eli Apple, JT Barrett, Cam Burrows, Williams Houston, Tyquan Lewis and Tracy Sprinkle made up that group in 2013 for the Buckeyes.
The idea is to get a leg up on schoolwork and become entrenched in the inner workings of the football program. The same goal can be accomplished from bypassing your final summer at home. Getting in football shape and becoming acclimated with teammates goes a long way in forming the nucleus for a championship team.
Excellence in recruiting has been Meyer's M.O. since he was in charge at Bowling Green, where he signed Cole Magner out of Alaska. All he did was become the school's career leader in receptions. Utah, undefeated. Florida, two national championships. The success stories go on for pages.
But it all starts with recruiting. When Meyer arrived in Columbus, a 6-6 regular season gave way to a lackluster recruiting class. By February, though, Ohio State had climbed all the way to the top five. With an entire year to develop relationships, Meyer signed what some considered the best class in the country in 2013.
Redshirting is not part of the equation. For some teams, letting young players mature and slowly become familiar with the offense or defense is the model. But that isn't how Meyer operates. If you're good enough to play at Ohio State, you can contribute as a freshman.
"There's no redshirting," Meyer said last year. "Now, there will be some guys that will redshirt, but that's just because they weren't good enough to play, not because we're holding them back.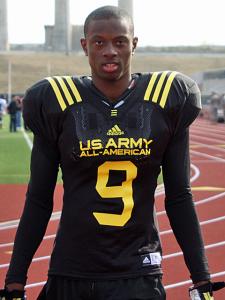 "Every freshman in the way we recruit, and the way we develop, the way we work these guys, we're developing them to get ready to play right now because who knows what's down the road."
With that in mind, and the caliber of the Buckeyes' incoming freshman class, several freshmen are certain to make an impact. The question is: who?
There's a plethora of dynamic offensive skill players venturing to Ohio State. The most anticipated debut is that of Texas athlete Dontre Wilson. The one-time Oregon commit was a late addition after Chip Kelly bolted for the NFL, and Meyer was more than happy to bring in the talented playmaker.
Wilson picked up large chunks of yardage on the ground and through the air last season, compiling more than 1,800 rushing yards, 750 yards receiving and an astounding 48 touchdowns. His role at Ohio State will be similar.
While Jordan Hall received praise from Meyer last season before injuries derailed his year, keeping Wilson off the field will likely be difficult for someone who covets versatile offensive players. The Percy Harvin talk has grown old in Columbus, but, in truth, the Buckeyes could use that type of player in their up-tempo offense.
"Honestly, the great athlete sticks out like a sore thumb," said running backs coach Stan Drayton, who's coached Harvin, Jeff Demps and Chris Rainey. "The intangibles are what makes it tough. Does he quite have the maturity that we're looking for to do what we're going to ask him to do? Is he ready to do that? Does he have the football IQ or the physical capabilities? The intangibles may force a kid on the field early, but the skill set of that elite athlete sticks out like a sore thumb."
At the hybrid position, Wilson gives Ohio State someone who can turn a short gain into a gamechanger. His skills can stretch defenses to the point where wide receivers and running backs can benefit.
Wilson's presence should also mean a more wide-open playbook. Ohio State didn't come close to showing its full hand of cards last year. To win a national title, it will need to showcase the entire set.
Jalin Marshall could add another dimension. He starred at quarterback in high school, but was recruited as an athlete. Like Wilson, Marshall has the ability to make would-be tacklers hit nothing but air. He can stop, change direction and accelerate at a pace that will leave Big Ten defensive coordinators fretting. 
Wide receiver is the biggest area of need on offense, and the addition of Corey Smith could provide immediate returns. His inclusion should come with an asterisk since he isn't technically a freshman. Still, he's a first-year Buckeye, and he brings experience.
Smith is the total package – a speedster who can run crisp routes. Ohio State's receivers have lacked in the area of speed and elusiveness. They've been able to catch the ball, but with diminishing results on big gainers, Meyer and wide receivers coach Zach Smith were left frustrated.
The hope – and expectation – is Smith can fill that void.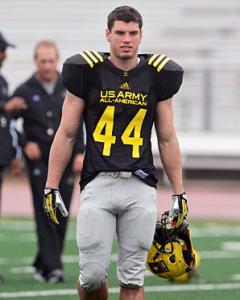 The linebacker corps includes Ryan Shazier, one of the nation's finest at his position. But the rest of the group is green, which should give Trey Johnson and Mike Mitchell an opportunity get on the field. The duo gives the Buckeyes a handle on a must-need position for the future. Combined, they provide the defense with speed and superb open field tackling.
In front is defensive end Joey Bosa. One of the crown jewels of the class, Bosa was a pass-rushing machine in high school. Going up against college offensive linemen will be far more difficult, but Bosa's speed off the edge could prove problematic.
The defensive line was a major point of concern entering the spring. When Noah Spence and Adolphus Washington turned in dominating performances the coaches anxiety calmed. Now the issue is depth, which gives Bosa hope for cracking the rotation. One injury could derail an otherwise stout defense.
One of the most competitive recruiting battles in recent memory ended with Ohio State as the victor. The target was safety Vonn Bell. Meyer said securing Bell pushed the meter from good day to great day. Co-defensive coordinator/safeties coach Everett Withers garnered the praise for snagging Bell.
Before the summer even began, Bell added more than 15 pounds of muscle to lessen the shock when he got on the field. And he plans on playing. With Ohio State implementing a nickel package, Bell could be an extra defensive back.
He indicated learning the playbook quickly was a goal, while Withers hopes Bell can be deliver depth and production.
Apple and Chris Worley are other members of the secondary who could play in front of 105,000 come Aug. 31. During spring practice, Apple showed glimpses of being the next great lockdown corner and at the same time had the usual lapses that newcomers display. Worley, a safety from the Glenville pipeline, is a brute who could play linebacker if needed. His size, speed and versatility lend him to being a contributor on the freak show.
The Buckeyes might be coming off an undefeated season. And they might welcome back 13 starters. It doesn't mean freshmen and other first-year players won't get experience if they perform well in practice.
In 1968 it was the 'Super Sophs' who spurred Ohio State's journey to college football's mountaintop. Could it be the 'Fantastic Frosh' in 2013?