The seventeenth installment of the fifth edition of this now 24-part series titled Better Know A Buckeye looks at the recruitment and commitment of Donovan Munger. At this stage in Ohio State's recruiting efforts for 2013, the commitments that Ohio State's coaches were getting were more the product of many months of effort and focus, and less the spot offers and spot commitments it was getting through the spring and summer of 2012. Munger's recruitment lasted much longer than he had originally anticipated in the spring, when he was receiving scholarship offers from far and wide. It finally came in December after he took an official visit to Ohio State.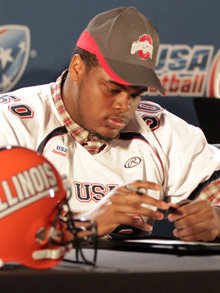 After retelling Munger's recruitment and commitment, I include a breakdown of Munger's strengths and areas for improvement. The consensus is that Munger has a very high ceiling and great agility for a player of his size, but is genuinely raw in important areas. I include some highlights for you to see for yourself and provide a projection of a redshirt in 2013. I proceed to mention miscellaneous things about Donovan Munger you may find interesting before concluding that he is better known. I put him on the board thereafter.
Height: 6-4
Weight: 285lbs
Fake 40: 5.1
High School: Shaker Heights High School; Shaker Heights, Ohio
His Recruitment
ollege programs were interested in Donovan Munger very early. By the summer before Munger's junior year, he already had an offer from Tim Beckman's Toledo program. Though higher profile offers were not forthcoming yet, he was drawing interest from Cincinnati, Illinois, Ohio State, Pittsburgh, and Tennessee. A lot of this was because Munger was making the rounds on the camp and combine circuit. He thrived in front of the watchful eyes of college coaches and was pegged very early as a player to watch in the 2013 recruiting class.
The offers started coming in bulk after Munger's junior season. By the middle of January 2012, Munger had offers from Indiana, Illinois, Minnesota, and West Virginia. The attention-getter of his list of scholarship offers was a program that typically doesn't recruit Ohio much at all, largely because it doesn't have to recruit Ohio. Gene Chizik's Auburn program, then a year removed from its 2010 national championship campaign, extended a scholarship offer in January of 2012. For all intents and purposes, this was the first marquee offer for Munger, even if it is one he may not have anticipated. It made Auburn an early favorite for Munger into February of his junior year of high school.
The story for Munger entering the spring was one of acquiring offers far and wide. In addition to the scholarship offers already mentioned, he picked up offers from Boston College, Duke, Georgia, Georgia Tech, Louisville, Michigan State, Nebraska, Northwestern, Notre Dame, Penn State, Pittsburgh, Purdue, Tennessee, and Washington, among many others. It was the Notre Dame offer, in particular, that may have forced Ohio State's hand on the status Munger's scholarship offer. Not long after Notre Dame offered Munger, Ohio State came forward with a matching offer.
By this point, Munger would have had enough to make a decision. Some of those are offers are as good as it gets in college football. With this in mind, Munger thought he may actually be inching closer to a decision. He may have been leaning toward Ohio State and was aware that Ohio State's sanctions-limited class was already approaching capacity. Meyer informed him that a decision about an unofficial visit was ultimately up to Munger, but he may want to think fast, given this situation.
However, Munger chose to wait out the process through the summer. He made his mind to pursue official visits in lieu of just unofficial visits to nearby programs. He even eyed a possible official visit to Georgia Tech in the fall as well. Munger was not close to deciding as July became August and his recruitment was going to go well into fall. Munger was even having difficulty naming a "top five", settling on a "top eleven" in November. In the meantime, Oklahoma stepped up with an offer of its own.
The surprising challenger to Ohio State for the commitment of Donovan Munger was not Auburn or Notre Dame. Rather, it was UCLA. The Bruins flew under the radar through the summer, though did extend its own offer to Munger in the middle of June. UCLA was actually Munger's first official visit. He flew to Los Angeles the week of the USC game and enjoyed his official visit to UCLA. That it was punctuated by a victory over the USC Trojans for UCLA's first win over USC since 2006 (and only second since 1998) only helped UCLA's chances.
However, Munger finally scheduled an official visit to Ohio State for the weekend of December 8-9, 2012. As it turned out, it was the visit that finally led to a commitment that Munger thought, for a while, may have been coming in April.
His Commitment​
On December 9, 2012, Donovan Munger concluded his official visit to Ohio State with a commitment in front of Urban Meyer in his office. It was followed by a handshake between the two.
Little was said of the reasons why Munger committed, though it was clear that both he and his mother took in the pageantry of Ohio State on the official visit and liked it. It is worth mentioning that Donovan Munger was arguably the target of Kerry Coombs' famous speech that made the rounds among Ohio State fans everywhere. Coombs even mentions him by name.
Munger became the seventeenth member of Ohio State's 2013 recruiting class.
Where He Excels
Munger is a very interesting addition to Ohio State's recruiting class. It's not often that kids from Shaker Heights get major college offers like those that Munger got, even if Munger did not do the post-season exhibition games that kids with similar offers do. Further, it's rare that any Ohio prospect, certainly one from Northeast Ohio, gets the attention of programs like Auburn and Georgia. Yet, not much is being said about him by Ohio State fans.
It's hard to deduce Munger's skill set from just a highlight clip. There was some confusion whether Munger is an offensive lineman or a defensive lineman, though he projects as a defensive tackle for Ohio State. As a result, highlights of Munger typically feature him at both offensive tackle and defensive tackle.
One thing was immediately clear from his film. Namely, he's too big, too strong, and too fast for his competition. He fired off the line of scrimmage on both sides of the ball, creating instant lanes for running backs and instant terror for quarterbacks when Munger was on defense. There were a few noticeable occasions where Munger was in the backfield before an offensive tackle effectively saw him after the ball had been snapped. "Quickness off the ball" is his strong suit. He can get "skinny" between gaps as well.
Must Work On
I don't think Munger knows yet how good he can be. The ceiling for him may be higher than anyone else recruited to defensive line in 2013.
Essentially, Munger is "raw". There's a lot for him to learn about playing the position. Highest priority might be learning some other "get off" move. He doesn't have one beyond the bull rush. It's easy to push around high school offensive lineman, but he can't rely on being naturally stronger and faster than his competition at the collegiate level. He'll need to learn more ways, and more effective ways, to shed his blocker.
Highlights​
Senior year.
Redshirt?​
Coincidentally, this feature was planned just in time for this item about Donovan Munger to make the news. He may not qualify this year. As a rule, I don't make it my priority to pry for the reasons why (because it's invasive). It appears to be an issue of a qualifying test score. If he doesn't qualify, he'll likely spend a year at Fork Union Military Academy, or some other post-secondary institution, before enrolling at Ohio State in January 2014. Recall: Carlos Hyde did this and turned out just fine.
If he does enroll in time for summer camp, I think he plays as a true freshman. Ohio State may need all options at defensive tackle in order to protect its linebackers (especially Ryan Shazier, who was routinely harassed by Wisconsin's offensive line in the 2012 game in Madison).
Miscellany
He was a high school teammate of Antonio Underwood, who signed with Ohio State in the 2011 recruiting class.
I didn't belabor this in the above sections, but he took an official visit to Florida State in January. He was not offered, but the visit was one that was supposed to coincide with an offer. After a discussion with Ohio State's coaching staff, nothing ultimately became of it.
He participated in Ohio State's inaugural Friday Night Lights camp.
He represented Team USA in the fourth annual International Bowl in Austin, Texas. Team USA crushed Team World, 42-10. He was actually there for National Letter of Intent Day.
He was second team All-Ohio as a senior and first team All-Ohio as a junior.
His senior team was 8-2 on the season, finishing with a 39-7 win over Normandy.
I think Donovan Munger is better known.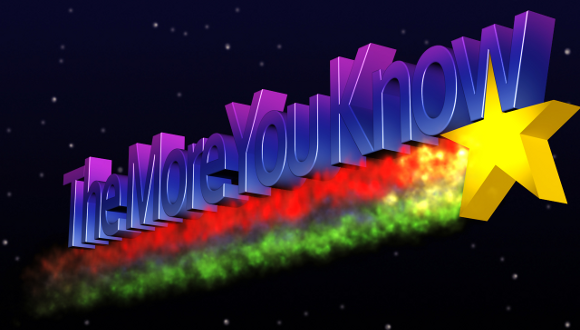 ---
Let's put him on the board.
| Name | POS | Ht | Wt | Hometown | Committed | Better Known |
| --- | --- | --- | --- | --- | --- | --- |
| Cameron Burrows | DB | 5'11 | 200 | Trotwood, OH | 01.19.12 | 02.19.13 |
| Jalin Marshall | WR | 5'11 | 196 | Middletown, OH | 01.30.12 | 02.26.13 |
| Billy Price | DT | 6'4 | 300 | Austintown, OH | 02.13.12 | 03.05.13 |
| Eli Apple | DB | 6-1 | 188 | Voorhees, NJ | 02.16.12 | 03.12.13 |
| Evan Lisle | OL | 6-5 | 280 | Centerville, OH | 02.28.12 | 03.19.13 |
| Jayme Thompson | S | 6-2 | 184 | Toledo, OH | 04.01.12 | 03.26.13 |
| Ezekiel Elliott | RB | 6-0 | 195 | St. Louis, MO | 04.01.12 | 04.02.13 |
| Marcus Baugh | TE | 6-4 | 233 | Riverside, CA | 04.10.12 | 04.09.13 |
| Tracy Sprinkle | DE | 6-3 | 255 | Elyria, OH | 04.17.12 | 04.17.13 |
| J.T. Barrett | QB | 6-1 | 230 | Wichita Falls, TX | 04.18.12 | 04.24.13 |
| Joey Bosa | DE | 6-5 | 270 | Ft. Lauderdale, FL | 04.23.12 | 05.01.13 |
| Darron Lee | ATH | 6-3 | 205 | New Albany, OH | 06.26.12 | 05.08.13 |
| Michael Hill | DT | 6-3 | 315 | Pendleton, SC | 06.27.12 | 05.15.13 |
| Timothy Gardner | OL | 6-5 | 310 | Indianapolis, IN | 07.28.12 | 05.22.13 |
| Tyquan Lewis | DE | 6-3 | 237 | Tarboro, NC | 09.20.12 | 05.29.13 |
| Gareon Conley | CB | 6-1 | 180 | Massillon, OH | 12.07.12 | 06.05.13 |
| Donovan Munger | DT | 6-4 | 285 | Shaker Heights, OH | 12.09.12 | 06.12.13 |