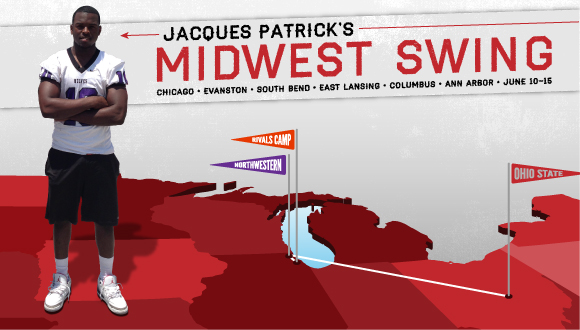 Jacques Patrick, one of the nation's top 2015 prospects is a running back with over 40 scholarship offers before the start of his junior year at Timber Creek High School in Orlando, Florida. Patrick is on the road with a number of his teammates, checking out schools all over the midwest and Eleven Warriors is taking you along for the ride as Patrick shares with us his travels.
His journey started in Chicago over the weekend for the Rivals.com Five-Star Challenge before a pit stop at Northwestern...
Wow, what a weekend.
It started in one of the greatest cities in the United States and Chicago did not disappoint. To get the chance to spend three days in a luxury hotel, getting world-class treatment was incredible. The people at Rivals.com put on an amazing camp and I feel like overall I held my own. There were a number of great players and it was great to see how I stacked up against the best defensive players in the country. I think the best player I had to go up against was Raekwon McMillan, who's the top linebacker in the country in my opinion.
There was nothing about the camp experience I didn't like, it was just awesome to get to be coached by the legendary coaches they had out there, meeting some players who could be future teammates and testing myself. It was also pretty cool to get all the new Under-Armour gear they provided. I really enjoyed my time in Chicago and with the Rivals people and I am excited to get a chance at doing it again next year.
After the camp ended on Sunday, me made our first college stop on the tour when we went to Northwestern. It was a really cool campus how it's kind of right in Chicago, that was kind of unexpected. Northwestern is a really great school and the coaches there seem pretty cool. Since it was a Sunday afternoon and I was pretty worn out from the camp experience, the trip was not real long, but it was still a good opportunity to see the place. Coach Fitzgerald is putting together a real nice program at Northwestern.
On Monday we were originally supposed to go to Notre Dame, but that's not looking as if it may not happen because the coach at Notre Dame that I talk to most is not going to be there, so I'll have to try and find another chance to get to see the Irish. I was looking forward to that, but instead we'll just hang out around Chicago for an extra day. Basically the rest of the trip is on, but Notre Dame might happen later in the week. We'll go to Ohio State (Tuesday) and then head to Michigan State and Michigan on Thursday. Either way it's great to get a chance to see all these schools because I know they are all different and give me a chance to really start narrowing things down.
(On Tuesday morning, Patrick and his tour group pushed off from Chicago and made their way to Ohio where they'd stop at Ohio State, Cincinnati, Bowling Green and Toledo.)
Ohio State was awesome. 
Even though it was a really quick stop, I was very impressed by everything I saw there. Coach Meyer is even funnier in person than he is when we talk on the phone and we talk pretty regularly. We spent a lot of time joking around about which one of us looked better (laughs). He's really easy to talk to and we don't really talk much about football, which is cool.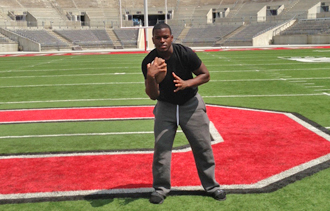 I honestly could go on and on about how nice it was at OSU and how much I liked Ohio State, but there was nothing better than just being able to hang out and talk with Coach Meyer. Seeing the trophy room at Ohio State, the stadium is huge and amazing too. The facilities were top-notch, the best I've seen along with Alabama. 
I obviously have a long way to go before I start narrowing things down, but I feel like Ohio State is a place I could see myself, and they are right now one of my top schools. I decided today that I am going to come back here in the fall for the Penn State game. It's at night and it should be a great game in front of a crazy live crowd.
Well, we're back on the bus and heading around the state of Ohio today, so I'm going to finish this up and enjoy the time to hang out and see other schools. Toledo, Bowling Green and Cincinnati are up next today. 
I'll talk to you guys after Thursday when we visit Michigan and Michigan State. It'll be interesting to see how those other Big Ten schools stack up to Ohio State.