We're eight months out from National Signing Day 2014 and Ohio State's class is about half full, meaning there are anywhere from nine to 11 spots left in a class that is expected to sign 18-20 recruits.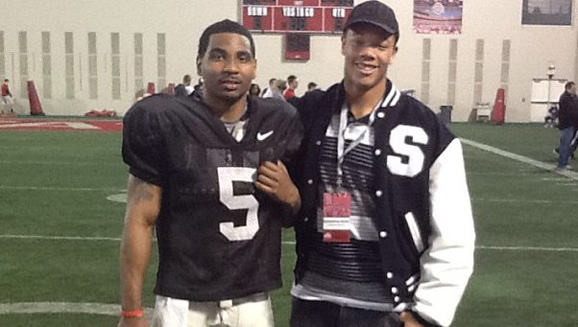 The nine 2014 players who have already verbally colmitted to OSU include the likes of Kyle Berger, Dante Booker Jr., Parris Campbell, Sam Hubbard, Lonnie Johnson, Marcelys Jones, Dylan Thompson, Kyle Trout, and Damon Webb. While that's a very good start to the class, the best has yet to come.
There are still many talented players on Ohio State's recruiting board and there are still a few holes are need to be filled before national signing day.
The biggest hole yet to be filled is along the offensive line, where I expect the Buckeyes to take two or three more blockers. It's also important for them to add another playmaker and linebacker to this already very good class.
I will incorporate the 24/7 Sports Crystal Ball into these projections in order to display the opinions of others who specialize in recruiting.
Join me after the jump to find out who I think will complete the Buckeyes' 2014 recruiting class.
QUARTERBACK
The Ohio State coaching staff wants to take a quarterback in this class and I am pretty sure they will end up with one, but I'm not in the position to predict who it will be.
Brandon Harris has become the Buckeyes' clear-cut top target for the quarterback spot in this class after Kyle Allen committed to Texas A&M a few weeks ago. While I certainly think they have a shot at landing him, I think he will stay in the south when it's all said and done.
So while I feel there will be a quarterback in this class, consider this spot a placeholder until the quarterback picture becomes more clear in the coming days, weeks, and months leading up to national signing day.
RUNNING BACK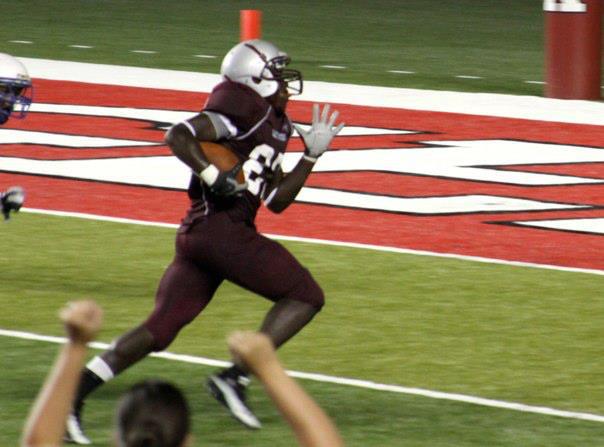 Jonathan Hilliman, Jersey City (NJ) St. Peter's Prep, 24/7 Sports Crystal Ball: 100% Ohio State
Hilliman would join Parris Campbell as the second 2014 recruit with the ability to play running back at some point in college. Unlike Campbell, who could play wide receiver or cornerback, Hilliman is a prospect who can only play running back. He's pretty fast, a hard runner, and has the right size to fit into the OSU offense.
He took an unofficial visit to Ohio State this past weekend where he got to see the Ohio State campus for the first time. The Bucks led for his commitment going into the visit and have lengthened their lead due to a great visit. He wants to take a few more visits to make sure Ohio State is the right school for him, but I think he'll be Buckeye no later than September.
WIDE RECEIVER
Derek Kief, Cincinnati (OH) La Salle, 24/7 Sports Crystal Ball: 81% Ohio State
The 6-5 wide receiver would be a very good addition to the receivers that have pledged to play their college ball in Columbus. Kief already has the size to be a potential number one target at the college level, but needs to develop his skills a little more. Most high school football teams don't pass a lot so it's hard for receivers to get good game experience.
If Kief wanted to commit to Ohio State, I'm pretty sure the staff would accept his commitment, though I must say, I'm not 100% sure. Nevertheless, Ohio State's top competition to land the big wide receiver will come from the likes of Alabama, Kentucky, Northwestern, and Notre Dame, which are the other four schools he put in his top five. I think he might wait until fall to make a final decision, but when he does, I think he'll decide to play his college ball in Columbus for his home-state team.
TIGHT END
The Ohio State coaching staff wanted to take a tight end in this class, but I don't see that happening. If my prediction is correct and they aren't able to secure the commitment of a tight end in this class, it will be a top priority in 2015.
Names to watch in this class include Garrett Dickerson, Austin Roberts, Tyler Luatua, Bryce Dixon, Ravian Pierce, DeAndre Goolsby, and Marvin Saunders. The Buckeyes have offered all of these players, but outside of Austin Roberts, who is the tight end the Buckeyes have the best chance of landing, their interest in the Buckeyes is mostly unknown. 
Another possibility is to have Sam Hubbard shift from defense to offense when he arrives in Columbus. There's a real chance we could see this conversion especially if my prediction holds true and the Buckeyes don't take a pure tight end in this class.
OFFENSIVE LINE 
Jamarco Jones, Chicago (IL) De La Salle Institute, 24/7 Sports Crystal Ball: 100% Ohio State
The Buckeyes have already secured commitments from two offensive linemen in this class. They scored a commitment from Marcelys Jones on Christmas day and Kyle Trout in February, but they would love to add two or three more to the mix. Jamarco Jones could play anywhere on the line at Ohio State. He'd probably be the most useful at tackle, but could easily move inside to guard or play center.
He's taking three more visits prior to his June 27th college decision ceremony which will take place at his high school at 2:00 eastern time. These visits will take place this coming Saturday, Sunday, and Monday where he will visit Michigan, Michigan State, and Ohio State in that order. While both U of M and MSU are legitimate competitors for Jones' commitment, I'm pretty sure he'll end up committing to Ohio State on June 27th.
Demetrius Knox, Fort Worth (TX) All Saints Episcopal, 24/7 Sports Crystal Ball: 88% Ohio State
The Buckeyes would love to add former Texas commit and Ohio native Demetrius Knox to their recruiting class. The Buckeyes were running second for Knox before he committed to Texas and figure to be his top school or at least one of his top school choices now that he de-committed from the Longhorns. While he figures to be a guard at the college level, he should be a dominant one. I talked to a coach who attended the Rivals 100 Challenge and he named Knox as one of the most impressive players he saw at the camp.
I think Knox will take things slow after de-committing from Texas, but in time I think he will decide Ohio State is the best place for him to spend his college football playing days. I think UCLA will be Urban Meyer's top competition in landing the star offensive linemen from the state of Texas.
Chad Mavety, East Garden City (NJ) Nassau C.C.., 24/7 Sports Crystal Ball: 100% Ohio State
Mavety would be able to come to Ohio State and play right away as he has already had plenty of time to develop. If he can't come in and earn immediate playing time there will be a problem because he will only have three years to play two seasons of football for the college he chooses. He has the frame to dominate at the tackle position in college and I expect him to excel wherever he decides to play.
Mavety is planning on making his first trip to Columbus on June 15th. He wanted to visit in the spring, but couldn't due to an NCAA rule. Alabama, Florida State, and many others will serve as stiff competition for Mavety's services, but in the end I think he'll end up committing to the Buckeyes later this summer or in the early portion of the fall.
DEFENSIVE LINE
I don't see anymore defensive linemen in this class. Dylan Thompson is the lone defensive line commit, while both Sam Hubbard and Dante Booker Jr. could move to defensive end if it becomes a bigger need.
LINEBACKERS
Raekwon McMillan Hinesville (GA) Liberty County, 24/7 Sports Crystal Ball: 84% Ohio State
Almost everyone considers Raekwon McMillan to be one of the best linebackers in the 2014 class as a whole. Standing at 6-2/245 he already has the frame to succeed at the next level of his football career. The Buckeyes have already secured commitments from three players who could play linebacker at the college level including Kyle Berger, Dante Booker Jr., and Sam Hubbard, who could also play on the defensive line, safety, or tight end.
He has had the Buckeyes has his leader for quite some time, but Alabama and Clemson are making a push. He's visiting Ohio State again this summer which will give Urban Meyer and his staff a chance to extend their lead for this standout linebacker. He isn't making his decision public until Under Armour All-American game. I think the Bucks will be able to hold on and he'll announce his commitment to Ohio State in early January. He'll also be enrolling in his school of choice soon after his decision, also in January of next year.
DEFENSIVE BACKS
Erick Smith, Cleveland (OH) Glenville, 24/7 Sports Crystal Ball: 100% Ohio State
The most talented players from the Glenville High School have almost always went to Ohio State and that's not expected to change with safety Erick Smith. I think Smith will be the first and only "pure" safety in the 2014 class.
Smith has been extremely quiet about his recruitment, just like his former teammate Christopher Worley who signed with Ohio State in the 2013 class. I'm pretty confident in saying Smith will be a member of this class, but I'm not sure when. If I had to guess, he'll make a late commitment just as many of his teammates have done over the years. Marcelys Jones is an exception to that rule. The Buckeyes' top competition will come from Michigan, Penn State, and others.
Quincy Wilson, Fort Lauderdale (FL) University School, 24/7 Sports Crystal Ball: 100% Ohio State
Wilson isn't highly rated by recruiting services, but he has an impressive offer sheet and is an extremely talented football player, who will be a corner or safety in college. Ohio State is looking at him to play cornerback. 
Wilson is planning on making an unofficial visit to Ohio State June 15th to check out the campus. While he hasn't come out and said it, I get the vibe from talking to Quincy and others close to his recruitment that the Buckeyes lead this race. It will be a tough road to victory, with a lot of schools down south competing for his commitment, I think the Buckeyes will come out on top this fall or winter.
ATHLETES
Marshon Lattimore, Cleveland (OH) Glenville, 24/7 Sports Crystal Ball: 100% Ohio State
Lattimore is the top player in the state of Ohio for the 2014 class. He could excel on offense, where he would play in the slot or defensive, where he would be a cornerback. While he's probably better on offensive right now, I think he end up on defense in college as he continues to develop his skills in the defensive backfield.
The Buckeyes have led for Lattimore ever since they offered him a scholarship early in the fall. He has taken multiple trips to Ohio State in the last year and hasn't taken a look at many other schools. I'm pretty confident the Buckeyes will end up landing Lattimore, but the race might not be over until close to national signing day because the Glenville players tend to make late decisions. I think Alabama will be Ohio State's top competition for Marshon's commitment.
Curtis Samuel, Brooklyn (NY) Erasmus Hall, 24/7 Sports Crystal Ball: 100% Ohio State
The Buckeyes don't often recruit players from New York, a state that rarely has elite high school football talent, but Samuel is an exception. He could be a running back, slot receiver, or safety in college. I think the Buckeyes would put him on offense if they're able to get his commitment.
Samuel wants to make it to Ohio State for a visit sometime soon and has indicated in the past that Ohio State his one of his favorites. Alabama, Miami, Notre Dame, Rutgers, and others will provide stiff competition for his commitment, but I think OSU will pull this one out by the end of the summer or the early part of fall.