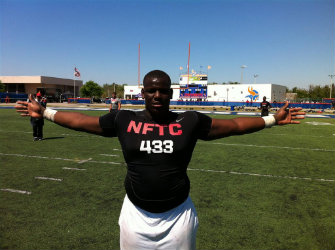 Poona ford 
He's only listed at 6 feet tall, but the 285 pound interior lineman is built like a tank. 
After traveling all the way from Hilton Head Island, S.C. with a number of his teammates to camp at Ohio State, he made the long trip worthwhile with his performance. 
Ford is a member of the class of 2014 and already has a Buckeye offer. He wants to stick around the Columbus area for a week and get a better feel for what the experience at OSU would be like.
"I'll do some tours, maybe," Ford said. "Hopefully I'll talk to coaches."
He worked with a number of people at the camp today, and enjoyed being coached by the Ohio State assistant coaches. 
"I loved the coaching staff here," he said. "They're always teaching me new things."
He participated in a number of drills led by Buckeyes defensive line coach Mike Vrabel, who Ford described as a hands-on coach.
"He's an aggressive coach," he said "But he shows you what do and it helps me get a better idea of what I'm supposed to be doing." 
While he's short in stature, Ford has the long arms, athleticism and motor to make up for it. He was able to out-jump a number of his fellow defensive lineman during the standing vertical drills. 
Ford mentioned – not in order of preference, necessarily – Kansas State, Louisville, Ohio State, South Carolina and Tennessee, as the schools at the top of his list. He plans to commit somewhere before the start of his senior season. 
Terry Mclaurin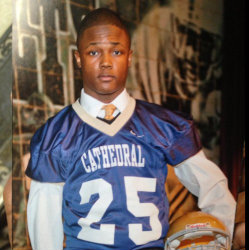 The fastest guy at any organized football event usually gets a share of the headlines. McLaurin was that guy today.
He reportedly posted a 4.3 40-yard dash time, and followed that up by beating every other member at the camp in what they call the "smokehouse." He first lined up against everybody in his position group, and then torched the best at every other position. 
McLaurin's impressive display of speed has yet to earn him a scholarship offer from Ohio State, but Urban Meyer and his staff will find it difficult to keep it that way if he adds improved route-running to his lethal speed.
In a few one-on-one drills, he showed the ability to explode out of his cuts. Still, the 6-foot tall receiver needs to do more to impress the elite programs of the Big Ten and SEC.
"I talked to Coach Meyer after the camp today," McLaurin told Eleven Warriors. "They didn't offer, coach wants to get to know more about me, because he doesn't know much, but he said he loves my speed."
Being asked to wait a bit for an offer like Ohio State's is something McLaurin has no problem doing. 
"I have a lot of time left," he said. "I will keep competing and doing what I need to do to earn the offers I want."
The 2014 receiver from Indianapolis listed the Buckeyes, Michigan State and Tennessee among the schools considering him, but has yet to receive a scholarship offer from any of them.
Still, McLaurin's camp performance can only serve to help him and his hopes to land those offers. 
"Overall, I learned a lot," McLaurin added. "It will help me get better and that's what matters."
Rashod berry
One of the hottest names in the class of 2015 is Lorain High School's Rashod Berry (Lorain, Oh.). After visiting on May 28, Berry returned to Columbus and camped with the Buckeyes Sunday.  
"I talked to the head coach [Meyer] and Mike Vrabel," he said. "I like it here and I think it went pretty well." 
Berry is still raw – understandable for someone who just finished his sophomore year – but his athletic ability and physical tools are undeniable. He is 6 feet 4 inches tall, and 215 pounds. His leaping ability was on display during basketball season and the standing vertical drill, where he was easily out-jumping linebackers. 
He's still enough of an "under the radar" prospect that his only highlights online are from basketball or as a wideout. Plus, his only offers are from MAC schools, at this point – Akron, Bowling Green, Kent State and Toledo. He visited Michigan once, but this is the first time he's camped with Big Ten coaches and elite talent. 
"At some of the other camps I've been to, I was the biggest," Berry said. "When I went here, I was shocked because there kids my size, and they worked just like me. So, I liked it."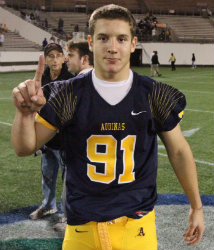 Nick bosa
Nick is the latest member of the Bosa family to get acclimated to Ohio State. 
His brother, Joey, will be a freshman this fall, as part of the class of 2013. His mother, Cheryl, graduated from OSU, while his uncle, Eric Kumerow, is a former first round pick of the Miami Dolphins, and a former Buckeye captain under Earle Bruce. 
Based on the family tree – undoubtedly made of the Aesculus glabra variety – Nick might wind up a Buckeye in 2016. He's about to enter his sophomore year of high school at St.Thomas Aquinas in Fort Lauderdale, Fla., and already has an Ohio State offer. 
"I've been here three times," Nick Bosa said, "and [being on campus as a recruit] makes me love it even more." 
Currently, Bosa is a 6-foot-3-inch, 215-pound defensive end. If he's anything like his brother, he'll grow at least an inch and put on another 50 pounds. With added weight and strength he will become more physical, which is a trait of Joey's game. 
Nick Bosa is capable of shedding blocks, as he displayed against some of the top lineman in Sunday's camp. While he said that he needs to work on his pass rushing, his athleticism has already displayed itself while tracking down ball carriers, and in coverage. 
Considering the competition at his high school – the Raiders have won a state title in three out of the last five seasons – Bosa will have every opportunity to raise his game over the next three years. Since college is that far down the line, Nick will be happy to hear about the experience Joey will have at Ohio State. 
"I get to see what a nice place my brother's going to be in," Nick said, "and he's going to tell me how it is." 
Stay tuned to Eleven Warriors for more coverage of Sunday's camp and the several offers Ohio State made afterwards.