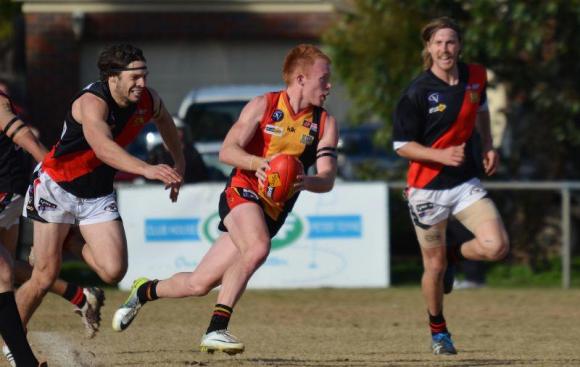 Early-arriving crowds are nothing new at Ohio Stadium. Fans have arrived to the college football cathedral well before kickoff for nearly a century to take in the ramp entrance. Starting in 2013, there could be another pre-game attraction: the best damn punter in the land.
At least that's what Nathan Chapman says. Chapman, a coach at ProKick Australia in Melbourne, trained Cameron Johnston, Ohio State's presumed-to-be starting punter for 2013 and beyond. The Buckeyes have not confirmed Johnston's status, but he said he accepted a scholarship and landed in Columbus Wednesday night.
The catch? Johnston is a 21-year-old former Australian Rules Football player who's never played American football. But he possesses a right leg with cannon-like qualities and the speed and athleticism of a wide receiver.
"I think fans will enjoy watching him warm up before a game," Chapman told Eleven Warriors in a phone interview from Melbourne. "What's normally relatively boring will be fun."
Aussie Rules Football is a unique sport that requires a plethora of skills to be competitive – speed, peripheral vision, good hands and a strong leg. That final characteristic is how Johnston developed into a valuable commodity half a world away. Precise placement on kicks is of utmost importance in Aussie Rules. When Johnston stands at his own 35 at the Horseshoe, Chapman said 10 out of 10 times he'll land the ball inside the 10 because "that's what we would expect from him."
Johnston is described as intelligent with an outsized personality, which isn't rare for Australians who play college football. They're known for being good-natured and charismatic. That air of confidence mixed with exuberance allows them to play more freely.  
"Australians are typically carefree, always happy to have a laugh and have a beer," Chapman said. "I've never seen Cameron in a bad mood. He's always laughing, smiling and jumping around. If you're talking charismatic and enthusiastic, that's Cameron."
ProKick Australia has etched out a large footprint in college football, stocking rosters with punters who can flip field position. Last season, ProKick alum Alex Dunnachie led the nation in punting average for Hawaii at 46 yards per boot. Minnesota and Indiana also have former ProKick players, while Brad Wing parlayed a successful Aussie Rules career into stardom at LSU.
The academy puts the hopefuls through a rigorous 12-month series of workouts, training and instruction that readies them to compete at the highest level of college football. Johnston has been one of the most exceptional pupils the program has ever produced, according to Chapman. He talks of consistent punts of 65 yards, some even going 80 yards, hang times at nearly 5.5 seconds and 4.4 speed for Johnston. It sounds too good to be true, but video would suggest reality.
"He's got more than what's normally required," said Chapman, who attempted to make the Green Bay Packers' roster in 2004. "He's got all the tools and ability, he just has to make sure he's in the right environment and utilize it – leg strength, core strength in his timing, the Aussie Rules background.
"He's got more than what's normally required. HE'S GOT ALL THE TOOLS AND ABILITY." 
"He's a very fit, strong and athletic type of kid. We did a lot of technical stuff in our program. We make sure they utilize the strength in their body so they kick higher and longer. He understands how to maximize his strengths through technique. We made sure he increased all his skills and that he's harnessing all of his talent."
It became apparent early on that Johnston was a special talent. In the spring, Chapman began sending tape of Johnston to college coaches around the country. ProKick has sent 25 punters to the United States, so they have plenty of contacts halfway across the world, and it doesn't hurt when you have a good track record.
Ohio State originally heard from Chapman last September. But Johnny Townsend had already caught the Buckeyes' eye and only relying on film of someone who had never played American football was too risky.
When Townsend spurned Ohio State for Florida late in the recruiting process, the Buckeyes were once again in the market for a punter. Placekicker Drew Basil handled punting duties during the spring with an average of 34 yards per punt in the spring game.
"Special teams have to improve, and they will improve," said special teams coordinator Kerry Coombs.
He and head coach Urban Meyer expressed confidence in the senior, but having one person handle the kicking is not the preferred route. Johnston's arrival should put the coaches at ease.
"We have to try and convince a coach that someone who's never played the game before will come in and do a good job in front of 100,000 people," Chapman said. "Those are the barriers we have to jump across. Some teams can't take that leap of faith and others do, and then they look for the next Australian guy in line. For a coach who's never had an Australian before it can be scary. They don't want to waste scholarships and be the one who makes a bad decision."
Chances are Ohio State's search will prove fruitful, considering Johnston's other main suitor was Alabama. Either decision the Aussie made was going to come with high expectations from coaches used to winning and fanbases that seek perfection. An adjustment to the American way of life and a college workload is also part of the equation.
It's a scenario not many young adults could handle. Columbus is nearly 10,000 miles from Melbourne. Johnston's only previous visit to the U.S. came on a 24-hour visit to Ohio State.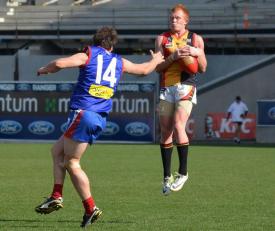 "No matter how many times you tell someone, unless you've experienced it yourself, I don't think anyone is prepared," Chapman said. "Parents think they understand it from watching it on TV, but then they go across and see a game and they say, 'What I thought I knew was nothing like what I felt and experienced when I was there.'
"We give them information on what they should expect and how big it's going to get. We tell them to be aware of it, but you have to find your own feet when you get there. It's going to come fast and they're going to come at you from every angle, and the environment is going to be big. That's why we only suggest certain guys for the program.
"Cameron's not going to go in there all googly-eyed and jaw-dropped looking around him. He's going to ask where he's kicking from and what the best angle to kick is. He's got that professional mindset of how to get the job done. He'll have a smile on his face and say, 'That was fun.' But it's not going to distract him from the job he needs to do."
The biggest modification Johnston will have to make, according to Chapman, will come in practice time. In Australia, there isn't the hustle and bustle between drills like structured college practices have. But the time spent around a professional setting down under will give the vibe of a similar atmosphere. Johnston is even familiar with cold weather, having kicked on 30-degree cold, wet and windy days.
"They're very passionate about their pro football over here," Chapman said. "What they don't have is a college system people are involved in. More of the story is about how crazy the college system is, how much they support it and how big the games are. Everyone loves the local sport. Australia is one of the sporting capitals of the world in terms of absolute rabid fans, but it will be different because he hasn't seen many American football games.
"Come Monday, the learning curve will start."