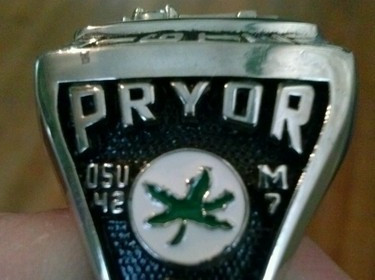 Who doesn't like picking at an old wound anyway?
Fine Line Ink is the name of the Columbus-area tattoo parlor that was at the core of the December 2010 scandal that saw Mike Adams, Dan Herron, Devier Posey, Terrelle Pryor, and Solmon Thomas suspended for the first six games of the 2011 football season. The subsequent fallout from later revelations connected to that initial scandal involving Fine Line Ink saw Devier Posey's suspension extended to ten games, led to the conclusion of Terrelle Pryor's college career, and ultimately led to the resignation of Jim Tressel.
And now, if you have money to spare and are that guy/gal, you can purchase some of the memorabilia on eBay.
The listing for the eBay user, finelineinkusa2010​, includes things we would expect to surface as memorabilia connected to that scandal. The 2008 Big Ten championship rings of everyone involved (sans Dan Herron) are available for purchase.
The headliner of the user's listing of items for purchase is a 2002 national championship ring, erroneously attributed to the "tattoo scandal" by the seller. This is, in fact, a championship ring given to former Ohio State lineman T.J. Downing, who redshirted his freshman year on that national title team.
Though Downing, who exhausted his eligibility after the 2006 season, was not connected to the "tattoo scandal" as the seller states, the seller appears to write this into the item description to counter Downing's statement that his national title ring was stolen.
This ring was involved in the 2010 Ohio state football scandal . I have the news paper where the player (tj downing) tryed to lie and say that it was stolen from him and I showed papers saying I bought it before he said it was stolen so I revived it back. This ring is a part of Ohio states history and will be worth a lot of money to the rite collector some day. Just so every one knows none of the memoribila was traded for tattoos, the media went off of false info and ran with it
Everything was blockquoted verbatim from the item description. I do not have time to add "sic" to every word in that description.
For what it's worth, the winning bidder can have his or her picture taken with "ed", apparently a reference to Ed Rife. Ed Rife was the proprietor of Fine Line Ink and the central figure in question as the scandal hit the news. Rife was later sentenced to a three-year prison sentence by a federal judge in October 2011.