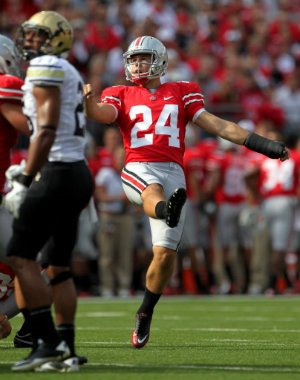 Urban Meyer has found his punter after missing out on long-time commitment Johnny Townsend on signing day. 
21 year-old Cameron Johnston from Australia will enroll at Ohio State and become Ohio State's starting punter next season, according to a Columbus Dispatch report. The report notes that Ohio State has not officially confirmed the signing, though it does appear to be a formality at this point.
Cameron's trainer, Nathan Chapman, tells the paper that Cameron's leg is "unlike anything that I think anyone at Ohio State will have seen." Chapman also noted that Johnston would have gone to Alabama next season if he had not chosen the Buckeyes.
The addition means the Buckeyes will have their very own Brad Wing. Wing starred for Les Miles and his LSU Tigers for four seasons before moving on to the NFL, where he's now in competition for the starting job in Philadelphia. You may remember Wing for this nifty fake punt – and subsequent taunt that negated the score – against the Florida Gators in 2011.
Video is a bit sparse on Johnston, but film exists of him kicking the ball 80 yards with consistent 65-yard bombs.