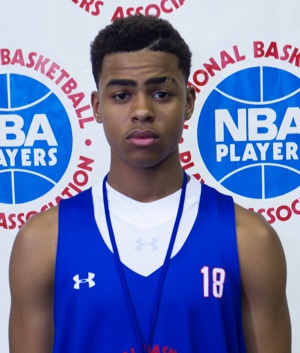 Highly rated 2014 guard D'Angelo Russell is visiting Ohio State today. Earlier today, 2014 Ohio State commit Jae'Sean Tate tweeted out that he was done with exams for the day and he might be headed to campus to visit and meet up with Russell. Tate's profile is private so the tweet can not be embedded. I have been able to confirm that Russell is visiting today. 
D'Angelo Russell is rated 23rd overall by 247Sports. He has offers from Ohio State, Louisville, Indiana, UNC, Arizona, Memphis, among others. 
It is widely believed that Ohio State and Louisville are his leaders. Five insiders have predicted Russell to Ohio State on 247Sport's crystal ball feature. 
Russell is known for his excellent lefty three point stroke and also his play making ability at the guard spot. Ohio State is looking to add another guard to the 2014 class. 
He previously stated that he plans to wait until late in the process to commit to a school. If Ohio State misses out on PG Tyus Jones, D'Angelo Russell could be in line to take the last guard spot in the Buckeyes class. Ohio State has also been actively looking for another big man for the class that currently has only two more scholarships available. 
Here is some film of the 2014 guard prospect from Montverde (FL) Academy: