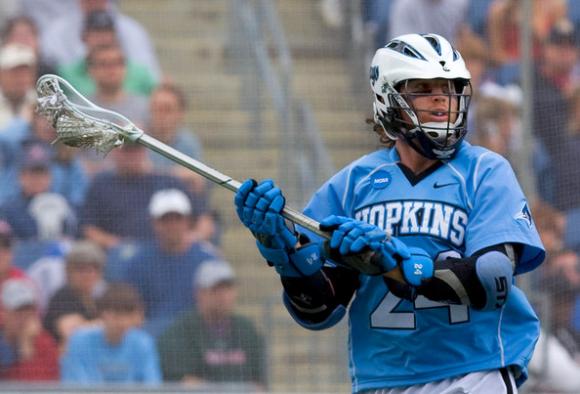 The Big Ten Conference has announced men's and women's lacrosse will be the league's 27th and 28th official sports. Johns Hopkins has been accepted as a sport affiliate member for men's lacrosse beginning with the 2014-15 academic year.
"We are excited to announce the launch of Big Ten men's and women's lacrosse and the addition of Johns Hopkins as a sport affiliate member," said Big Ten Commissioner James E. Delany. "Johns Hopkins is an outstanding institution with a legacy of success in men's lacrosse that is simply unmatched in intercollegiate athletics. Lacrosse is an emerging sport among our current schools and is a long-held passion among our East Coast institutions. With the addition of Maryland and Rutgers in all sports and Johns Hopkins for men's lacrosse, we will have the requisite number of institutions to make men's and women's lacrosse official conference sports, building upon our tradition of broad-based sports competition. We look forward to the start of the first Big Ten men's and women's lacrosse seasons in 2015."
Maryland, Michigan, Ohio State, Penn State, Rutgers and Johns Hopkins will participate in men's lacrosse with Maryland, Michigan, Ohio State, Penn State, Rutgers and Northwestern competing in women's lacrosse.
When Eleven Warriors sat down with Gene Smith earlier this year, he indicated that the conference was looking for an affiliate member to start a lacrosse conference. Johns Hopkins has long been rumored as the targeted school due to its strong academics and rich lacrosse tradition. The Blue Jays have 44 national championships, more than any other program. 
11W: Is there still a discussion to have a Big Ten Lacrosse Conference?

GS: There is a discussion. There's talk about bringing in an affiliate member. The bylaw says you have to have six. Because of the nature of that sport and its growth and Maryland's success, we've discussed identifying an affiliate member and possibly creating a Big Ten Lacrosse Conference.
UPDATE 12:19 P.M. In response to a request to comment by Eleven Warriors on Johns Hopkins' addition, Smith said, "It will certainly add prestige to the league. Having a program like Johns Hopkins with their stature in men's lacrosse, along with the growing success of our Big Ten schools, makes this a great league. No trepidation at all (in adding an affiliate member). In these days of expansion, we need to think differently on a number of fronts, but certainly how we create strategic alliances for competition experiences for our student-athletes."