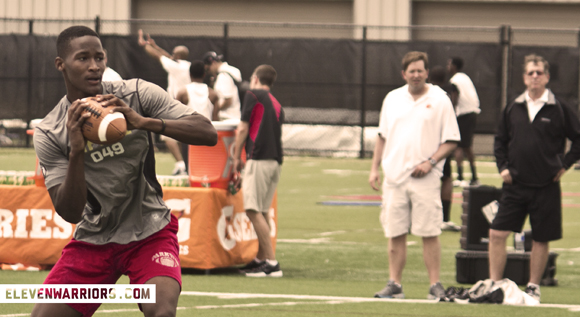 There were storm clouds looming, but the threat of rain didn't stop many of the nation's top prep quarterbacks from shining today in Columbus. 
With more than a hundred quarterbacks on hand, it was a challenge to find the five or six best, but Eleven Warriors was in the house and we're going to attempt to breakdown the best performers from the Elite 11 Quarterback competition at Ohio State. 
Myself and Miles were both in attendance to try and get as comprehensive as we could, but the two of us, like nearly every other media member in attendance had a difficult time taking their eyes off of one key Buckeye target, Bossier City (La.) star Brandon Harris. As good as Harris was, it was Central Catholic (Toledo, OH) quarterback DeShone Kizer who took home the biggest prize of the day, the invitation to the Elite 11's final camp at the end of June in Eugene, Oregon.
Here's the way we saw things today in Columbus.
Miles and I were in agreement that there were four standouts, guys that both of us included in our "Top Five," and most of the other people in attendance seemed to concur, there were some guys who just were better than the others in the camp. 
Our Top Five

| No. | Jeremy Birmingham | Miles Joseph |
| --- | --- | --- |
| 1 | Brandon Harris - Bossier City, Louisiana | Brandon Harris - Bossier City, Louisiana |
| 2 | Drew Barker - Hebron, Kentucky | DeShone Kizer - Toledo, Ohio |
| 3 | DeShone Kizer - Toledo, Ohio | Drew Barker - Hebron, Kentucky |
| 4 | Caleb Henderson - Alexandria, Virginia | Caleb Henderson - Alexandria, Virginia |
| 5 | Darius Wade - Middletown, Delaware | A.J. Long - Lebanon, Tennessee |
Brandon Harris
Jeremy: Simply put, Harris is a very special athletic talent. He's got protoypical size and speed to go along with a quick release and an absolute cannon for a right arm. Inconsistent with his accuracy early, Harris found his touch as the afternoon progressed. He was able to make every throw, but it was obvious that when it came time to reel it in a little his accuracy wasn't as good. He's a major talent with major upside and mechanically sound. He threw it well on the run and got better in the pocket later in the day. During the event's final drill, the "pressure cooker," he was dynamite. A full field, two-minute offense style of drill, Harris was on the money with every throw but his last, even if his receivers were unable to make the grab.
Miles: Harris was the most consistent quarterback in attendance. Showed off his strong arm and had no issues completing passes with the wind blowing hard. He also showed the ability to accurately complete passes while throwing on the run.
Having to fight the urge to only watch Brandon Harris.

— Mark Ennis (@Mengus22) June 1, 2013
DeShone Kizer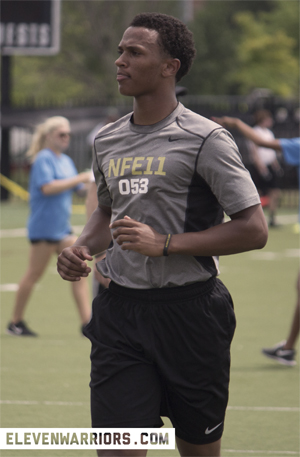 Miles: Kizer had a rough start to the day as he was hit and miss for the first part of the camp. However he vastly improved as the day progressed eventually winning the "Golden Ticket" and an invitation to the Elite 11 final. He is very good at throwing on the run, but needs work on throwing from the pocket.
Jeremy: Kizer is everything you'd want in a quarterback, when he's throwing the ball well. He's got the ideal size, good mobility, excellent arm strength and on top of that the kid is a flat out, no bones about it winner and competitor. He's a team leader and exhibits excellent field awareness. The issue with Kizer is consistency, plain and simple. One scout I talked to said his first note on Kizer for the day was "can not throw," a shocking indictment on a player who has worked very hard to improve his game. By the end of the day, that work paid off and Kizer really stood out. He made every throw on the move, but as Miles noted, his footwork in the pocket leads to some issues with his accuracy. Get that under control and someone - maybe Ohio State if they decide to offer soon - is going to get a steal.
Drew Barker
Jeremy: I've long been an unapologetic Barker fan, and he did not disappoint today. The improvements in his game over the last year throwing the intermediate passes was very noticeable and he's growing into his frame. He's always a favorite of the other kids he's around and that was the case again today. Barker's biggest asset – his will to win – can not be adequately measured in an event like this, but he was very competitive today as always. His arm strength is still not where it could be for a player of his size, but he's working hard and improving and will be a very good player at Kentucky.
Miles: Drew Barker had a very good day. Like Harris, he was very consistent and showed a great competitive spirit. He was very good making throws from the pocket, but needs a little work when it comes to throwing on the run.
@elite11 Accuracy Winners: Chris Little, Connor Christianson, Drew Barker, Pat Ford, Colar Kuhns, (cont) tl.gd/lutkqv

— Tom Loy (@TomLoy247) June 1, 2013
Caleb Henderson
Miles: Henderson was probably the best pro-style quarterback in attendance. In my opinion he was the best in the pocket, but needs some work throwing in the run. He has a very strong arm which helped him greatly today because of the wind.
Jeremy: I watched Henderson last year as he camped at Ohio State, trying to earn a Buckeye offer and was impressed by his size and mechanics. He's a big kid, built like an ox, but I thought he might be a bit too big, but that was not the case this year. He's clearly been working very hard to get fit and it's doing well to help his endurance. Last year's camp saw him tire towards the finish line, but was still going strong today. A North Carolina commitment, Henderson will do well in an offense that allows him to drop back, scan the field and make the right read. He's smart, big and skilled.
@dieselnole24 To me, Caleb Henderson and Brandon Harris also Drew Barker.

— JC Shurburtt (@jcshurburtt) June 1, 2013
While we agreed on the top four, Miles and I each had a different fifth. In my opinion, Darius Wade, a Boston College commitment was very impressive. He's bigger than I thought he'd be and threw very well out of the pocket rolling right or left. Big bodied and an incredibly smart player, Wade is a steal for Boston College. 
Miles was impressed by Syracuse commitment A.J Long who showed excellent arm strength and ability to keep his eyes up the field while on the move. Long has a nice, clean release and could develop nicely for the Orange.