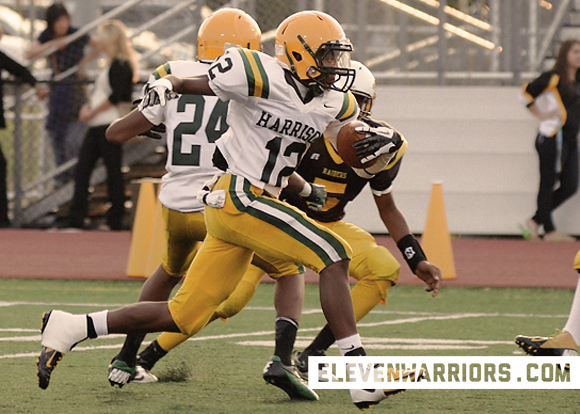 When you grow up in Michigan, people expect you to be a Michigan fan. That's certainly the case for Desmond "Dez" Fitzpatrick, a 2016 receiver from Farmington Hills. The talented sophomore-to-be won't deny that, but the 6-foot-tall, 170-pounder insists that as his recruitment progresses, that won't impact his decision.
"I grew up liking Michigan, my dad's friend's son played there, so I got a chance to spend time around the program," Fitzpatrick said. "But for my future? I haven't thought that much about it. I mean, I grew up going to Michigan games and watching Braylen Edwards and Denard Robinson. But I know that when my time comes, I have to choose a school that is right for me at that time. It's still three years away."
Fitzpatrick and his father, former CFL defensive back Greg Fitzpatrick, have been working hard to keep a sense of balance for Dez. They have a plan for his future and that does not include thinking about a future based only on where the up-and-coming star put his rooting interests. While Fitzpatrick has not received his first offer yet, it's something that they both know major attention is coming, and they are keeping things in perspective.
"All of this is really exciting," the younger Fitzpatrick said. "It makes me just focus on working harder to make sure my sophomore year is better than my freshman year."
"We try to keep him grounded and understanding that results on and off the field is what matters," Greg Fitzpatrick told Eleven Warriors. "This is Dez's dream and I want him to have all the information he needs. He has seen his share of Shorts and T-Shirt All Americans. He's a relatively shy kid and understands that he's a long way from his goal, which is to be the number one wide receiver in the country. I think that I'm having more fun with this recruiting stuff than he is (laughs)."
The Fitzpatricks are staying busy, getting out to as many camps as possible in order to see where Dez stacks up against the country's best, an opportunity that wide receiver is relishing.
"I've had a chance to see the level of competition in the Midwest and compare myself to the seniors.  I learned that the things that I work on with my dad all year around have really prepared me to compete at a high level," Dez said. "I believe that my strengths are my route running, quick feet, hands, speed, body control and understanding the cornerback position, along with running after the catch. Over the next three years I just want to get faster, stronger, and continuing to develop my skills and fill up my 'toolbox.'"
His father agrees, and he and his son have put together a pretty good idea of what they are looking for in a potential college match.
"We will consider everything from academics, coaching staff, offensive scheme balance, who is playing quarterback, the position coach, conference and feel for the campus," the elder Fitzpatrick shared. "I also believe that he will be ready to play early – and that's coach speak, not dad speak – so a program that's not afraid to play freshman if they are ready to contribute. A school that were early offer would surely help if all else is in place."
For his part, Dez has a few additional parameters he's hoping to have met.
"I'd like to go to a school with a good school of broadcasting," he added. "On the field, I want there to be a good run and pass mix."
Ohio State's success in producing broadcasters is well known, would the Buckeyes have a chance to lure this Michigan product south if they were to offer? They'll have their first shot at showing what they can offer this weekend when Fitzpatrick attends the Nike Football Training Camp at Ohio State. Dez is excited for the chance. 
"I really hope to see the campus and more of school this weekend.  It would really be cool to see the facilities. My dad's side of the family are actually Ohio State fans, so it will cool to finally see the school. I'm also planning on attending Ohio State's camp later in the month."
Where did his dad's affection for Ohio State come from?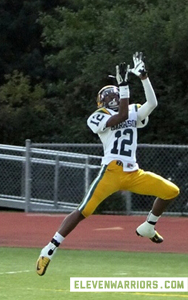 "I actually grew up in Cleveland," Greg said. "I wanted to walk on at Ohio State, but when I filled out my walk on application they wouldn't accept it because I didn't have high school film, because I didn't play in high school. I walked on at Central State University in Ohio instead, and went on to have brief stints in the CFL and was in camp with the Bengals  in 1990."
If it sounds like Fitzpatrick is a player that could be potentially torn between his heritage and his upbringing, don't worry. There's no hurry and no pressure for the wide receiver who is expected to grow to at least 6-foot-3. Right now they are enjoying the process and looking forward to a number of camps this upcoming summer. 
"The Rivals camp was the best I've performed so far," Dez said of the performance that earned him a spot in the Underclassmen Challenge in Dallas this July. "I'm going to be at six different college camps this summer and just want to keep working on getting stronger and faster."
As expected, the father's role is a bit different. He's hoping to continue instilling the big picture into his son.
"I try to teach Dez the overall responsibility of being a student athlete," his father added. I'm here to remind him that he has a little brother and other younger kids who are already looking up to him. He also returns to his former youth team to coach during their summer camp."
"I remind him that he will never reach his goals and be a "great player' if HE doesn't love the game.  I can't love it for him. He's at the age where the true love for the game has surfaced.  I always told him that it would get extremely hard at this stage and HE had to love the game.  If not, he could quit and we will spend the summer going on family vacations and i could spend more time at the golf course. We will take our time with the process. Ultimately, as long as he's happy with his efforts and his opportunity, I am going to be happy with his choice."