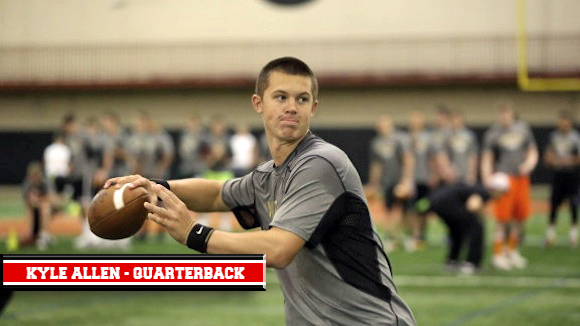 Kyle Allen, one of the nation's top-rated quarterbacks, has released his top five schools and the Buckeyes are where they want to be.
A regular name around these parts and much of the internet since his recruitment went "up a notch" three weeks ago when he received offers from Notre Dame, Ohio State and Alabama, and many have speculated that those three schools would make the final group for the talented 6-foot-4 signal-caller from Phoenix (Ariz.) Desert Mountain High School.
Eleven Warriors talked with Allen, the holder of 20-plus scholarships, about his final list and what makes each school unique prior to his public release via Twitter. Here are the final five schools, in his words and in alphabetical order, that have made the cut for one of the nation's best.
NOTRE DAME
"Notre Dame is unique, because it's a national power football-wise, with a top ten world school. It's a great mix of academics and athletics, and there are also very great people there."
OHIO STATE
"Ohio state is Ohio State (laughs). It's a great campus with awesome alumni, and a great coaching staff. There is a lot of support from everyone around the university and a great chance to make it to the NFL, as you see with Meyers track record with quarterbacks."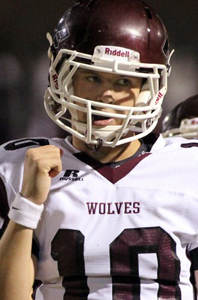 OKLAHOMA STATE
"Oklahoma State has unbelievable facilities and so much support from alumni and fans. They have a very quarterback friendly offense. The new OC (Mike Yurcich) is a bit unknown but will he will be soon because he is one of the smartest guys I've met. (Coach Mike) Gundy is a players coach too."
TEXAS A&M
"Texas A&M is another place with awesome facilities. They have a great coaching staff with Kevin Sumlin and (QB coach) Jake Spavital. There are great people and awesome support, and they are really on the rise and have a great recruiting base. Plus, I'd be playing SEC football."
UCLA
"UCLA is another place like Notre Dame, because of the education and football. I feel like they too are really on the rise because of the amazing people. Coach Mora is a great dude very family oriented and the other coaches are great. They have an amazing campus too."
---
Now that the schools are in order, Allen will set up plans for what should be the last trips he makes as an uncommitted prospect. As we first reported two weeks ago, he is scheduled to make a trip to South Bend and check out Notre Dame's campus for the first time on June 10th - 11th. The good news for Ohio State fans is that he's now finalized plans for his return trip to Columbus, where he camped last June.
"I'll back at Ohio State June 21st-23rd," Allen told Eleven Warriors. "We have planned it already."
What that means is two-fold for the Buckeyes as it pertains to Allen's future. First, it means Ohio State will have an important second chance at impressing a player who was solidly interested in committing to the Buckeyes last summer. While he's been on campus previously, this will be Ohio State being able to focus solely on Allen, not 900-some kids there for a two-day camp, and that means Urban Meyer and Tom Herman can reiterate to Allen how important he is to their future plans. They can show him how and where he can be used in an offense that most will tell him "isn't designed for him."
Second, and perhaps most importantly, is that Allen hopes to have his recruiting finished by the time he heads to the Elite 11 Championship, which takes place June 28th. Ohio State will likely get the final visit, which is a nice opportunity to make a final impression and presentation. After this month is done, the Arizona teenager wants to focus on exactly that.
"Once I am done with all this, I can focus on two things," he added. "Helping recruit my class and enjoying my last high school summer."