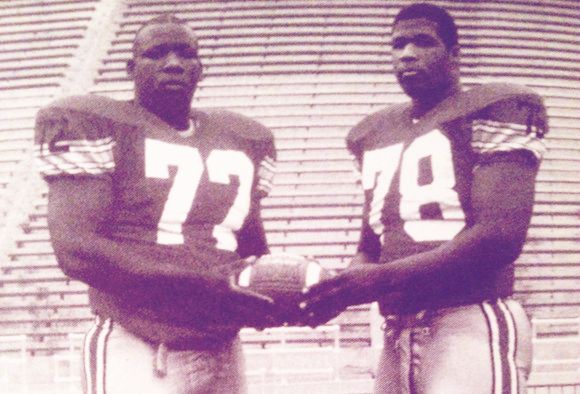 Eleven Warriors recently wrote and edited this season's edition of Lindy's in the Huddle magazine previewing the 2013 Buckeyes. It will be available online and in fine stores in the coming weeks.
One of the stories in the magazine looks 20 years back at the 1993 team that made Ohio State football a national brand again while transforming the perception of a program that had slipped from its historical perch atop the Big Ten.
It includes several anecdotes from All America DT Dan "Big Daddy" Wilkinson, whose exceptional play in 1993 helped him become the first pick in the 1994 NFL Draft. Wilkinson shared several stories with me from that memorable season that I wasn't able to fit into the magazine story.
So what follows are the deleted scenes from my interviews with Big Daddy. Enjoy, and set aside ten bucks for when the best Ohio State preseason magazine and keepsake goes on sale very shortly.
---
Ohio State (8-0; #3) at Wisconsin (7-1; #15) | Nov 6, 1993
DW: Man, they were already throwing snowballs at us during the pregame warm-ups. It was like 15 degrees before kickoff. I'm from Dayton and I know cold. That was cold.
We went back into the locker room, then packed into that tunnel to come back on the field for the game. As we got near the end of the tunnel, coaches turned their heads back at us and started shouting frantically to keep our helmets on. KEEP YOUR HELMETS ON! DON'T TAKE THEM OFF! KEEP YOUR HELMETS ON!
They were still throwing snowballs, but now they were hurling cans of beers of beer at us too. Full cans, man. Unopened cans. 
Now it had dropped to like ten degrees. We knew Wisconsin had talent, but back then they were the kind of team that tried so hard and then after you beat them you'd spank their butts and give them an attaboy. That didn't happen this time.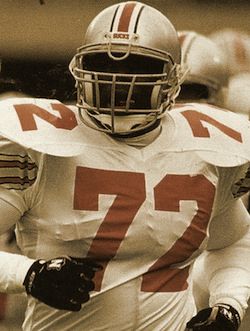 We just did not play very well. Quite frankly, we were lucky to get out of there with a tie. Wisconsin got up for us big time. Big time. Cory Raymer became a good friend of mine when we were both with the Redskins. They knew Ohio State didn't give Wisconsin the full attention it deserved like we do now.
From that game on, Ohio State put more emphasis on Wisconsin. We let them sneak up on us and we just got lucky. Marlon (Kerner) blocked a field goal to keep us from losing that game.
But credit Wisconsin: They seemed to have a plan for everything we tried to do. We tried to figure them out defensively and make them one-dimensional and get them to make mistakes, but they kept us off balance so well that we never got anything going.
We struggled to contain them. But we kept our helmets on, man. That entire game we kept our helmets on.
Final score: Ohio State 14, Wisconsin 14
OHIO STATE (1-0; #16) VS. WASHINGTON (1-0; #12) | SEPT 11, 1993
DW: That was our first night game. Man, that was really cool.
We had a lot of talent, but we really didn't know just how much we had. You could see it in practice, and the week before we just killed a team even though we were all looking forward to the Washington game.
RN: You beat Rice 34-7 the first week. They got a garbage time touchdown as the game ended to spoil the shutout.
DW: Yeah. We all looked at the next game as an opportunity to put Ohio State back on the map. Washington had a ton of talent and had just finished a run with Don James. A lot of the guys on that team had won a national title.
We decided that beating them would take the program to another level where we were the ones being talked about. We didn't want to hear about Washington anymore. We wanted people talking about Ohio State again.
Also, we were on national television. That was a national game. Now you kind of take that for granted, but back then it was Notre Dame and whoever was in the top five on TV every week. These days people would freak out if Ohio State wasn't on television.
The Shoe was just electric that night. We played really well. After that game people started talking about Ohio State again.
Final score: Ohio State 21, Washington 12
OHIO STATE (2-0; #11) AT PITTSBURGH (1-1) | SEPT 18, 1993
DW: We were literally yawning during warmups, man. Literally yawning.
RN: You spent all your energy getting up for Washington.
DW: Definitely. You looked around the field and so many of the guys in white jerseys were just yawning.
We came off of such an emotional high that we were in total letdown mode. We had to fight to keep our mojo going. Then Butler (By'not'e) returned the opening kick for a touchdown and that just made us even more comfortable.
We knew we were really good after we beat Washington. After we played like that and still did that to Pitt, we knew we had something.
RN: Mark May still hasn't forgiven you.
DW: What?
RN: Never mind.
Final score: Ohio State 63, Pittsburgh 28. 
OHIO STATE (4-0; #6) AT ILLINOIS (1-3) | OCT 9, 1993
OHIO STATE (5-0; #5) VS MICHIGAN STATE (3-1; #25) | OCT 16, 1993
DW: That Illinois game was a hotly-contested game. That was a damn fight. Michigan State was the same way. Both of those teams tried to make a splash against us. 

RN: Illinois had lost heartbreakers to Oregon and Arizona. Michigan State had just kicked Michigan's ass. One was a wounded animal; the other had its hair on fire.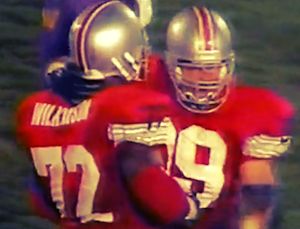 DW: We were getting a lot of headlines every week and we started to get that big target. Well, Michigan State and Illinois jumped all over that. Those games were wars.
RN: Back then Illinois regularly gave Ohio State fits. They still do. Man, that's weird.
DW: We came out ready to play again them.
RN: So no yawning during warmups, then.
DW: None. I think we forced a fumble on the first play of the game [Ed. Yes] and we ended up scoring. [Ed. Yes]
RN: You guys went up early and got conservative on the road. Coop decided to win with defense, which seems to be what Ohio State always does in Champaign. Man, that's weird.
DW: We held them in check. That was a tough game.
RN: The following week at home they recognized the 25th anniversary of the 1968 team that won the national championship. You guys were undefeated and ranked in the top five. 
DW: I got hurt in that game. I remember watching from the sideline and wishing I could get back out there.
RN: Herbstreit was a sideline reporter that game, chasing around his former teammates for interviews. One year earlier against Michigan State he played really well and beat them in East Lansing.
we were not up for every week. Washington? We were up. Pitt? We were YAWNING.DW: Herbstreit was there? (laughs) I don't remember that. I just remember how intense the game was. Those two weeks highlighted the quiet problem we were having that season. We were just too temperamental. Up and down, up and down, every week.
Teams kept coming out and trying to make their big splash against us. You can tell when teams are up for you, and it was happening every week. No one took the week off against us. They kept on fighting us, but we were not up for every week. Washington? We were up. Pitt? We were yawning. 
And when you go from blowout to close game to blowout to close game and you're playing down to your competition, that's a problem. Emotionally we weren't nearly as good as we were physically. At that point it hadn't bitten us yet. We were just an undefeated team that was up and down emotionally.
Final scores: Ohio State 20, Illinois 12 | Ohio State 28, Michigan State 21
Ohio State (3-0; #7) vs Northwestern (2-1) | Oct 2, 1993
DW: All I remember about Northwestern was that they fought us like crazy.
RN: That game wasn't even televised.
DW: Well, they fought us for 60 minutes.
RN: And then you spanked their butts and gave them an attaboy.
DW: Probably.
Final score: Ohio State 51, Northwestern 3
OHIO STATE (7-0; #3) VS PENN STATE (5-1; #12) | OCT 30, 1993
DW: We got up for Penn State, man.
RN: I was there. It was obvious.
DW: I had very close friends on that Penn State team. They had a lot of Ohio guys that we bumped heads with in high school. Like Ki-Jana Carter.
RN: From Westerville. Losing him to Penn State stunk, but Ohio State's running backs were still okay when he was at Penn State [Ed. Robert Smith, Raymont Harris and Eddie George]
DW: They had a lot of talented guys. Kerry Colins, O.J. McDuffie, Bobby Engram, Kyle Brady, just a lot of really good athletes. It was cold, wet and rainy. As players we were still kind of surprised that Penn State had joined the Big Ten. We liked it. They were a top level program and it gave the conference credibility. 
But there was no way we were going to allow them to play with us. No way.
DW: We talked before the game that allowing Penn State to come in and compete for championships with us and Michigan was unacceptable. Our main thing was controlling scrimmage, controlling the tempo and really controlling all aspects of the game. 
We got up for Penn State. That was definitely one of the weeks that we were on our game. We wanted to teach those boys a lesson. It was cold and sloppy and after a few possessions we were in their heads. We knew what they were going to try to do and just ate it up.
RN: The defense forced five turnovers. Hard to lose when you do that.
DW: Penn State was really good, but they had no chance that day. We were up. When we were up that year, look out.
Final score: Ohio State 24, Penn State 6
OHIO STATE (9-0-1; #5) AT MICHIGAN (6-4) | NOV 20, 1993
DW: That was the strangest game. It was the strangest couple of days leading up to a game. Like a bad spirit came over our team and smothered us with a blanket.
I was so confident that we were going to go into Michigan Stadium and beat those guys, but from the moment we got off the bus we just felt defeated.
DW: We had no emotion. We had no hype. From the first five, six minutes of the game I'm in the huddle and looking around at some of the guys and most of them looked like they had seen a ghost. It was one of the weirdest things.
We weren't up or down. We just weren't even there. We were possessed, in a bad way.
Had we won we would gone to the Rose Bowl. Were were damn deer in headlights the whole game. I know Columbus puts a lot of pressure on us. When Michigan plays us these days, I know their guys feel drained before The Game even starts.
Their boosters and alumni put that kind of pressure on them. We've gotta get this game. We've gotta get this game. There's a lot of baggage they carry coming into our stadium.
from the moment we got off the bus we just felt defeated.But back in 1993 that's how we felt. We knew we needed to get that game and it just happened to be key to our national championship aspirations. That was a lot of weight and we didn't carry it well. It was like 500-lb bags the on our backs the whole game.
We forgot about having fun and flying around. Everything we were built on collapsed in that game. It was the worst college experience I had.
RN: 10-1-1 and a shared title still isn't terrible.
DW: 10-1-1 was a letdown. We had much bigger dreams than that. We aimed much higher than that. We had an opportunity to be in Pasadena playing for a national championship. We let ourselves and everyone down going to the Holiday Bowl.
RN: Which you still won.
DW: It was a disappointment and a letdown just being there. From the Rose Bowl to the Holiday Bowl? That's a big swing of events. We were able to muster up the sprit to win but it was still a downer. The Holiday Bowl was the furthest thing from our goals.
That bitter taste never goes away. Michigan guys in the NFL reminded me of that game for ten years. I left Ohio State with that team up north having bragging rights on me for [shouting] THE REST OF MY LIFE.
When you go to Ohio State, it becomes your soul mate forever. I'm in a room with Michigan guys and I have to sit in a corner and be quiet. We've been successful since (against Michigan) but in my era I wasn't. That's an emotional scar I'll carry forever. I still feel the pain in my gut whenever Michigan comes up. 
It just never goes away. It never goes away. It never goes away.
Final score: Michigan 28, Ohio State 0