Almost a year ago I took a look at what factors affect a Big Ten football program's rise and fall over time.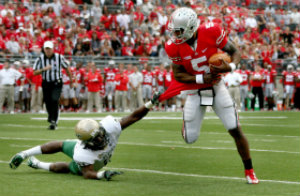 I found that new coaches, poor recruiting over time, and a single elite player can have a great impact upon teams' year-to-year success. We had reason to feel bullish on Ohio State's chances for 2012: 
The good news is that Ohio State doesn't have any of these warning signs - the community and athletic department love Urban, he has a 5-star quarterback, and his recruiting classes are out of this world. I'm not predicting 12-0, but there is every indication that next year will be far better for Ohio State.
I guess I should have been a little bolder in my prediction. 
Brian Goldstein over at Football Study Hall recently took a look at the same subject for all NCAA teams and found a similar result: 
What the best teams do have in common is either exceptional player talent (and fit) -- see Auburn 2010; or they have exceptional coaching talent, like Oregon or Oklahoma State... No matter how sophisticated the tactics or shiny the uniforms it still comes down to execution and leadership.
With these trends in mind - namely, exceptional player fit and coaching talent - what predictions can we make for next season? 
It's useful to take a look at some macro statistics about Ohio State from the past four years. While both metrics reward drive efficiency and explosiveness, FEI ratings values turnovers more than S&P ratings, while S&P includes FCS/FBS matchups. 
| | | | | |
| --- | --- | --- | --- | --- |
|   | 2012 | 2011 | 2010 | 2009 |
| FEI Rating | 9 | 35 | 8 | 4 |
| S&P Rating | 23 | 37 | 3 | 10 |
While it was obvious that 2011 was a terrible year – that's what losing your three year starter at quarterback and long-tenured head coach will do to you – what's amazing is that the Buckeyes were still not up to their normal S&P standard in 2012.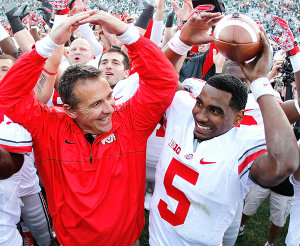 So what changed between 2011 and 2012? We have three variables here - exceptional player talent, player fit, and coaching talent. Braxton Miller was constant in 2011 and 2012, but what varied was how he was used and the coaching behind him. 
This is not at all an indictment of Coach Fickell, but instead I want to emphasize the importance of designing a coherent offensive system and then recruiting players that fit this system.
Braxton certainly improved his throwing mechanics and rapport with receivers, but the most important change was simply the offense that he was running. 
My main point - and this is both good and bad news - is that Ohio State largely over-performed last season. This was excellent because the Buckeyes went undefeated in a year when we wouldn't expect for them to. Call it the Urban Effect. 
On the other hand, this means that the Buckeyes still have some growing to do in order to make a run at a national championship next season.
This has been captured by some statistical models of next year's Big Ten race, as the Buckeyes have an average of only nine expected wins. 
Yet next year is likely the year for Urban and the Buckeyes when all the pieces should come together - Urban has a junior, Heisman-contender quarterback, a veteran offensive line that could lose four starters in 2014, and a competent secondary that will certainly lose its best player in Roby.  
What's most encouraging is that the Buckeyes went 12-0 in a season where they probably shouldn't have and the numbers indicate that they will only be better in 2013. Not only can we expect the Buckeyes to improve their efficiency and explosiveness on offense and defense, but they also benefit from an easy out of conference schedule. 
Between the schedule, overall player talent levels, player fit, and coaching talent, the Buckeyes have all of the necessary ingredients to complete the recovery from 2011.