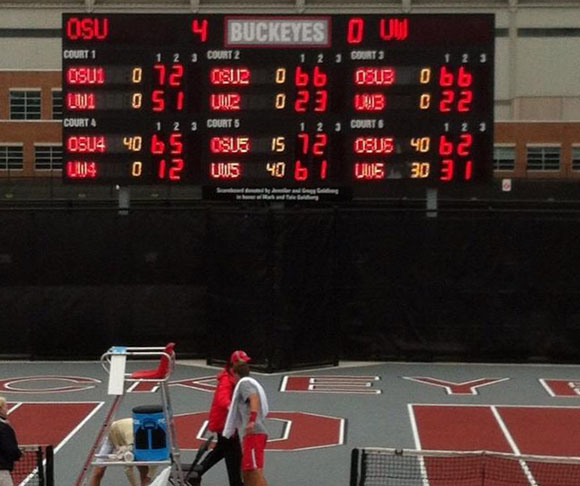 Ohio State men's tennis, seeded fifth in the NCAA tournament, opened play in style with back-to-back shutout wins this weekend.
Friday saw the Buckeyes blank Cleveland State, 4-0, at the Varsity Tennis Center in Columbus. Ohio State earned the doubles point as Blaz Rola and Kevin Metka downed Jorg Van Der Vloet and Joe Vanmeteer 8-1, and Peter Kobelt and Connor Smith defeated Ali Shabib and Niklas Jonsson 8-2.
Saturday, the Buckeyes were back in action, and back to handing out shutouts, beating Washington 4-0 on the Varsity Tennis Courts. Playing in Columbus for the final time, senior Devin McCarthy won his 20th consecutive match with a 6-1, 6-2 victory over Washington's Viktor Farkas.
With the win, the Buckeyes advance to the round of 16 where they will face the winner of Texas and Texas A&M Thursday at 5:00 p.m. on a familiar court at the University of Illinois' Atkins Tennis Center.