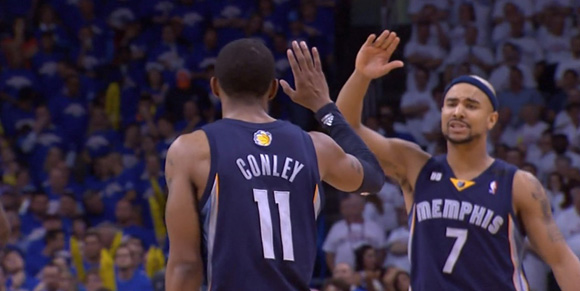 Mike Conley continued his ascent into elite NBA point guard territory with a near triple-double, which included two huge shots down the stretch, as the Grizzlies beat the Oklahoma City Thunder 99-93 on Tuesday night. The win evened the series and snatched home court advantage for Memphis in the Western Conference semifinals.
Conley drained a three from the wing with 1:58 remaining to put the Grizzlies ahead 92-90, then followed it up with an 18-footer to push the lead to 94-90 with under a minute remaining. He hit a free throw with 29.4 seconds left to finish with 26 points, to go with 10 rebounds and 9 assists, just missing his first career playoff triple-double.
How good was Conley?
Solid company.
Conley had two chances for the triple-double in the game's closing minutes, but Tony Allen couldn't convert would-be assists. He did make up for it by heaping praise on Conley after the game. "Mike Conley is now one of the top five point guards in the league, whether anybody likes it or not," Allen told reporters.
Charles Barkley echoed that in TNT's postgame coverage. "Mike Conley is the most underrated very, very good player in this league," Barkley said. "And I'm not talking about just this game."
Conley's night even provided a bit of vindication to Mark Titus, his friend and former Ohio State and AAU teammate:
I apologize! RT @clubtrillion The Mike Conley Fan Club has held a 2.5 year grudge over this + demands an apology. twitter.com/billsimmons/st… …

— Bill Simmons (@BillSimmons) May 8, 2013